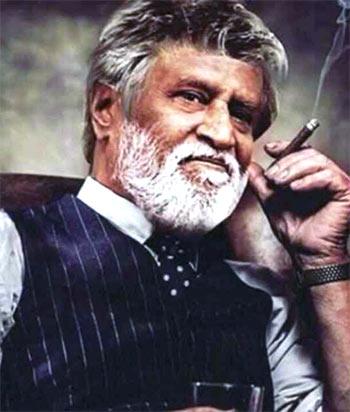 Watching a Rajnikanth film in Mumbai's Aurora Theatre can only be compared to watching a Salman Khan film in Bandra's Gaiety-Galaxy, but multiplied 100 times over, feels Saisuresh Sivaswamy.
Aurora Talkies in Mumbai has a special place in the hearts of the city's Tamil population. Not because of its cheap tickets or the cheaper canteen fare (for the price of one ticket at PVR a small family can catch a film here and maybe eat something, too), but because it is the only cinema in the city that runs full shows of Tamil films.
For the rest of the city's population, too, Aurora is special.
"That is the one where Tamils go crazy over Rajnikanth films, right?" asked a friend who was visiting from Chennai, and he was right.
The theatre's fame has indeed spread far and wide, thanks to one, and only one, man. Rajinikanth. Each release of his sees greater frenzy among his fans.
Watching a Rajnikanth -- or Thalaiva, as his fans call him -- film in Aurora can only be compared to watching a Salman Khan film in Bandra's Gaiety-Galaxy, but multiplied 100 times over.
This Friday saw me tick another item off my bucket list of things to do before I die -- which was to watch a Rajni film in Aurora on the day of its release, for the 'experience'.
My Uber driver who dropped me off at the theatre asked me innocently: 'Kya ho raha hai yahaan, sablog kyu nach rahe hain (what's going on here, why are people dancing on the roads)?'
It's a Rajni film, I told him.
Nothing else I tell him will explain the Superstar phenomenon to him -- or to millions of Indians like him who are puzzling over why a man pushing 70, who looks so ordinary off screen, and who to them only means funny mannerisms and staccato dialogue delivery -- can evoke such frenzy, such adulation, such craze across age groups, but among typically boy-men in their late teens to mid-30s.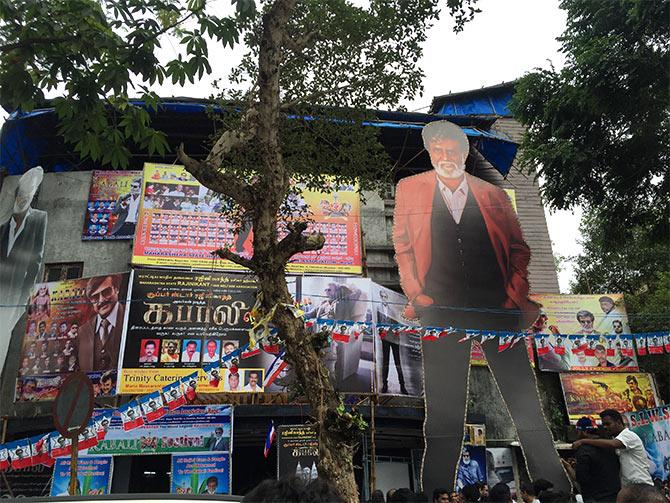 Image: The Aurora Theatre, located in Mumbai's central suburb Matunga. Photograph: Saisuresh Sivaswamy/ Rediff.com

What is it about this star that so proves man's simian ancestry, is a question that I have wrestled with for years, ever since I was exposed to this atypical actor four decades ago. Even then, in the early years, there was something about Rajnikanth that set him apart from his contemporaries, even from whose who were much more talented than him.
Crack this puzzle, and you will have cracked the inscrutable Tamil psyche that makes them go so weak-kneed before a benevolent dictator that they can only prostrate, or shed all inhibition and do the whistle-koothu routine in auditoriums.
Pushing 70 he maybe, but the Rajni phenomenon has little to do with the quality of his films. The fans are not celebrating a great story line, an award-winning performance, or masterful direction, but just the fact that yet another of Superstar's film has released.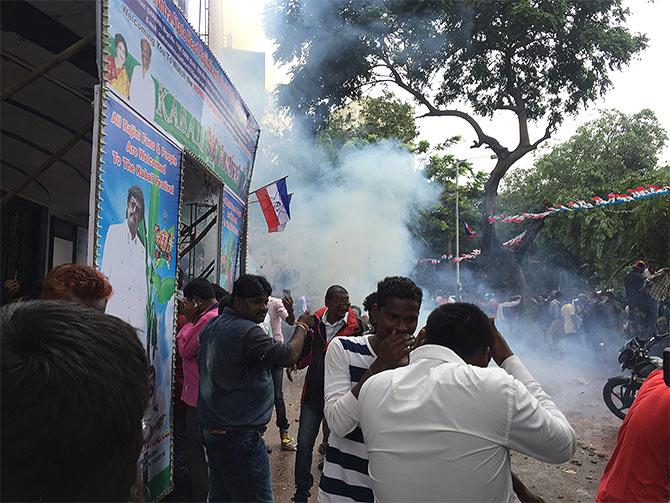 Image: Firecrackers bursting outside the theatre. Photograph: Saisuresh Sivaswamy/ Rediff.com
Crackers were being burst outside the theatre, 'Thalaiva, thalaiva' screams split your eardrums, and if you thought the auditorium would dim the noise, no way! Till the Superstar made an appearance on screen, hysterical men were dancing, shouting, throwing confetti in the air, the crescendo peaking when he finally, finally comes on.
Seated in the front row, I had no idea what the titles said, what the initial dialogues were, or the scenes for the matter, and even through the film missed most of the dialogues because of the steady shouting going on in the auditorium.
The management had even hired bouncers to control the crowds inside the auditorium, shoving them into the aisles whenever they spilt into the front of the screen.
Overall, it was a surreal experience, like nothing I have ever had.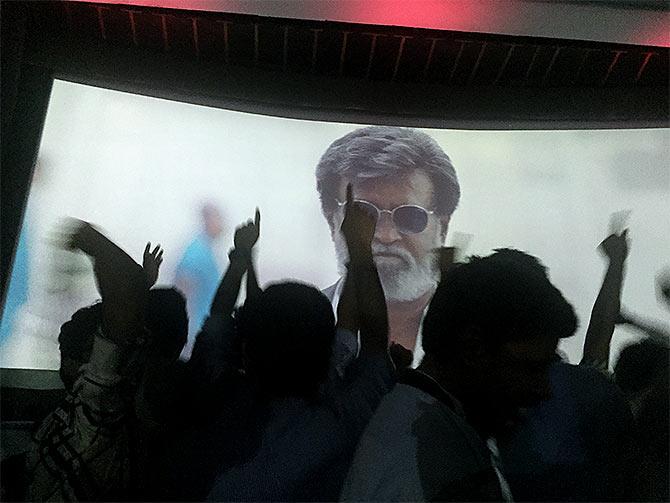 Image: Fans dancing inside the theatre. Photograph: Saisuresh Sivaswamy/ Rediff.com
But clearly there has been diminishing returns. Rajni's previous two films were nothing to write to Poes Garden about, and Kabali is an attempt to salvage some of that lost territory.
Hence a director like P Ranjith, who is unschooled in the Rajni technique of film-making. Clearly, Soundarya and Aishwarya, who it is said were instrumental in roping in the director to direct their father, hoped that a dash of realism in his film would appeal to a segment of the audience that is today keeping aloof from the Superstar's allure.
So Kabali takes a pause quite a bit in the middle, allowing the mellow side of Rajni to emerge.
But is that enough?
The point is, the Rajini formula is quite set in stone, and no director today can afford to tamper with it, given the huge stakes involved. The last director I can think of to rein the superstar in and extract a nuanced performance, and yet wow the audiences, was Mani Ratnam with Thalapathi.
That film showed what many like me who have grown up watching Rajni on screen have always known: that veneer of a star hides a fine performer. Today, that performer is all but buried by the Superstar.
So what is the formula?
Rajni is always a good Samaritan; he always answers to a higher call of duty; his family understands and makes sacrifices; money does not matter to him; the villain wants to supplant him but Rajni doesn't really want to fight till he is forced to do so; there will be a fight to the finish, with Thalaivar standing tall. Oh, and Rajini does not get beaten up or go down.
Any deviation from this plot line is not welcome by his fans, and considering that it is his fans who are keeping the legend alive, and not the cineaste, you simply can't afford to alienate them.
But P Ranjith tries, my god he tries.
Rajnikanth goes down not once, not twice, but thrice.
He is even helped by the distaff side, something I don't recall seeing before. But Rajini being Rajini, he can fall but he needs to rise.
There are enough wistful moments like when the ageing don looks around for his dead wife only to realise she is not there. He even breaks down in one scene, but with his back to the camera.
The trouble with Kabali is not its length, of a reasonable 150 minutes.
It is a simple tale that could have been told in 60 minutes but is expanded to fill this time. So you have these periods of lull in the film when nothing much is happening. And the major plot twist happens in the first half before the interval, and you know what the second half will hold, so you just want them to shut the hell up and get on with it quick.
Which they don't.
The second half begins in an amble. To sustain your interest, Ranjith offers yet another twist, but the outcome is so drawn out that you know what will happen.
Same story with the climax. When Rajni scores over the villain and his henchmen -- who he could have finished off anytime during the film -- without firing a single shot, you know what will follow.
So there's really no surprise, only amazement that in a strict country like Malaysia, gangsters can go on a shooting spree without the police as much as taking a looksee.
But Ranjith wants to show us that he is different, he cannot let the gun win. So a twist is added in the very last scene whose outcome is not shown for fear of angering the Rajni fans; so what happens is best left to your imagination, and perhaps the director's in which case, we may see a sequel.
Ever since Mani Ratnam made the seminal Nayagan, all gangster films have to perforce be ranked against it, compared to it. Just as Velu Naicker took to the gun to do good for his people. But unlike Naicker who remains engaged with his people, Kabali after the initial outburst over helping Malaysian Tamils secure their rights, and the occasional outburst extolling Tamilians' hard work and running down their crab mentality, does hardly much of do-goodery, except the scenes in the welfare home he runs for delinquents and the like.
Overall, Rajinikanth retains his swag, shows off his dialogue delivery, fights a mean bit, and wows the fans. But is that good enough at a time when the audiences are wanting more?
The superstar now has one film on hand, the sequel to Shankar's Endhiran/Robot, called 2.0. Will that restore the star's lost lustre?
I hope it does; for a star burning out into a black hole is not a pleasant sight. Unless you are watching that in Aurora.
Rediff Rating: