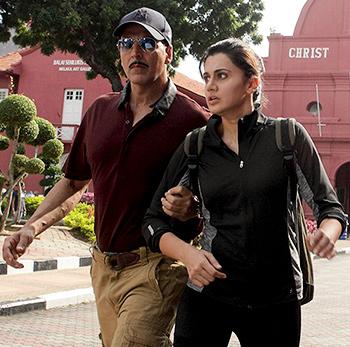 Taapsee is super. But that's not to say that the rest of the cast isn't tremendous, says Vaihayasi Pande Daniel.
Reason to go see Naam Shabana?
There are five: Taapsee. Taapsee. Taapsee. Taapsee. Taapsee.
This Delhi-raised actor, who I have never seen in a film before, with her lovely Jat Sikh athletic build, the terrific gazelle grace in which she runs and the zeal with which pulls those karate punches, leaves your jaw dropping.
She is not hot in that traditional Indian naree sense. Nope, no coy, curvy-hipped, cross-between-Mandakini-and-Sati-Savitri syrupy desi feminine stuff for her. Thank god.
Taapsee, like the sound of her name, is a feisty, sturdy modern Indian girl and she plays it in the film. And you love it.
Tall. Not faintingly pretty. But whoa is she attractive. And can she act.
She doesn't smile a lot. She is not meant to.
Her facial expressions, eloquent eyes, her tough-girl, direct demeanour, her sadness with its but-I-will-not feel-sorry-for-myself rider, are pulled off with élan for her role of the college girl-turned-spy.
She once said: 'I have never dated a star and will never date one. That I can write and give you on a stamp paper. I am clear that there can be only one star in the relationship and that's me.'
I agree. Boy, she's a star!
To say that Taapsee is the main reason to see Naam Shabana, while totally true, is also rather unfair.
Taapsee is super. But that's not to say that the rest of the cast isn't tremendous.
Ajay Singh Rajput (Akshay Kumar) -- rakish cool manner and pencil-thin moustache, as the classic brawny action hero -- is delightful. So is his line about Shabana: "Is ladki ka gussa bara kharab hai."
So is Manoj Bajpayee (who has no character name) in his tense ultra serious boss persona. He gets to deliver, aptly, all the film's ringing patriotic lines.
More timepass is the troupe of side characters.
Like Taapsee's teacher (Veerendra Saxena) whose eyes are always mildly blood-shot. He sports a 1970s Indian style man-purse, that he carries around with his pinky and a deliberate-take-the-scent-of-suspicion-off-him low-key babu manner.
Or tapori Shuklaji (Anupam Kher) who has beady eyes and a pretend bemused smile, which is not a smile, and some charming resigned dialogues ("100 percent maregee").
Or Feroze Khan (Danny Denzongpa), the suave, desk-bound but good government bureaucrat, who juggles phones and adroitly gets the ministerji's approval (without really getting it) Bajpayee needs for his covert operation.
The lend from the Malayalam film industry, Prithviraj Sukumaran, as the villain, was a good casting call. With his high cheekbones and essence of evil look, he is astonishingly oomphy too. Let's hope we see more of him in future.
I haven't seen Baby -- don't groan -- but it is easy to see that this group of characters, that hang together rather well, can go on to produce our very own homegrown desi Shabana Bond series.
Each character, though they run the gamut of Indian types, like it is in the Bond films, have their standard eccentric parts and sphere of action, that kick in at high adrenaline moments.
The international feel, that Bond flicks have, with their exciting change of geography, is very much present in Naam Shabana's cut-chop-zoom-flashback between Austria, Mumbai, Goa and Kuala Lumpur.
Naam Shabana is a prequel, I am told. Boss, we need more prequels, sequels, equals, whatever you wanna call 'em.
Let's go for a full-fledged Shabana 007 series, NeerajSir.
Naam Shabana is a sleek film, that unfolds at a wonderfully breakneck speed. It's crisp with no shoo-sha like my colleague Rajesh predicted.
No wonder that Rajesh was trying to coax me to take him along for the press show. Mainly to drool over Taapsee, methinks.
But to see some great conflict sequences from producer Neeraj Pandey, aided by director Shivam Nair, who might go on to become one of our best action filmmakers.
I have a few things to crib about:
I understand intelligence experts were consulted for this film. Now if our RA&W functions as smoothly and impressively as Manoj Bajpayee's outfit, I will eat my fedora.
Also trite was some of the footage in the Muslim dominated parts of Mumbai. At one point the camera zoomed in on Shabana in her home.
What do you think popped up in the background? Yup, you got it, a minaret of the nearby masjid.
And while Ami, Shabana's mother, acted competently, there were a few clichéd bits, I thought, in the portrayal of the family and Muslim Mumbai.
Was Naam Shabana believable? In parts. Not the fight scenes, of course.
Although I couldn't help wondering that when Shabana's mom is fretting about what her hot-headed daughter is up to, becoming a spy is a rosy and unrealistic scenario, when the reality of our day is that some Muslim youngsters are departing to join ISIS.
Any takeaways from this film? That's a hard one. Were there meant to be any?
You can delve and come up with not much. I mean it is simply an action film, so bro, what message can you go looking for!?
Yet it is an aspirational film. Because the Naam Shabana India, though pretty close to what we have today, has still elements of the India we want to be.
Rediff Rating: