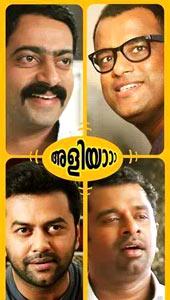 Paresh C Palicha says that Vedivazhipadu tries too hard to 'new gen' formula and fails miserably.

Young and upcoming directors in Malayalam use 'shock and awe' tactics to get the audience's attention. They also believe in creating controversy if the content is weak.

Young director Shambhu Purushothaman does both, intentionally or unintentionally, in his first film Vedivazhipadu, a word that means something really gross. The censor board refused to issue it a certificate the first time round, which helped create the controversy.

The film follows the 'a day in the lives of' format and that day happens to be Attukal Pongala, the world famous ladies-only festival.

After establishing the festive atmosphere of the capital city in documentary style camera work by Shehnad Jalal, the focus shifts to the plot.

Three friends, Sanjay (Saiju Kurup), Pradeep (Sreejith Ravi) and Rahul (Murali Gopy), have made secret plans for the day when their wives will be away attending the festival.

Sanjay, who is a cashier in a bank, is married to Rashmi (Anusree), a bold and outgoing TV journalist who is a star in her own right. She has been covering the Pongala live for her channel. It does not take us long to guess who is the boss here.

Pradeep is an investor in stocks and does his business with the help of stockbroker Joseph (Indrajith). Pradeep is married to Vidya (Mythili),
a French teacher. They are mismatched, as he looks rustic and she is sophisticated.
Rahul is a geeky video games tester working from home. He is married to Radhika (Anjana), a docile housewife.
On the said day, the friends gather in Rahul's apartment. They have booze and a woman (Anumol) and plans to enjoy themselves.
The film swings from being a crude sex comedy (with many dialogues beeped) to being a philosophical exploration of the man-woman relationship, and ends up being nothing.
A couple of subplots--like the one where Rashmi handles sexual advances by her foreign-returned boss--try to make a point. Likewise, the conversation between Vidya and Joseph about long distance relationships and being physically faithful in such a relationship, tries to add some depth to the proceedings.
The ensemble cast is not utilised to its full capacity as every male actor except Indrajith seems to act in a uniformly loud manner in an effort to be funny. If you are interested in knowing who is the loudest of them all, Saiju Kurup will win hands down. The women fare a little better.
Vedivazhipadu
makes an effort to add sparkle to the so-called 'new gen' formula, but ends up being a damp squib.
Rediff Rating: