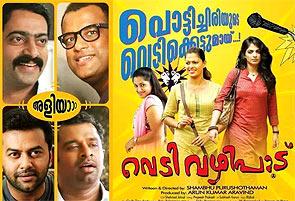 The Censor Board initially refused to give a screening certificate to debutant director Shambhu Purushothaman's Vedi Vazhipadu. But matters were apparently sorted out and the movie opens on December 12.
The film has the famous Attukal Pongala festival as the backdrop. The grapevine has it that the story is about the escapades of husbands whose wives are away at the pongala, the part of the festival exclusively for women.
The cast includes Indrajith, Murali Gopi, Sreejith Ravi, Saiju Kurup, Anumol, Mythily, Anusree and Anjana.
Vedi Vazhipadu has been given an 'A' certificate by the censors.
It is produced by Arun Kumar Aravind. Cinematography is by Shehnad Jalal and music by Biji Bal.