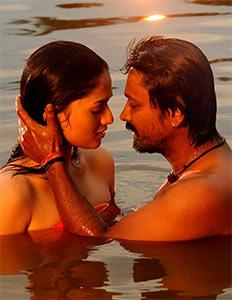 Tamil film Vanmham really tests your patience, says S Saraswathi.

Jai Krishna, a former assistant of Kamal Haasan, makes his directorial debut with an action drama titled Vanmham, which means vengeance.

The film features the much sought-after Vijay Sethupathi and Kreshna, whose last film Yaamirukka Bayamey set the cash registers ringing at the box office.

Sunaina, who was previously seen in Samar and Seenu Ramasamy's Neerparavai, plays the female lead and is cast opposite Kreshna.

S Thaman has scored music for the film, which is produced by Nemichand Jabak Productions.

Vanmham is a revenge saga set against a rural backdrop and revolves around two friends, whose friendship borders on enmity for most part of the film. The first half hour of the film is solely dedicated to laying foundation to this friendship.

Radha (Vijay Sethupathi) and Chelladurai (Kreshna) are two inseparable good-for-nothing youngsters, who are happy to be loitering about in the village, doing nothing, but drinking, smoking and bashing up people. Chelladurai is in love with Vadana (Sunaina), sister of the rich Ratnam (Madhu Sudhan Rao), who is into teak wood trade.

There is trouble brewing between Ratnam and Jai Prakash, his partner, who double crosses him. The fight escalates and the matter is taken to the court, which orders the closure of the two companies, pending investigation.

Jai
Prakash tries to bully and threaten Ratnam into withdrawing the case, but to no avail. Meanwhile Ratnam becomes aware of his sister's affection for Chelladurai. He is furious. Fight erupts between Ratnam and Chelladurai, Radha interferes and in the ensuing struggle, Ratnam is killed at the hands of Radha.
The second half is all about how this incident destroys their friendship. The film moves at an incredibly slow pace, both in the first and second half.
Despite good all round performances, it is Vijay Sethupathi, who holds the film together. He is impressive as the more mature, sacrificing and powerful friend. Vijay demonstrates a flair for action in the film and his punches seem quite authentic earning him loud wolf whistles from the audience.
Kreshna and Sunaina too have given a decent performance. They share a good on-screen chemistry. The film is, however, let down by an average and predictable script loaded with excessive melodrama.
The fight sequences are endless with everyone threatening or chasing the other with an aruval in hand. All the loud shouting and even the slang used gets quite unbearable and tedious after a while.
Music by Thaman is average; the BGM is way too loud and uninspiring and none of the songs are impressive. A tauter screenplay could perhaps have made the narrative more engaging.
Cinematographer Bala Bharani's camera, though, has quite competently captured the beauty and essence of the rural set up.
Director Jai Krishna's
Vanmham
is just another ordinary, highly predictable and melodramatic revenge drama that seriously tests your patience.