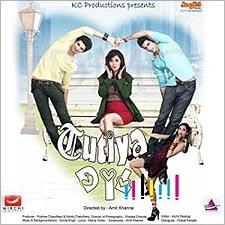 Ankur Pathak feels Tutiya Dil is an unconventional film with a great script.
Last year saw several films on the rather sombre state of youthful liaisons in an urban environment that went from dangerous (
Delhi Belly
) to sympathetic (
Pyaar Ka Punchnama
), to heart-wrenching (
Mujhse Fraandship Karoge
).
The template for such films starts with the newly-met couple going for walks and ice-creams, then deciding to take a step forward, and then facing separation on some flimsy excuse. It is a challenge for screenwriters and directors to make something original out of these stereotypes.
Which is exactly where a film like
Tutiya Dil
catches you off-guard. The Delhi-centric film is an unusually well-written take on heartbreak and friendship, featuring interesting, roundly developed central characters, for who you care, while disliking some, getting quite fond of some and sympathising with others.
In this office romance, Rhea (Suzanna Mukherjee) falls for her senior colleague Karan (Nikhil Sabharwal), leading to a brief affair until Karan gets cold feet just as they are about to move into a fancy apartment together.
A heart-shattered Rhea cannot cope with the situation and takes her troubles to a shrink, Dr Parag (Naveen Kaushik), her feminist best friend Amu (Iris Maity) and then has an unconventional shift in her lifestyle, moving in with Vishal (Sidhant Kapur) known as a bit of a womaniser.
The film sees things largely from Rhea's perspective. We see her being abruptly dumped at a plush restaurant just as she's about to devour her favourite gooey chocolate cake, and going hysterical. It doesn't make thing any easier when she has to face the same man every day at work.
Slowly she recovers from her grief and develops a theory called 'The Turkey Theory' about men. The theory makes her a celebrity and gives her the confidence to face the world. It's a bold, fascinating sub-plot which only disappoints in its climactic execution.
Vishal, the well muscled guy Rhea moves in with, is an unapologetic lover of sex -- he has that pinned on his refrigerator, while Marilyn Monroe covers the shower-wall of his bathroom. He is a fan of both
DDLJ
and
Dabangg
and even has a sari-clad
mannequin permanently residing at his abode!
However, all this masks an emotional turbulence as the convenient yet convincing back-story indicates. He shares a beautiful and pleasant relationship with his new room-mate that is restricted to friendship. The evolution of their relationship hints at a probable romance, but the chemistry is a joyous one, celebrating just friendship.
The ex-boyfriend Karan is revealed to be a condescending jerk who realises his mistake and comes back to woo our help-seeking and uncertain heroine. The hunger for companionship, which is an authentic yearning many urban youth experience, and the uncertainty that leads them to inconsequential relationships when what they truly want is a soul-mate for life, is the theme of
Tutiya Dil
.
<Aided by some wonderfully plausible, delightfully conversational dialogue, which is also occasionally hilarious (India
mey
cute bar-tenders
kyu nahi hote
?), the film shows some solid writing.
But like with most enthusiastic debutants, director Amit Khanna gets so embroiled in the story that he fails to keep an eye on the ticking clock, and the film's running time extends to nearly three hours.
The music is neither dull nor crying for attention.
The women in the film show more promise than the guys, and lead actress Suzanna Mukherjee is given enviable screen-space for a first-timer. And she doesn't disappoint. Mukherjee is pretty, appears comfortable and gives a committed performance if not an exceptional one. She is especially good with English dialogues.
Iris Maity as the buddy who cheers you up, slaps you if you over-do things, gives an uninhibited, likeable performance.
None of the men give distinctive performances. However, Sidhant Kapur's Vishal is visibly superior to a bumpy Nikhil Sabharwal.
Director Amit Khanna's
Tutiya Dil
is an able film which actually has a great script and is in many ways unconventional. Although the sugary epilogue could be dispensed with, I wish the film had enough financial resources for some fancy marketing.
Rediff Rating
: