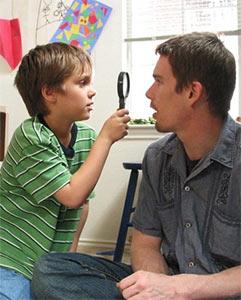 Boyhood will open your mind a little bit more toward the possibilities great cinema holds, says Raja Sen.
Remember how it felt, as a kid, when cousins visited in the summer?
When an aunt's children show up for a few vacation weeks and you hang with them and let them into your life and your room, when you're briefly privy to more than your playground's share of secrets, when you get to play with their toys and their ideas.
Then they leave, only to show up again next year or the summer after that, when they're different -- taller and smarter and with extremely new kinds of problems, like acne, girls, board exams -- and you get to catch up and fill each other in and, while doing so, realise how well/weakly you yourself are doing.
Richard Linklater's magnificent Boyhood -- filmed across 12 years -- gives us characters we see in fragmented scraps of time every year, but, arranged next to each other with linear grace, the experience is a spectacularly intimate one.
Like flipping through several photo-albums at once.
We see a young boy grow into a man, and this journey -- which is never ever just one person's journey -- is shown to us in minute detail, detail we can both relate to and learn from, documentary-level detail that remains incredibly fascinating.
It is a ridiculously ambitious setup: shooting for a few days a year, making us live with the actors as we see young Ellar Coltrane, seven, who plays the film's leading lad, Mason Junior, make his way to young Ellar Coltrane, 18.
We don't so much witness his journey as spy on him, and see how he -- and his family -- changes over the years: his face turning angular, his mother shedding her defiance, his father wisening up.
These alterations are far more than skin deep (though watching physical changes play out in a tender, thoughtful film like this feels miraculous in itself) and Linklater makes sure the characters grow as much as the actors.
There has never been a film like this.
This is cinema as epic-timelapse, and with it Linklater changes the very idea of time in storytelling.
Life is Boyhood's plot.
We watch Mason Jr and his sister Sam (Lorelei Linklater, the director's daughter) deal with long car-rides, divorced parents, adolescence, and variously fogged levels of clarity.
Their father, Mason Senior (Ethan Hawke) goes from fun to undependable, idealistic to comfortable.
Their mother, Olivia (Patricia Arquette), tragically and heroically, copes, doing whatever she can to make things fall into place.
Our job as viewers is so easy we ought to feel blessed, but so poetically and evocatively does Linklater turn his film into a time-capsule that it's hard not to feel personally thrust into the narrative from time to time, to drift away into our own boyhoods and girlhoods and early neighbourhoods that looked remarkably different just because we were knee-high.
The writing is, unsurprisingly for a Linklater film, extraordinary.
Mason Jr, who collects arrowheads, tries sharpening rocks in his teacher's pencil sharpener; his sister does an insufferable Britney Spears impression (which probably means it's spot-on); they line up to buy the new Harry Potter; Mason Sr is swashbucklingly pro-Obama (till he's older).
The performances are magical, but largely because of the format.
Coltrane is a lovely boy, who grows serendipitously into a Hawke-ian collegeboy, but it is the parents who really make this film feel more than fiction.
Hawke -- who is heartbreakingly sincere, especially when trying to pass on his love for each Beatle to his boy -- brilliantly conveys the helplessness of a faraway father.
Arquette (who I had thought will forever remain mad, hot Alabama from True Romance) delivers a devastatingly touching performance, one that may well define her cinematic legacy.
As I said, there hasn't ever been a film like Boyhood.
It is a director's ultimate what-if thought come true, the most monumental way to get past finding lookalike actors and getting periodically authentic detailing right.
It is painfully real to be around, watching, as a boy's voice cracks. As he takes his first steps towards being his own man, a free Mason, as it were, he feels like someone we have known for far longer than Linklater's long running-time.
The closing credits are depressing merely because they exist, and we want to know what happens to Mason next.
Unless, as the director jokingly (?) said, he boarded a train in Europe and ran into a nice girl...
Go, get to know Boyhood. Soak it in and let it enrich you, amuse you, hold you close. Let it open your mind a little bit more toward the possibilities great cinema holds. Live it. Let this film be your jam.
To paraphrase John Lennon, life is what happens when you're busy watching other films.
Rediff Rating: