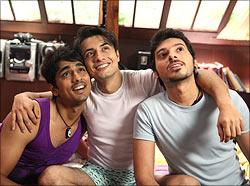 David Dhawan's Chashme Baddoor is an unnecessary remake, writes Sukanya Verma.

What's the point of a remake?

Either a) a filmmaker wants to recreate the success of the original or b) wants to better it so that it gets the due it never did or c) because he wants to remind the audience its forgotten virtues.

But after watching David Dhawan's remake of Sai Paranjpye's 1981 classic, I have come up with a few more alternatives, which certainly apply on Chashme Baddoor -- Bollywood is lazy, out of ideas and so darn cocky. So while filmmakers have no qualms about ripping or remaking verified hits, they cannot resist this urge to improvise and show their true calibre in the process.

Only last week, Sajid Khan came out with Himmatwala, also a remake, where the source is unapologetically pedestrian and so it's hardly surprising if its reproduction is even shoddier. Moreover, its exaggerated tone resonates with Khan's sensibilities.

Dhawan has no excuse. Paranjpye's film is a master class in deft writing, the manner in which she seamlessly combines buddy humour and young romance while noting the minute but colourful details that add zing to day-to-day life and casual conversations. Her artistry lies in making all those extensive inputs appear so deceptively simple.

When a director has access to this much imagination, he ought to show a lot more responsibility than Dhawan does. Loud in sight, sound and sense, this Chashme Battering is an assault to the original with its line-up of gaudy aesthetics (think Rohit Shetty's All The Best), actors hamming to the hilt in boxers and ghastly, GHASTLY writing.

The beating begins from the word go. In the first scene itself, one gets a fair idea of the level of competence to expect after Omi (Divyendu Sharma) recites this poem: Kashmir na koi le sakta hai. Kashmir na koi de sakta hai. Kashmir mein sirf teen din, do raat ka package ho sakta hai. Joke? Erm.

Cut to Siddharth's Jai nearly molesting a woman at an audition. Joke? He's method acting.

And then there's Seema (Taapsee Pannu), thank god they renamed Deepti Naval's character, an annoying Bollywood stereotype who throws needless tantrums, smiles vacuously and dresses up like Tennis Barbie.

The setting has shifted from Delhi to Goa and the boys are jobless as ever and find a common 'shikaar' in Seema but expectedly get thrashed -- her beagle bites Omi's butt, her grandmother (Bharti Achrekar) whips the life out of Jai.

Then there's Mr Nice Guy (wearing a different set of glasses in every few scenes) Siddharth (Ali Zafar) who's, frankly, no better than his chums. When not dancing about Goa with his cronies to bombastic songs (Sajid-Wajid), this unemployed bloke meets prospective brides on his mother's insistence.

Somewhere in this wishy-washy scheme of things, Dhawan finds the space (and gall) to fit in a forced romance between a certain Joseph (Rishi Kapoor) and Josephine (Lilette Dubey) -- yes, the done-to-death gag that aspires to tickle over the lovey-dovey
interactions of an elderly duo. Love sees no age 'only courage, bondage, cleavage and marriage,' we are told.
It's a sad day at the movies when the iconic Chamko scene is butchered while these two fine actors embarrass themselves. I never thought I'd say this but Rishi Kapoor, what were you thinking? And Lilette Dubey, she is now officially the brand ambassador of the single, sexy, sophisticated spinster club with her umpteenth portrayal of the same.
If the outcome of a remake is to affront everything the original represents then WHY ON EARTH call it
Chashme Baddoor
? Why not simply write your own story about three random friends, name it something like
Teen Tigada Kaam Bigada
and then include every Tom, Dick, Joseph, Josephine, Beagle, Fattu, Gattu as you please?
To be fair, even though I was not too kicked about the remake, I tried not to be prejudiced reminding myself of one of Dhawan's cleanest films -- Hero No 1. The latter too, took unabashed inspiration from another beloved classic (Hrishikesh Mukherjee's
Bawarchi
) and the final product was pretty decent. Guess Govinda isn't given enough credit for making it work.
Neither of the young guys in
Chashme Baddoor
have his timing or verve. Siddharth plays Ravi Baswani like Shakti Kapoor. His enthusiasm oscillates between funny and phony. Like those badly written
shers
he mouths, Sharma, too, never takes off. Zafar is notches down from his over-the-top act in
Mere Brother Ki Dulhan
but a goofy smile and an on-screen chemistry with the heroine that screams 'phoos' does nothing for him.
Besides that one pre-interval scene, most of their antics and brotherhood looks as genuine as Bharti Achrekar's more salt, less pepper wig. Achrekar, god bless her shrieking lungs, is caricatured after Salman Khan's slap-launching mom in
Maine Pyaar Kyun Kiya
.
Dhawan, in fact, references a whole lot of his films here. From a framed photo of Anupam Kher in his armyman getup in
Shola Aur Shabnam
, to the cast romping about
What is mobile number
(
Haseena Maan Jayegi
) and
Tu tu tu tara
(
Bol Radha Bol
).
Also, be prepared to witness one of the most yawn-inducing parodies of
Saajan
's
Dekha hai pehli baar
. The original's director Lawrence D'Souza did a far superior job of spoofing old Hindi songs picturised on Anupam Kher and Madhuri Dixit in
Dil Tera Aashiq
.
Quoting the late film critic Roger Ebert from his review of the
Total Recall
remake, 'It never touched me emotionally, though, the way the 1990 (1981 in this case) film did, and strictly speaking, isn't necessary.'
Unnecessary is right. During one of the songs, I saw a board that reads, 'Please don't touch artefacts.' I rest my case.
Rediff Rating:

Also read

Review: Sai Paranjpye's Chashme Buddoor is special