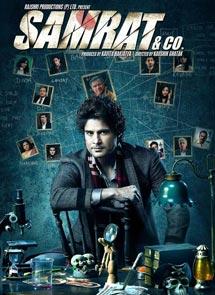 Samrat & Co might be about an extraordinarily observational man's fight against crime but as far as cinema goes, this film is a crime against the genre, writes Paloma Sharma.
Every 1990's schoolgirl's once heartthrob, Rajeev Khandelwal plays detective/Robert Downey Jr/Benedict Cumberbatch in Kaushik Ghatak's Samrat & Co. and though he has graduated to the big screen, Khandelwal stays true to his alma mater by launching into a soliloquy every five minutes.
All that's missing is 'Tan, tana na na, Kamolikaaaa' playing in the background.
Samrat & Co. follows the classic whodunit formula, set in a mansion on the seemingly remote and isolated outskirts of Shimla -- except that the imagery seems more Middle Earth than Himachal Pradesh.
A beautiful heiress arrives at Samrat's doorstep one day -- in a yellow convertible and a short matching dress, because how else will we know that she is pampered and rich? -- and pleads with him to take up her case. It is a matter of life and death for her father.
But Samrat's assistant, Chakradhar or CD of the Sansani-inspired Chakradhar ka Chakravyu fame, declines upon hearing that the prime suspect is a tormented spirit that haunts the house. Instead, he offers to give her the number of a famous 'Bengali baba'.
But Samrat Tilakdhari, whom CD loves to call STD (yes fellow teenagers, you may giggle now), is intrigued by the challenge and sets off to solve what could be the toughest case of his life.
Along the way, Samrat encounters his fair share of heroes, villians and people who don't really have a life.
Revenge is sought for the most childish of reasons. Love is cheesier than a pizza; and Samrat transforms from Downey Jr in the Sherlock series to Keanu Reeves in Speed and Batman from Batman begins.
Characters seem to be created more out of demand of the financer than that of the script itself and too many of them, with mostly underdeveloped backgrounds, spoil the plot.
The film is fun when it starts off, albiet a little silly, and manages to build up an impatience in the viewer. You can wait for the plot to unravel. But the moment the interval ends, you end up wishing you had walked out.
Samrat & Co looks like it has completely been shot in chroma. Real locations are few and far between. Shimla's dropping temperature seems to have no effect on heroines who prance around in frocks befitting 10 year olds while CD's nose turns as red as that of Rudolph's.
I honestly wish I had performances to praise but at the risk of sounding snobbish and cynical, I can only advise you to watch this if you're a fan of the Dolly Bindra school of acting.
An exceptionally awkward romance angle has been forced into the mix, possibly to add a song.
What is a romantic song doing in a mystery movie, you ask? Good question. Let's see if STD can figure that one out.
A blatant, unashamed and at times, scene-by-scene copy of films like Sherlock Holmes, Sherlock Holmes: A Game of Shadows and Bhool Bhulaiya, Samrat & Co might have a good enough screenplay buried somewhere beneath all the trash but none of it shows in the execution.
Samrat & Co might be about an extraordinarily observational man's fight against crime but as far as cinema goes, this film is a crime against the genre.

Rediff Rating: