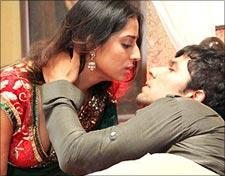 Shaikh Ayaz feels that Saheb Biwi Aur Gangster is a gripping tale of intricate politics, love and betrayal. Post YOUR reviews here!

Borrowing liberally from the Shakespearean tragedy
Macbeth
, Tigmanshu Dhulia's
Saheb Biwi Aur Gangster
owes more to Vishal Bhardwaj's
Maqbool
than Guru Dutt's
Sahib Biwi Aur Ghulam
. It tries to be both, balancing its personal homage spirit with a gripping tale of intricate politics, love and betrayal set against a decadent royalty that's rapidly losing touch with the realities of modern-day existence.
It's fascinating to see how Dhulia doesn't succumb to the idea of doing this as an expose film on the hypocrisy that breeds within royal mansions; neither does he develop the crime angle, a move that partially subverts this film's obvious direction towards the crime genre. Instead, he plays it straight with single-minded focus on the development of his characters and the impact they would have on the plot.
Dhulia lacks the stylistic qualities of Bhardwaj and Anurag Kashyap, both directors from small-town India like him. On the surface, you may be tempted to ally Dhulia's themes with those of Kashyap and Bhardwaj's but the director of films like
Haasil
and
Charas
truly belongs to the line of filmmaking that someone like Sudhir Mishra represents. That's why when you see a ruthlessly ambitious Babloo (Randeep Hooda) rising through the ranks, you know the real influence for this character is Shiney Ahuja's Vikram in
Hazaaron Khwaishein Aisi
and not Irrfan Khan's Miyan Maqbool in
Maqbool
.
There's also a bit of
Gulaal
here, Anurag Kashyap's finest film yet, in which he looks at the royalty with contempt. Kashyap doesn't do a Bunuel in
Gulaal
; Bunuel was charmed enough by the bourgeois to take gentle digs at them, while Kashyap sears through their charade. Dhulia adopts the same apparatus in
Saheb Biwi Aur Gangster
. His saheb (Jimmy Shergill) begs with his step-mother for whatever little scrap he could partake. Those in the inner circles know that the glorified story
of these opulent mansions where milk and honey flows is untrue. Saheb wishes to enter politics because it would help him retain his respect and save him from abject penury. His feisty wife (Mahie Gill as Chhoti Rani) is neglected but she is in no way the coy and faithful Chhoti Bahu from
Sahib Biwi Aur Ghulam
. In fact,
Chhoti Rani
and
Chhoti Bahu
represent two opposite ends of the spectrum, a contrast that symbolises the changing social position of women in royal families.  When Saheb tells her he's travelling to the city and if she needs anything, she shoots back mockingly, "Bring me back my nights if you can."
Chhoti Bahu
wouldn't do that with such stridence even in her dream.
Dhulia shapes the character of Babloo (Hooda) as an outsider, who is scorned by his lover for being too "cheap." He suffers the same fate at the hands of
Chhoti Rani
. Betrayed by
Chhoti Rani
, he loses self-respect, power, money and a small chance at true love (Saheb at one point suggests he marry Deepal Shaw, daughter of his trusted aide). When Babloo  arrives at the mansion, he becomes privy to its loss of glory. He knows there's a lot he can do here. This loss of glory forms the paradox for his own defeat, a tragic consequence he hadn't accounted for.
Saheb Biwi Aur Gangster
is made with the production values of the 90s. Such films ought to create a sense of mystique, if not larger-than-lifeness.
Maqbool
was classy because Bhardwaj made excellent use of mood and setting, and took his time to introduce elements into the plot. It must be pointed out that Bhardwaj had Gulzar for its music and actors like Pankaj Kapur, Irrfan Khan, Naseeruddin Shah and Om Puri.
Dhulia, on the other hand, looks like someone who's operating with bare minimum. However, he uses his actors well. Jimmy Shergill, Randeep Hooda and Mahie Gill fill this film with restless vigour.
Dhulia is certainly an under-rated director who seeks inspiration from small-town India and its crime and political scene.  If he is to emerge as a key figure in this movement led by Bhardwaj, Kashyap and others, he must make more films like
Saheb Biwi Aur Gangster
. Better films, one may say.
Rediff Rating: