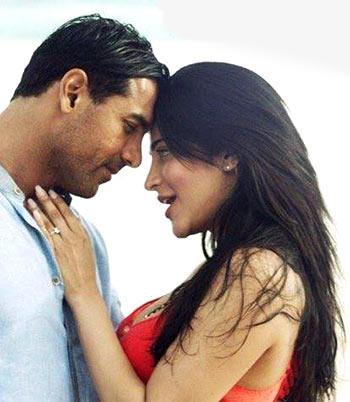 Rock Tha Party is the only song that *really* rocks the party, feels Aelina Kapoor.
When you've heard the opening track of a soundtrack sounds familiar, the rest of the album loses its charm.
And this happens with Rocky Handsome. Despite the presence of newcomer composer duo Sunny Bawra and Inder Bawra, you are actually served Bombay Rockers' Rock Tha Party.
More than a decade old song, Rock Tha Party was a chartbuster back then and sounds good even today.
Incorporated in the film as a situational track where John Abraham menacingly looks on, one expects a similar Adrenalin pumping score in rest of the album as well.
That's doesn't happen though, as Sunny-Inder keep the proceedings slow for their three songs.
They begin with Rehnuma, which has an Illayaraja-AR Rahman influence. A love song of sorts, the song doesn't make much of an impression. Sung by Shreya Ghoshal, it has lyrics by Manoj Muntashir and Sagar Lahauri.
Sunny-Inder bring on Aye Khuda next, written by Sachin Pathak and Shekhar Astitwa. Sung by Rahat Fateh Ali (who is accompanied by Shreya Ghoshal in the second version of the song), this is a sad song. Average.
Some excitement sets into the next song, titled Titliyan, which is sung in 1950s cabaret style by Sunidhi Chauhan. Sagar Lahauri writes the lyrics.
Ankit Tiwari finds a place for himself with Alfazon Ki Tarah, as composer and singer. He brings in the usual pathos in his rendition of this Abhendra Kumar Upadhyay written track which somehow doesn't rise above ordinary.
At the end of the album it's only Rock Tha Party that really rocks the party.
Rediff Rating: