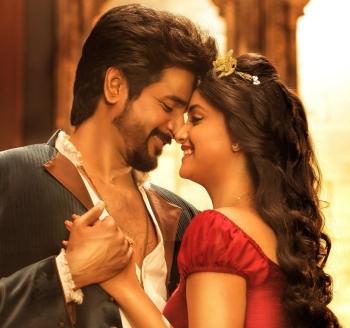 Director Bakkiyaraj Kannan's Remo is a ridiculous romantic comedy revolving around the hero's struggles to win the girl of his dreams, writes S. Saraswathi.
Sivakarthikeyan has grown to become one of the most bankable stars of Tamil cinema today. His name is synonymous with mindless romantic comedies that seem to be lapped up by the audience with great enthusiasm.
After the spectacular success of Rajini Murugan earlier this year, the actor returns with yet another ridiculous rom-com titled Remo. Keerthy Suresh, his co-star from Rajini Murugan plays the female lead.
Like all his previous films, Remo too revolves around the actor's endless struggles to win the girl of his dreams. Over the years, Sivakarthikeyan has become quite adept at playing the underdog with everything in life stacked against him.
In Remo, he plays SK an aspiring actor, who dreams of becoming a big star one day. He has his two drinking buddies played by Sathish and Rajendran, who also sit around and do nothing.
Life is meaningless until Cupid strikes with one glance at the lovely Keerthy Suresh, who plays Kavya, a doctor in the film. Unfortunately for SK, the day he plans to profess his undying love for her turns out to be the day she gets engaged to a well-settled good looking doctor arranged by her parents.
She has no clue to even his existence or his one-sided love for her. Though dejected SK decides to get on with his life. A movie audition requires him to dress like a woman and incidentally on this very day he gets to meet Kavya again. SK is dressed up as a female nurse and Kavya very generously offers him a job at the hospital she works in.
Thus begins his charade as a pretty woman, who becomes Kavya's friend and confidante.
The rest of the film is all about whether he can influence Kavya to fall in love with him. The end is quite predictable and the screenplay meanders endlessly to provide some laughs, plenty of sentiments, over-the-top action and some stunning music by Anirudh Ravichander.
Most of the songs are already chartbusters and Sivakarthikeyan keeps you entertained with his superb dancing skills. The actor once again proves that he is a born entertainer understanding the pulse of his audience, not to mention his wonderful comic timing.
Keerthy Suresh appears a little over expressive, and despite enjoying an almost equal screen time adds little to the film.
Carefully thought out scenes and clever dialogues cater to all Sivakarthikeyan's fans, be it the little children, young Romeos or doting mothers. Sarcastic remarks taunt young girls for choosing to marry boys chosen by their parents instead of good-for-nothing guys stalking them.
Sivakarthikeyan does make a pretty picture as a girl, but other than that debutant director Bakkiyaraj Kannan's Remo has nothing new to offer.
Rediff Rating: