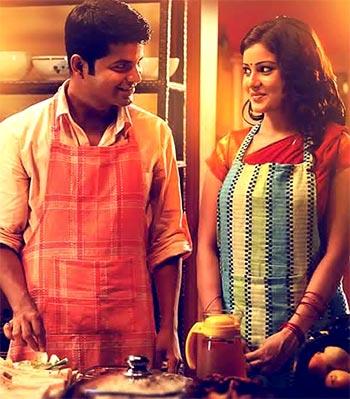 Rasputin is long-delayed, and not meant for today's times, says Paresh C Palicha.
You understand the importance of timing when you watch long-delayed Malayalam film Rasputin. The subject may have worked long ago but not today.
The film tells the story of three youngsters working in the IT sector in a nondescript urban landscape of Kerala. They are obsessed with sex.
First-time director Jinu G Daniel uses the name of the charmer Grigori Rasputin whom even the Russian queen could not resist, to make the theme familiar to us even before we step into the theatres.
The three youngsters here are Susheelan (Vinay Forrt), Radhenathan (Sreenath Bhasi) and Gopalan (Aju Varghese).
Susheelan and Radhe or Rads are cousins, while Gopalan or Gops is their common friend. All three work in the same company and share the same living space. There is nothing else common between them -- Susheelan is a timid, introverted person who cannot say no, Rads is his exact opposite and Gops is the joker of the lot with thick glasses and dumb behaviour to go with it.
Susheelan has a tyrant for a father in Vayalil Satheeshan (Joy Mathew), who is a staunch leftist and draws a line for his son which cannot be crossed. He provides the most humorous lines in the film, like his diatribe against the young people showing off their branded underwear from above your pants as the capitalist conspiracy propagated by the US.
This film can be termed as the 'coming of age' story of Susheelan, showing how his father's dominance over his life had made him meek. Vinay, being a trained actor, conveys Susheelan's vulnerability with ease.
But the treatment of the film is rather tame.
When compared to Susheelan, Rads and Gops are single dimensional. Rads is shown to be taking up responsibility for his actions from just being a happy-go-lucky guy; his transformation is too swift to be convincing.
Gops is there just to squeal 'girls' or 'chicks' once in a while.
Among the women, Srinda Ashab says 'I am pregnant' whenever Rads is in hearing range.
Archana Gupta and Vandana Menon are catalysts, who change Susheelan. But it does not demand much from any of them as actors.
One the whole, Rasputin fails in its mission.
Rediff Rating: