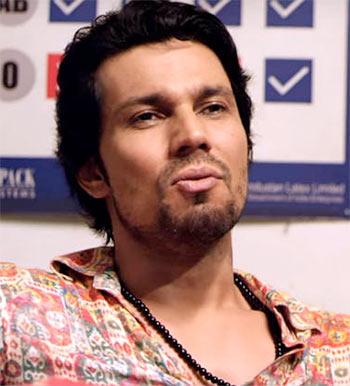 Sadly, Randeep Hooda's strong presence isn't enough to save this faltering film, says Namrata Thakker.
Some actors never fail to deliver, and Randeep Hooda is one of them.
His latest film Laal Rang is a crime drama set in Karnal, Haryana, and is about the blood trading business. Directed by Syed Ahmad Afzal, the film also stars Akshay Oberoi and newbie Pia Bajpai.
Shankar (Randeep Hooda) is a local goon, who runs the murky business of blood theft and trading. He joins a government medical college so that he can get easy access to blood banks and blood donation camps.
That's where he meets Rajesh (Akshay Oberoi) and Poonam (Pia Bajpai).
Rajesh is fascinated by Shankar's personality and his RX100 bike. Soon they come best buddies-cum-partners in crime.
Rajesh learns how the whole business of blood-theft works even as he starts falling for Poonam.
Everything goes smoothly for this young college lad until the police enters the scene.
But things really get ugly between Shankar and Rajesh when the latter starts demanding more money. Greed takes over their friendship and the two part ways, with Rajesh ending up doing business on his own.
However, his solo stint doesn't last long and he ends up at the police station sooner than he expects. If Rajesh doesn't reveal who is the mastermind behind the business, he will have to pay a price.
Despite being a dark crime drama, the film ends very melodramatically. In fact, the story loses its grip because of the unnecessary drama, love angles and songs.
Crime drama is supposed to be explosive, gritty and hard-hitting. Laal Rang is none of them.
It is a good attempt to explore a subject like blood trading but the makers did not use this opportunity to make a good film.
Randeep Hooda plays his character to perfection. As a Haryanvi goon, he is very real and sounds authentic courtesy his fluent diction for obvious reasons. It's a sheer joy to watch him onscreen. Sadly, his strong presence isn't enough to save this faltering film.
Akshay Oberoi is a surprise, and gives a good performance.
Pia Bajpai has very little screen space and doesn't add much to the story.
Laal Rang does not pack a solid punch because of its choppy storyline. Also, since the film is set in the heartland of Haryana, all the characters speak in Haryanvi, which after a point becomes too much. If you don't listen carefully, you may miss the point.
Frankly, it's okay if you do because Laal Rang isn't worth your money or time unless you're a die-hard Randeep Hooda fan.
Rediff Rating: