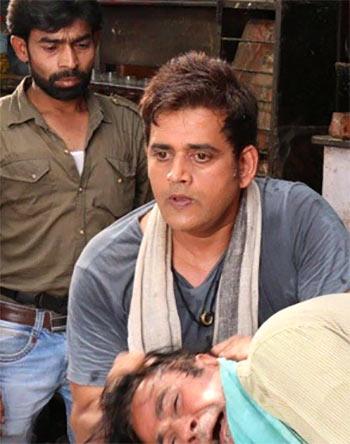 Ranbanka is torture, warns Namrata Thakker.
Manish Paul, who made his Bollywood debut with Mickey Virus in 2013, is back with his second film titled Ranbanka. Most of you probably aren't even aware of this action thriller and I don't blame you because our very own funny man has neither promoted his film nor has he spoken about it in the media.
Well, after watching Ranbanka, I know why!
While I think Manish took a wise decision to stay away from the film, it would have been so much better if he hadn't signed the film in the first place.
Yes, it's that bad!

The film is Rahul (Manish Paul) is an engineer working in Mumbai, who shifts to Mathura for work along with his wife Priya (Pooja Thakur) and son Aayush.
That's when Ravi Kishan comes into the picture. He plays Raghav Singh, a local goon and younger brother of an MLA. He falls for Priya and becomes obsessive about her. He wants to get married to her by hook or crook.
To protect his family, Rahul decides to flee from Mathura but his efforts go in vain. Raghva then kills Aayush and that's when the story takes off. Till then, Ranbanka is all about bad acting and annoying dialogues.

So does this mean the film is tolerable in the second half? Of course not.
But in the second half I had a few laughs because of bizarre dialogues and two unintentional hilarious dance numbers. In fact, one of the songs made me hungry because its lyrics had words like biryani, nimbu pani and garam masala. Yes, you read that right.
The other one is a Holi song wherein the background dancers 'pretend' to dance.

Coming back to the story, in the second half, Rahul swears to avenge his son. But guess what, this happens only after his wife calls him a 'namard'...errghh!
In fact, it's a five-minute ridiculous monologue that brings out Manish Paul's heroic side.
Ranbanka is all about bad direction and uninterested actors crying, laughing and screaming.
Ravi Kishan, to a certain extent, is decent in the film but that's only because the other actors fail to make any impression.
Manish Paul should stay away from action films. If he wants to stay in Bollywood for a little longer, he should stick to his forte, comedy.
As for the leading lady of the film, well, I must say Ranbanka must have been tough for Pooja Thakur. After all, it's not easy to sob throughout the film with the same expressions.

If you haven't played a prank on anyone for the longest time, this is your chance -- treat them to Ranbanka!
Rediff Rating: