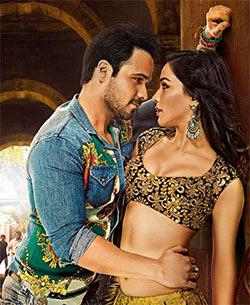 Raja Natwarlal has some smarts but tragically lacks the skill or the sleight-of-hand, feels Raja Sen
A good con should appear far simpler than it is.
Which is why when a man holds up three playing cards, out of which one is a picture of Deepika Padukone and two feature perennial mother Nirupa Roy, picking out the pretty one seems easy.
It isn't, as customers hoodwinked by Emraan Hashmi's streetside Three-Card Monte learn, or as the producers of the Raja Natwarlal might realise having scanned through Pakistan's stunning actresses and managing to pick out its most generic girl instead. Aargh. Hashmi is a fine choice for a conman-celebrating film, a modern day Natwarlal that glorifies the selling of things one doesn't own, and hoodwinking of that nature.
It's a fine cinematic premise, rich in potential for humour, and when done well, pretty darned memorable. Kunal Deshmukh's Raja Natwarlal -- far too unchallenging to its protagonists and too convenient to its writers -- doesn't aim or offer greatness but certainly throws up a movie more watchable than most of the things crowding your local multiplex. Most of this is down to the actors. Hashmi is in reliably entertaining vein as a young scallywag wearing shirts made out of carpets and fooling whoever stands within range, and it is amusing to see the long-forgotten Deepak Tijori show up as his mentor, the senior scamster. Tijori's own big brother, the intriguingly named 'Victor Singh Khan' is played by Paresh Rawal -- and if ever a man could wholly pull off a line filched from Michael Caine in The Prestige, it's this one.
Rawal, in fact, as the former con-maestro coaxed out of retirement, and Kay Kay Menon, the gangster in the other corner, The Mark, are the two best things in this movie, each giving this film more credibility than it deserves. Sumeet Nijawan has a solid, menacing presence as a bad cop, while Mohammad Zeeshan Ayyub is wasted without a proper part. But the letdown -- and it is a big one, considering big chunks of squandered screentime -- is Humaima Malik who makes for a singularly unremarkable heroine.
The plot is as simple as it should be, with a bunch of unlikely (but likeable) protagonists out for "long game" revenge against a slimy villain. There is ambition in terms of scale, with Deshmukh setting his action around the auction of an IPL team, but while the script offers some slight diversions from the obvious, the direction lets it down. The moments that truly work -- like Kay Kay sticking out his hand patronisingly and coldly, grandly bestowing a handshake instead of asking for one -- don't seem to be ones planned by the filmmaker or the writers. And that is the fundamental issue with Raja Natwarlal.
Were it bereft of the unimpressive songs and the albatross-like Humaima, it would be a shorter film, but its problems don't end there. It is written out like comic-book style pulp, but shot as flatly as bad television. Things are in place, and while it's not a bad film per se, it could have something far cooler. It reminded me frequently of the film 99 but only if directors Raj and DK had walked off the set. Raja Natwarlal has some smarts but tragically lacks the skill or the sleight-of-hand. When we sit down to a con movie, we shouldn't be able to see what will happen next -- we want to be finessed into the con. We're already watching closely, you see.
Rediff Rating: