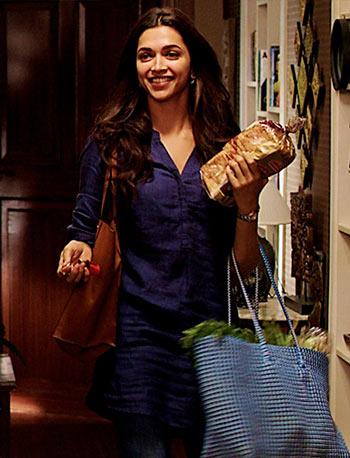 There is no 'remix version' for any of the songs, as the music deserves to be heard unadulterated, writes Aelina Kapoor.
With Yahaan, Vicky Donor and Madras Cafe, director Shoojit Sircar proved he has unique taste in music that isn't quintessentially Bollywood.
One expects more of the same from his latest, Piku. The film, which is about a Bengali family, stars Deepika Padukone, Amitabh Bachchan and Irrfan Khan as a friendly neighbour.
Composer-lyricist-singer Anupam Roy -- who is well known for the music he has created for Bengali cinema -- makes his debut in Hindi films, so there's much to look forward to.
Bezubaan is a serene piece. You have to listen to the lyrics carefully because of the manner in which the words (with Manoj Tyagi chipping in as well) are spun together.
It's not like in a regular Hindi film song; it has a completely different structure.
Journey song, the first song from the film that was unveiled, creates a happy mood. As its name suggests, it's good to play on your car stereo as you start a long journey.
It's not a full-on rock score that accompanies high speed driving, but rather the kind you have on when you are on a relaxing drive, with the windows down and fresh air blowing in.
Anupam Roy's Lamhe guzar gaye is slow moving and contemplative. It's a situational number, easy on the ears, but threatens to slow down the pace of the film.
Thinks perk up when the title song Piku makes a belated appearance. It may be the addition of the spunky Sunidhi Chauhan, but the graph of the soundtrack suddenly swings upwards.
You can visualise Deepika Padukone being all happy and sparkling in this lovely number, in which an impressive mukhda is followed by an even more impressive antara. A winner, this one.
The album closes with Teri meri baatein.
Roy has chosen to end the album on a sober note. By so doing, he has demonstrated a consistency in the music throughout the soundtrack.
Thankfully, there is no 'remix version' for any of the songs, as the music deserves to be heard unadulterated.
Piku, we would day, is a good start in Bollywood by the multi-talented Anupam Roy.
Rediff Rating: