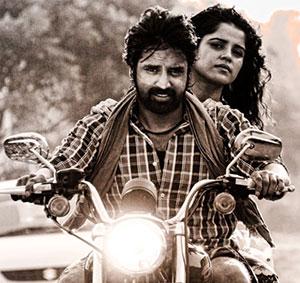 Nerungi Vaa Muthamidathe touches several issues but does not hit the right notes, says S Saraswathi.
Actress-turned-director Lakshmy Ramakrishnan made her directorial debut with the critically acclaimed Aarohanam, in 2012.
She has directed several short films, is a popular TV presenter with her own reality show, and has given several memorable performances as an actor in supporting roles.
Lakshmy received rave reviews for her performance in Mysskin's Yudham Sei, in which she tonsured her head to play the grieving mother out to avenge her daughter's death.
Her latest directorial venture is interestingly titled Nerungi Vaa Muthamida, meaning 'Come close, do not kiss'.
Sadly, the film is not as interesting.
The film opens with a severe fuel shortage that has completely disrupted normal life. There are no vehicles plying on the roads and life literally comes to a standstill.
Chandru (Shabeer), a lorry driver, agrees to transport 2,000 litres of diesel from Trichy to Karaikal at the behest of his crooked employer and local politician, Kaleeshwaran (played by producer A L Azhagappan).
The film traces his eventful journey.
Two runaway teenage lovers belonging to different castes seek his help to escape their families. Chandru agrees to drop them at the next town.
One-way Rajagopalan (Thambi Ramaiah) is the next to get into his lorry, but he is up to no good.
And then finally there is Maya (Pia Bajpai) and her boyfriend, who have met with an accident and are stranded on the road.
As the journey continues, Maya suddenly takes ill and has to be hospitalised. Terrified by the doctor's threat to file a police complaint, Maya's boyfriend deserts her.
A lateral narrative gives us a glimpse into Maya's life and her destructive relationship with her mother (Viji Chandrasekhar).
The film meanders its way through frequent flashbacks trying to establish a background for all its characters.
Some humour could have balanced the intense drama unfolding in each character's life, but both the talented Thambi Ramaiah and Bala Saravanan are hugely disappointing. Their antics fall flat, failing to evoke any laughter.
Pia and Sruthi Hariharan (of Lucia fame) have only a few scenes, but have done their bit for the director and so has debutant Shabeer.
The music by Madley Blues, a band that comprises composers Prashanth Techno and Harish Venkat, is in sync with the mood of the film. The soundtrack adds the right flavour and is one of the highlights of the film.
In just 114 minutes, Lakshmy has touched upon several issues: disastrous inter-caste love affairs, fragile relationships ruined by misunderstandings, the bond between father and son, mother and daughter, and political corruption.
Despite all these elements, a good cast and excellent music, the film fails to hit the right notes.
Rediff Rating: