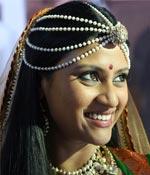 Preeti arora reviews Mirch. Post YOUR reviews here!

Infidelity is an age-old phenomenon. So are lust, deceit and betrayal. These emotions have prevailed through the ages. Then why on earth is the director, Vinay Shukla, seeking justifications for the same? It really is a problem when the directors aren't happy if you just see their film, but they are also intent on cramming some so-called message down your throat. As a result, one leaves the auditorium with a sense of resentment rather than a smile which such a light-hearted film should induce.

Mirch is the story of a director Manav (Arunoday Singh) who is keen to make his debut as a director. Not giving a damn about the family business, he leaves his hometown Bangalore for Mumbai.

Unable to fend for himself financially since the producers in Mumbai will never recognise the 'intellectual depth' of his script, Manav must now make a film which is all about the magical three-letter word 'sex'. As Manav goes about narrating these stories to his producer Nitin (Sushant Singh) and his girlfriend Ruchi (Shahana Goswami), these tales unfold on the screen.

Two of these stories are set in ancient India while the other two are set in Mumbai. But they share a common theme. Women are the smarter sex. They are also skillful liars who think on their feet. Men are generally suspicious, don't take life too seriously but when they do, don't think with their brains. And over thousands of years this fact has remained unchanged. The stories are recreated in a spirit of pure mischief. But let's hope the feminists don't come looking for you, Mr Shukla.

The film comprises an ensemble cast with Konkana Sen Sharma, Raima Sen, Boman Irani, Ila Arun, Shreyas Talpade and the villain of the '70s, Prem Chopra. Raima Sen looks good both in her roles as the carpenter's wife in ancient India and the modern-day housewife. She captures the 'I'm so innocent-yet-so-seductive' avatar brilliantly.

In comparison Konkana Sen Sharma doesn't make an impact. Her enthusiasm seems contrived and the spontaneity which one usually associates with her is absent.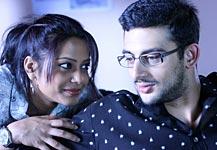 She plays the elderly raja's (Prem Chopra) wife who prefers to play with his cat or a game of chess even as he toys with the dilemma of chewing herbs to boost his failing libido. He manages to evoke laughter whenever he appears on screen. Quite an achievement!

For many years in the movies we had the sardars as punching bags on which all the so-called jokes could be meaninglessly hung. Then for a while the Gujarati community became the focus of meaningless satire.

In Mirch, Boman Irani plays a lecherous Sindhi businessman (Asu Hotmal) who spends his time and money in seedy run-down hotels. It is really such a shame that an actor of his caliber is reduced to playing pathetic community-based caricature which was popular in Bollywood of the '70s and 80s.
The sutradhar has always been an intrinsic part of our story-telling tradition. Here we have the trio  -- producer, director and his girlfriend. Instead of serving as links between the stories, each sutradhar comes with his or her emotional baggage. An interesting premise, had it taken off successfully, but here it only pulls the film down.
However Arunoday Singh does share good chemistry with Shahana and they casually pull off the tricky climax. Shahana especially needs meatier roles to which she can do full justice.
Mirch has its fun moments and a few laughs. With a lighter treatment it may have been a real rib-tickler.
Rediff Rating: