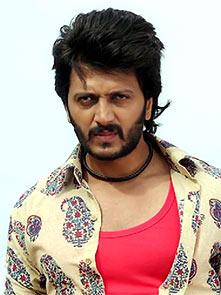 Full marks to Riteish Deshmukh and Nishikant Kamat for taking the plunge into Marathi cinema, says Prasanna D Zore.

Lai Bhaari in Marathi loosely translates to 'awesome'.

The actor-director duo of Riteish Deshmukh and Nishikant Kamat seems to have made a Rs 100-crore film with Lai Bhaari.
Do you think my claim is Lai Bhaari? In this case it translates to 'am I putting my foot in my mouth?'

Well, in two weeks' time I shall be proved right.
Though Lai Bhaari is a typical Marathi potboiler, an out-and-out commercial cinema, director Nishikant Kamat has made sure he ticked all the departments right except the plot, which in any case, is somewhat of a rare species now, irrespective of what you see is a Bollywood film or Marathi cinema.
Deshmukh in a double role -- yes, you read that right -- makes sure that the audience will love his chocolate hero looks (Prince) as well as the angry young icon of Marathi cinema (Mauli) who seeks revenge without making you feel you are not watching a Hindi movie.
Kamat, who has given us such delectable films as Dombivali Fast and Mumbai Meri Jaan, is completely in charge of Lai Bhaari as he narrates the story of Prince, Mauli and Sangram (Sharad Kelkar as the villain is dashing but sometimes lacks the teeth of a negative character if you leave his gory indulgences aside) as the fight of the good against the evil.
Apart from the cast that includes Tanvi Azmi (yes, yes, she is absolutely wonderful) as the mother in the mould of Raakhee or Reema Lagu (you take your pick :-)), Radhika Apte and Aaditi Pohankar as Prince's and Mauli's love interest respectively, the film's masterstroke is the brilliant evocation of imagery associated with Lord Vitthal (Maharashtra's reigning deity and romantically also described as the God of the Poor), the Warkaris (his followers) and Pandharpur (the Lord's seat in southern Maharashtra).
The dialogues (Sanjay Pawar), the one-liners (Tanta nay tar ghanta nay -- read the sub titles to get what this is), the cinematography (Sanjay Memane) all hit you at the right places if you are kind enough to spare the music that is all sound and little melody considering the film revolves around all things Vitthal, the source of most melodious bhakti movement songs in Maharashtra.
Special mention must be made of Kelkar who plays the evil-minded, blood-spilling Sangram with aplomb.

The only hitch you can find with Kelkar is his dialogue delivery, especially, when he has to use to get into an action sequence.
For Lai Bhaari, both Deshmukh and Kamat seem to have taken a calculated bet that could dilute their brand images -- which lay with Bollywood as of now.
Nevertheless, the Deshmukh-Kamat duo have churned out a blockbuster Marathi movie, never mind the fact that the film takes on Varun Dhawan and Alia Bhatt's Humpty Sharma Ki Dulhaniya that is also likely to do strongly at the box office.
Before I forget...
Salman Khan's cameo (Khan happens to be a co-producer) and his 'bhau' act with Deshmukh as they engage with each other in their drunken stupor talking about Khan's ex will leave you in splits.
Full marks to Riteish Deshmukh and Nishikant Kamat for taking the plunge into Marathi cinema.
What else can one say, but the duo are Lai Bhaari.

Rediff Rating: