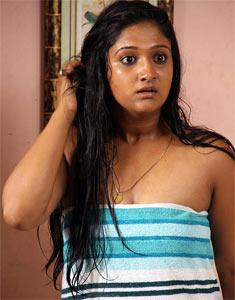 'Kannada film Khatarnaak lives up to its name but is devoid of entertainment, and is violent and gory' writes Srikanth Srinivasa

Dialogue writer and lyricist Malavalli Sai Krishna has directed a film for the first time with Khatarnaak.

Umesh (Ravi Kale) is a budding criminal who enjoys the ill-gotten wealth that his mother encourages him to bring home. What started as a lark soon becomes a habit. Umesh grows up to be a serial killer and a rapist.

The film shows stark images of heinous crimes. Umesh is a cop. His victims are heavily bejewelled women who he has sex with and then murders so he can make off with their jewellery.

He has a penchant for collecting the women's
innerwear in his bag which gives enough clues to the police about his involvement in the crime. Umesh gives the police the slip many times but not before narrating to them how he committed the crime.
Ravi Kale has lived his role every bit as the dreaded criminal. Shobha Raghavendra as the mother excels. Rupika as the college student is adequate and so is Sharath Lohitaswa.
Sadhu Kokila is wasted but his background music score gels well with the narrative. M R Seenu's camera work is exceptional.
Khatarnaak
is devoid of entertainment or any elements that entertain. It is violence, sex and gore. But, the movie is a wake up call for vigilance in our neighbourhood.
Rediff Rating: