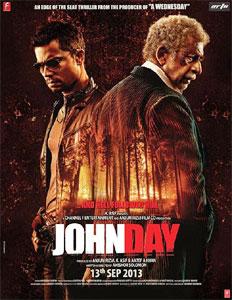 John Day isn't the dark, twisted thriller it was meant to be, says Paloma Sharma.

Director Ahishor Solomon's John Day was supposed to be a dark, twisted thriller that makes you look into your own soul and question the abyss that stares back at you.

Unfortunately, it does not succeed.

It is difficult to summarise John Day's narrative because the film itself fails to decide what it wants to be. So forgive me if you end up as dazed as I am.

John Day, named after its protagonist, opens with two teenagers lying to their parents and wandering off to a forest in the middle of nowhere (because that's just what teenagers do, apparently) and one of them ends up getting murdered. Surprise, surprise!

John Day (Naseeruddin Shah) -- the deceased teen's father – is an honest manager of a place called the Royal Citizen Bank (or something equally awkward) and supportive husband of his traumatised wife, Maria (Shernaz Patel). Two years after losing his only child, when John's bank is robbed, he comes across a file stored in one the lockers. The file bears the name of the place where his daughter was murdered.

The film then spirals (downwards) into unnecessarily violent scenes and dialogues sprinkled with abusive language.

John Day does get a couple of things right though -- Naseeruddin Shah is in fine form (as always), director Solomon spares us the usual song-and-dance routine and lastly, refreshingly good cinematography.

Though rumoured to be a rip-off of La Caja 507, the film appears to emulate Ryan Gosling starrer Only God Forgives in terms of gore but fails miserably.


Speaking of failing miserably, Randeep Hooda disappoints as a corrupt cop in the film. His ACP Gautam, a psychopath with a troubled past who mentally and physically abuses his alcoholic girlfriend Tabassum Habibi (played by newbie Elena Kazan), carries a permanently constipated expression throughout the film.

Gautam and Tabassum live in a luxurious villa with a swimming pool, because, hey, dirty cops can totally flaunt their black money, it's not like the income tax department ever really raided anyone.

Most characters in the film including Tabassum and Gautam's right hand man Shinde remain undeveloped. It's hard to see them as people and sympathise. They are one dimensional. The layers are missing.


While John Day is supposed to be based on a very 'philosophical' line of thought, I really didn't get the excessive use of religious imagery to prove a point. The film's background music doesn't help either -- it's there just for the heck of it.

John Day fails as a thriller. I suppose it had a run time of approximately two hours, but it felt more like five.

Rediff Rating: