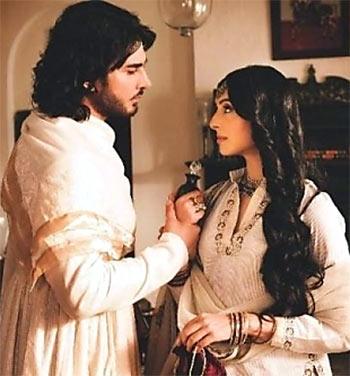 Jaanisaar will test your patience, cautions Paloma Sharma.
Muzaffer Ali's Jaanisaar is a cautionary tale of a film with a half-baked script and pretend patriotism.

The film opens with Naseeruddin Shah's voice reading aloud the contents of a letter that apparently contains Lord McCaulay's take on how India's culture and education system must be destroyed if the country is to be enslaved.

Next, one watches a wandering poet/fakir/random dude with long, white hair (Ali himself) wandering the woods on his horse, where he comes across a bunch of decaying corpses hanging from the trees.

He buries them, giving them as respectful a funeral as he can afford.

Meanwhile, somewhere far, far away in CGI England, a young boy named Raja Amir Haider is presented to an obviously non-Caucasian, heavily powdered woman attempting to play the Queen of England with a fake accent.

The Queen instructs Cavendish (Carl Wharton), a high ranking British official, to take care of the boy and groom him in English ways.

The boy grows up into Imran Abba.

Anyhow, brown sahib returns to India and is bowled over by Noor (Pernia Qureshi), a courtesan and secret revolutionary, when he sees her dance at his homecoming party.

Both Noor and Amir have strong feelings for each other but Noor's loyalties lie with India while Amir's with England.

Both Indian and British forces are invested in driving them apart for their own interests.

Jaanisaar was supposed to be Muzaffer Ali's comeback vehicle after the stunning Umrao Jaan but it fails to meet expectations.

Ali delves into familiar territory, choosing to go down the beaten path.

There are a few scenes that remind one more of Pakeezah than Ali's 1981 hit, although unlike the aforementioned classics, Jaanisar's portrayals of love, strife and slavery are sans passion.

The leading pair has no chemistry at all.

While Abbas is deadpan as ever, Qureshi's acting pales in comparison to her dancing abilities.

Lithe and graceful, Qureshi has a strong screen presence during dance sequences. Otherwise, she is as good as not being there.

Characters aren't introduced because Ali takes it for granted that the viewers are already familiar with them.

Similarly, there is absolutely no explanation for motives of characters and the changes in their temperaments.

The Avadh of older times is beautifully crafted in present day Uttar Pradesh, the sepia tones lending a sense of nostalgia.

However, the film ruins the moment by letting bad editing get the better of it.

Redundant scenes and a weak story weight the film down.
Jaanisaar doesn't just go off track. It barely stays on it.

You don't know who is related to whom and why.

No one tells you what ails the characters.

Too many threads are entangled and ten minutes into the film, one is far too tired to even bother to figure it out.

The best part of Jaanisaar are its songs.

If the film were a music album, it would have been infinitely more enjoyable.

However, in its present form, Jaanisaar is a test of endurance.

A film that helped me discover that dark space between frustration and boredom, Jaanisaar would have been a more honest work of art if it were titled Jaanleva.
Rediff Rating: