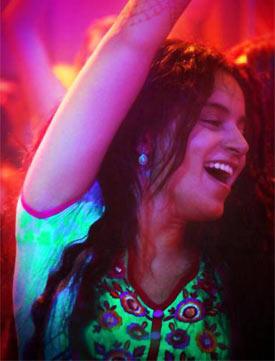 Sonil Dedhia lists six reasons to watch Queen.

Kangna Ranaut's Queen doesn't need to be reviewed. It needs to viewed.

And here's why:

Kangna Ranaut's phenomenal performance:

Kangna shines in each and every scene. Literally.

From her look, to body language and even her accent, she is completely natural and effortless. It is impossible to not fall in love with her character.

Her transformation from the demure Rani of Rajouri Garden to the Queen of Paris is simply flawless.

The scene when she gets drunk for the first time and gets into an impromptu dance on Hungama Ho Gaya in a Parisian nightclub is superb. It's like she was born to play this character.

Vikas Bahl's excellent story:

If there is anyone who deserves more appreciation than Kangna, it's director Vikas Bahl.

His story-telling technique and execution are among the high points of the film. He offers you a film, whose images linger in your head long after you've left the theatre.

This movie needs a sequel!

A surprise package called Lisa Haydon:

Lisa's acting skills were never tested in Aisha, and her item song in Rascals.

But Queen shows her off in a very new way.

Lisa shines in the film and lends oomph as well. She matches Kangna in every step. Watch out for the scene where she discusses burping with Kangna.

An excellent supporting cast:
Whether it is Rajkummar Rao (Kangna's fiance) or Chinmai Chandranshuh (Kangna's kid brother) or her three firang friends, Vikas Bahl extracts some remarkable performances.

Casting directors Partia Mandalia and Atul Mongia deserve a mention.

Crackling humour:
From the cheeky Santa Banta jokes to some hilarious punch lines, dialogues by Anvita Dutt and Kangna are terrific.

Lovely music:
The foot-tapping Punjabi number London Thumakda, the soulful folk song Ranjha, a fantastic remix Hungama Ho Gaya, and all the others inbetween, the songs are part of the narrative and enhance the film.

Kudos to composer Amit Trivedi and lyricist Anvita Dutt.

So do yourself a favour and watch Queen. Now!
Rediff Rating: