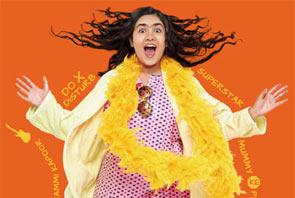 Gippi is a movie meant for teens. And it has all the necessary teen masala -- romance, a makeover, cheesy humour and loud music, says Kshamaya Daniel, who's thrilled that she is finally, officially, 13!

Dancing like a raving madman? Check.

A divorce? Check.

The father going on to marry a blonde? Check.

A typical Mean Girl? Check.

A Hot Guy who illicitly smokes all the time (like, how does his mom not realise??)? Check.

A makeover. Check.

Awesome aftermath. BEEEEEEP! *flashing-red*. Nope, sorry, that search didn't bring up any results.

It's a normal makeover movie till… the boyfriend tells his girlfriend (on their first date!) that she's turning into a b***h. Ouch!

This triggers a change in Gurupreet Kaur (Riya Vij) and she becomes friends with the mean girl. Awwww! And they all go home and dance to old Hindi movie songs. LOL.

Basically, Gurupreet Kaur, aka Gippi, is a loner whose BFF, Anchal (Doorva Tripathi), is another loner. She falls HOH in love with a senior (the aforementioned non-stop smoker).

After learning the hard way that some guys are jerks, she eats ice-cream, lots of other stuff and some more ice-cream. There's a lot more that happens after that, but I can't tell you about it. If I do, what's the point in you guys watching the movie?

Gippi is actually pretty good, though I somehow always get stuck with the Karan Johar films (this one's produced by him).

It has a lot of humour; at one point I almost spat out my popcorn. I pity the bald dude who was sitting in front of me!

At the same time, you will also feel embarrassed when Gippi says something dumb to Arjun (Taaha Shah as the hot senior). I was, like, whacking my forehead the whole movie. As a result, I'm going to have to wear my Yankees cap backwards for the rest of the month!

The music in the movie is really old-style Hindi movie type songs. Composters Vishal-Shekhar have come up with a truly vintage and priceless soundtrack for the movie.

There were tracks by Sukhwinder Singh, Neeti Mohan and, of course, Vishal Dadlani and Shekhar Ravjiani.

The lyric writers are Anvita Dutta Guptan and Vishal Dadlani.

Gippi is not one of KJo's usually glamorous productions, so the costumes are simple.

In most of the scenes involving Gippi, she's usually wearing her signature purple pyjamas or her school uniform (which is scandalously short), with the occasional sprinkle of a fabulous party dress or a kurti for her dad's second marriage.

Arjun has his designated black leather jacket and Anchal (Doorva Tripathi), her pigtails.

Gippi is set in Shimla but moves to New Delhi for Daddy Dearest's engagement and wedding to the blonde,
Jennifer.
The movie's main scene sets can be divided into Gippi's house, classrooms, a tree in the school yard and the school assembly hall.
The acting is good, but I wouldn't say it was award worthy or anything. I mean, there are not too many challenging things the actors have to do... mainly, it's a lot of jumping on beds and falling down!
Riya has acted well considering it's her first film; she has just the right lovestruck look in her eyes when Arjun speaks to her.
As for Taaha... he smokes and smokes and smokes. But now that I think about it, he says a few lines as well. Actually, he isn't that bad. You can only act so well when you're playing the role of 'That Jerk Who Breaks Her Heart'!
In fact I'm kind of surprised that he didn't drive a motorbike as well, or have a girlfriend!
Shamira (Jayati Modi) is the mean girl, though I thought she could have been meaner in some of the scenes. She has everything and everyone under her spell, until things take a turn for her somewhere along the road.
This is Jayati's first movie as well.
Booboo (Arbaz Kadwani) plays the role of Gippi's gay brother. He has a cheesy sense of humour and dress sense that Arbaz pulls off quite spectacularly.
Divya Dutta plays Pappi, Gippi's mom. She has a weak, but encouraging and fun-loving character. Her acting was alright.
Director Sonam Nair's
Gippi
will appeal to tweens and teens, but not as much to adults mainly due to the lack of a serious plot and any volume control whatsoever.
Meanwhile, producer Karan Johar is moving a step ahead. Even as filmmakers everywhere are trying to master the art of making movies for 17 and 18 year olds, KJo is targeting even the pre-teens. An example of a hit movie like that is his
Student Of The Year.
If
Gippi
were compared to
SOTY
, I would say
SOTY
was better as it has a much more detailed plot and appeals to all ages. Most adults will find
Gippi
boring due to its partly cheesy, partly slapstick humour.
I think KJo made a great find in Riya Vij and Jayati Modi; they both have shimmering futures in B-Town. So do Arbaz Kadwani, Taaha Shah and Doorva Tripathi, but it would be a little less shimmery I think.
As I said the movie is simple, but good. It has comedy, drama, romance and even a little heartbreak.
I wouldn't say it was a chick flick, since that's only romance and A LOT of drama, but it could be a good substitution.
If you're a loud person like me, then I suggest you pick up some friends and go and watch
Gippi
in a theatre. Otherwise, buy the DVD later but you will miss some great surround sound!
It really is a great movie and I think the 11-21 year olds will love it.
Oh! And there's a spider on the wall behind you! LOL!
Rediff Rating: