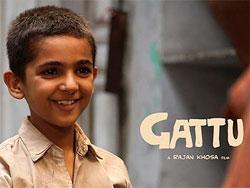 Gattu director Rajan Khosa's skill is evident in the manner the screenplay unfolds, without preachiness or stilted dialogues, writes Preeti Arora
Making a children's film which can keep lts entertained is a rare feat. One person who successfully achieved this was Amole Gupte with his path-breaking film
Stanley Ka Dabba
. As a rule directors of kiddie films are fairly determined to have us in tears, with wet handkerchiefs and to douse us with an inescapable note of pessimism.
Then there are always the standard plot points; orphan child, illiteracy and the all-pervading poverty which can be 'exploited'.
The premise of
Gattu
is extremely simplistic, so much so it could have turned into one of those tear-jerkers such as Priyadarshan's
Bum Bum Bole
which was an adaptation of the classic
Children of Heaven
directed by Majid Majidi . So dare we hold our breaths and anticipate something new? Yes, the script flows effortlessly and ends at a point where you exit the auditorium with a smile on your face.
Setting the story in a small town with the classic plot points, Rajan Khosa narrates his tale skillfully, keeping us involved and alert. Sparing us mush and melodrama he cleverly pulls us into Gattu's world, where we pray for him, we applaud him, we adore him but we don't feel sorry for him. Gattu is lovable, smart and on the ball. Sympathy is reserved for the wimps.
A ten-year old urchin Gattu l (Mohammed Samad) lives with his uncle and scrapes a living doing odd jobs. There isn't much in his life to look forward to but Gattu has been blessed with an abundance of spunk and determination. A black kite floating high in the sky is the major irritant in Gattu's
life. All other kite-fliers even the serious and determined ones have pursued the black kite affectionately nicknamed 'Kali' and realistically given up the chase. Kali remains indestructible.
Kali's presence is a major irritant in Gattu's life and he dreams of the day his kite will overtake her. Using tremendous cunning, he steals a little, lies a lot more and plans with the sincerity of a commander waging a major war. He ends up in a real school as a fake student and for the first time in his life discovers the joy of learning. But his real mission remains steadfast, the conquest of Kali.
A natural actor, Gattu sticks his lip out, flares his nostrils and rebukes his uncle for taking advantage of him. A difficult scene for even a mature actor but Gattu pulls it off with such aplomb we smile at his indignation instead of pitying him for his miserable circumstances.
Khosa's skill as a director is evident in the manner the screenplay unfolds, without preachiness or stilted dialogues, just a few small town folk scraping an existence without giving much thought to the helpless kids who are an integral but irrelevant part of the landscape. The stray dogs, the garbage, the buzzing flies are the reality of Gattu's life, not props engineered by a scheming director who wishes to endear himself to a western audience.
The film runs for 82 minutes and the pace doesn't flag even for a single minute. The other children in the film have small insubstantial roles; Gattu carries the film on his slender shoulders alone.
Gattu
is a must watch for all but most especially cynics who believe 'there is no hope for any of us'. It took Gattu just a little less than two hours to prove it.
Rediff Rating: