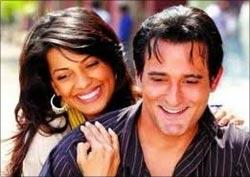 Shaikh Ayaz writes Gali Gali Chor Hai is such a lame comedy, you end up laughing AT the film.

Anchored in the David Dhawan-style of filmmaking, director Rumy Jafry turns a new leaf in this career with Gali Gali Chor Hai, in which he casts a satirical eye on the pressing social concern of our times -- the common man in the grip of corruption.

Its timing couldn't have been more correct, with the public mood so intently focused on corruption in the Anna Hazare era.

That's probably the only good thing one can say about this film. Otherwise, it's a product of lame writing, inept direction and sincere but ineffective acting. When you do laugh, you mostly laugh at the scene, not along with it.
The gullible Bharat (Akshaye Khanna) is a cashier in a bank in Bhopal, and a theatre actor by passion, who acts as Hanuman in the local Ramleela year after year.
His father (Satish Kaushik) wants him to switch from playing Hanuman to Ram some day. His wife Nisha (Shriya Saran) is a teacher who, convinced that her husband is having an affair with their paying guest (Mugdha Godse) leaves home and swears never to return.
Meanwhile, Bharat's snub to a local politician (Murli Sharma) puts him in dire straits. To teach him a lesson, the politician's supporters embroil him in a bureaucratic nightmare where he is forced to retrieve a table fan, supposedly stolen from him, by bribing his way through the judicial system.
The joke is it's not even his fan. But he has to prop up his own witness, bribe the cop and even the thief ("Team poori ho gayi," quips the complicit constable played by Annu Kapoor) and gift a cell phone to a lawyer to fight a case that is no case. Bharat's attempt to then get rid of the fan is equally eventful.
The motif of the fan, like the umbrella a symbol of middle-class India, could have been worked more successfully into the story but ends up doing no more than amuse you.
Again, the Ramleela analogy (Ram is Ravan in real life and vice versa) or for instance, Akshaye's Bharat as a metaphor for India, could have been put to better use. But Jafry seems more interested in touching on these themes for their newsworthiness rather than their inherent relevance to the story. That's why the end sequences descend into a show of jingoism.
The dialogues are often sarcastic (extracting a confession in the stolen fan case, the constable tells Bharat and his father, "Chor pe hamein poora bharosa hai ki woh jhooth nahin bolega"), suggesting that Jafry intends this film to be a caustic satire on the lines of the sitcom Office Office.
Akshaye and the other characters play it straight and make a sincere effort. And though comedy should ideally be born out of their pitiable situations, it is born out of their inability to find such situations.
Rediff Rating: