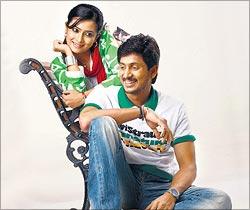 Kannada film Breaking News is an average entertainer, writes Srikanth Srinivasa.

Radhika Pandit and Ajay Rao, who worked wonders together in Shashank's Krishnan Love Story, are back with director Nagathihalli Chandrashekar's Kannada film Breaking News.

But the film has turned out to be an average entertainer with no soul, unlike his earlier films America America and Amruthadhaare.

Breaking News talks about the commercialisation of the media industry and is meant to show the lighter side of the business, but doesn't quite make it.
Arjun (Ajay Rao), a television journalist tries his best to bring a variety of programmes to his channel. But his boss insists on something sensational all the time that will keep the channel's ratings high so that advertising pours in.
The film is set against the backdrop of the Lokayukta, one Somashekar (Anant Nag) inquiring into a land de-notification deal involving a minister.
Arjun's boss is not convinced when Arjun brings him a recorded tape of the press conference that the Lokayukta addressed. So Arjun calls up the Lokayukta's home for an exclusive interview.
Shraddha (Radhika Pandit), the Lokayukta's daughter fools him into believing that he has an appointment for the interview. When he goes with his camera crew to the Lokayukta's house, he gets thrown out.
Arjun gets fired from his job for failing to generate sensational content for the channel. He comes to know that Shraddha had played a prank on him regarding the appointment.
Shraddha, who has an American suitor, is kidnapped by Arjun who keeps her in a makeshift studio that looks more like a garage.
It is Radhika Pandit's superb and light-hearted performance that livens up the proceedings. Ajay Rao is adequate. Rangayana Raghu and Swayamwara Chandru as the minister and the minister's son steal the show with their funny mannerisms.
Anant Nag is dignified as the Lokayukta but could have been given more footage. Arun Sagar is funny as the artist who is domesticating four snakes in his garage studio. It is a delight to watch the late Karibasavaiah in a brief role.
The music by Stephen Prayog is okay. The film falls below the benchmark Nagathihalli Chandrashekar set with his earlier films. Krishna Kumar's camera work is just average.
Breaking News is a light-hearted movie with bad production values. 
Rediff Rating: