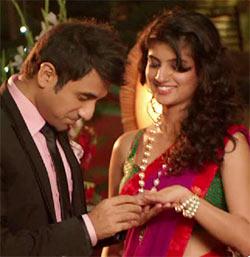 Amit Sahni Ki List falters on many counts, says Paloma Sharma.

Five minutes into the film and you just know that Amit Sahni ki List is nothing you've ever seen before for a very simple reason -- although Amit Sahni went to IIT and then IIM, he did not go on to become a best selling author.
He did, however, write a list.
After having his heart broken by his first girlfriend, Natasha -- she's cheating on him (revealed in a scene eerily similar to the one from Hitch), Amit Sahni draws up a list of all the qualities that his perfect woman must posses.
Now, Mr Sahni is a creature who hatched from the same brood of eggs which produced Rahul Kapoor/Imran Khan of Ek Main Aur Ekk Tu (as a video montage of Mr Sahni's extremely organised life will prove).
Predictably, Amit Sahni has never found his perfect girl (and it is surely not for lack of trying).

So he ends up getting engaged to Mala (Vega Tamotia), a girl who is his polar opposite, but he likes spending time with her. He's happy for a while and begins to think that the perfect girl doesn't exist.
Until he walks right into her office.
Strongly reminiscent of Ben Stiller rom-coms like Along Came Polly and The Heartbreak Kid, Amit Sahni Ki List understands that every comedy needs well written characters but it fails to keep the plot consistent.
Vir Das, credited as Virr Das, plays (that's right, you guessed it) Vir Das and boy, is he good at it! Although sometimes he slips out of character and becomes Amit Sahni.
Sahni also serves as the narrator for the film and while his commentary is amusing, the character really isn't.

There's nothing new about him, there is nothing different. You know you're supposed to like him because he's the protagonist of the film but you really don't because he's kind of an indecisive jerk who wants to have his cake and eat it too without lifting a finger.
Das' co-star Vega Tamotia manages to turn happy-go-luck, free spirited Mala into someone who walked out of a South Indian masala movie. His other co-star, Anindita Nayar, tries very, very, very hard to do what is expected of her, and she succeeds.
The ones to watch out for, however, are none of the leads.

It is Kavi Shastri, as Sahni's best friend Push(kar) who steals the show. Not too far behind is Sahni's talkative, pole-dancing mother, Natasha Rastogi. I wish the film had centered around the two of them instead of Sahni and his list.
Nevertheless, a ray of hope appears in the form of Noni Singh, Mala's pug and the writer who was kind enough to fill Noni Singh's thought bubbles with his witty words. Half an extra star just for this charming canine.
The best way to watch Amit Sahni Ki List is on a TV screen with a finger lingering over the fast-forward button and a thumb ready to launch itself on the mute button. There are parts in the film that were completely unnecessary, also known as songs.
The film begins with a song and it ends with another, and the journey is riddled with songs much in the same way that a teenager's face is with pimples.

Somewhere in between these songs, director Ajay Bhuyan is kind enough to fit in pieces of a story which is so inconsistent that it seems like parts of it were written in different periods of time.
Bhuyan clearly has no control over his set.
The cinematographer has a bright future in the wedding industry.

In fact, s/he should probably do a Shaadi Mubarak ala Band Bajaa Baraat along with whoever directed the music videos.
Amit Sahni Ki List begins as a suave, youth-friendly film but ends up as an Archie-Veronica-Betty love triangle.

There are quite a few laughs along the way, but ultimately it makes you cry.

You start getting really into it after the interval but the end just makes you want to throw up in your mouth.
Some very good writing, particularly in the dialogue department, is overshadowed by some uninterested acting, amateurish camera work and horrible, horrible music (only a teenage brain that is very, very high on pot could have come up with What the Fark).

The makers seem to have been inspired by several popular Hollywood romantic comedies and so, the film becomes predictable.
Funny on the surface with faults in its execution, Amit Sahni Ki List should probably come with a warning that says 'Burn after watching'.

Rediff Rating: