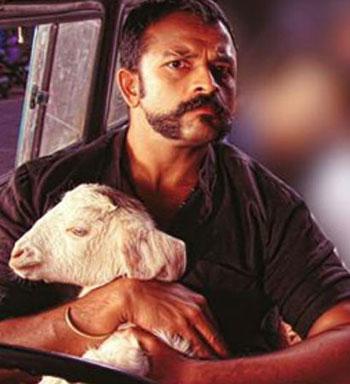 The story of Aadu Oru Bheekara Jeeviyanu oscillates between political satire and slapstick, says Paresh C Palicha.
Director Midhun Manuel Thomas tries his hand at experimental cinema with Aadu Oru Bheekara Jeeviyanu.
The film stars Jayasurya, wearing a handle-bar moustache and a goat!
A tug-of-war team wins a local championship and wins money and a goat as prize. The team is managed by Shaji Pappan (Jayasurya), a misogynist. When the goat turns out to be a female, he doesn't want to claim it, but members of the team insist they take it and use it for the victory party.
The promos suggested that the film was about how the goat changes the lives of its owners. But this interesting premise does not unfold successfully on-screen.
Shaji is frustrated because his wife left him.
Jayasurya's entry is hilarious: he is shown sprinting in slow motion to take part in an action sequence, but just as he gets ready to kick, he sprains his back and starts wailing like a child.
To see the hero cringing in pain is novel all right but everything goes downhill from here on. The plot is diluted and the characters multiply by the minute.
The director had said that the script was written for a short film and expanded later, when Jayasurya came on board. The story oscillates between political satire and slapstick.
Rediff Rating: