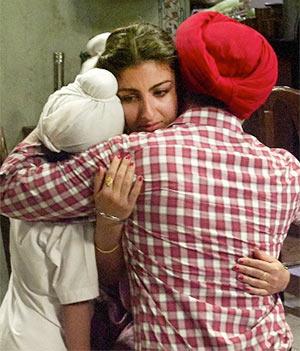 Director Shivaji Lotan Patil does no justice to the story, feels Prasanna D Zore.
When then prime minister Indira Gandhi was assassinated by her Sikh bodyguards Beant Singh and Satwant Singh on October 31, 1984, a reign of terror was unleashed upon Sikhs in Delhi and parts of North India for the next four days.
Over 3,000 Sikhs died in the pogrom, in their homes, in the streets, in gurdwaras, in front of police stations.
Director Shivaji Lotan Patil's 31st October, produced by Harry Sachdeva, is an account of a true story set amid this horrific, politically-planned tragedy.
While the director-producer (Sachdeva is also the story writer) duo consciously sidestep the controversial political issues surrounding the anti-Sikh massacre, 31st October revolves around a Sikh family -- Vir Das as Davinder Singh, his wife Soha Ali Khan as Tajinder Kaur and their three children -- and their flight to safety as Sikhs are butchered around them.
The film also delves on how a few Hindu samaritans helped the Sikhs and are pointedly referred to as gaddars (traitors).
While a film like 31st October does play an important role in jabbing at the Collective Conscience of a nation, Patil does no justice to the story with his lame helmsmanship and equally disappointing narrative.
The first half of the film moves at a languid pace as the National Award-winning director showcases the bonhomie between the two communities before the assassination.
The second half equally lacks the pace that should accompany a rescue mission.
Khan, as an actor, doesn't have much to do as a mother whose mental toughness and the belief in God is put to the test.
Vir Das does touch an emotional chord or two as the father of Sikh boys, who has to make a decision between staking their lives at the cost of their religious identities.
Given these limitations, 31st October could be a one-time watch.
Rediff Rating: