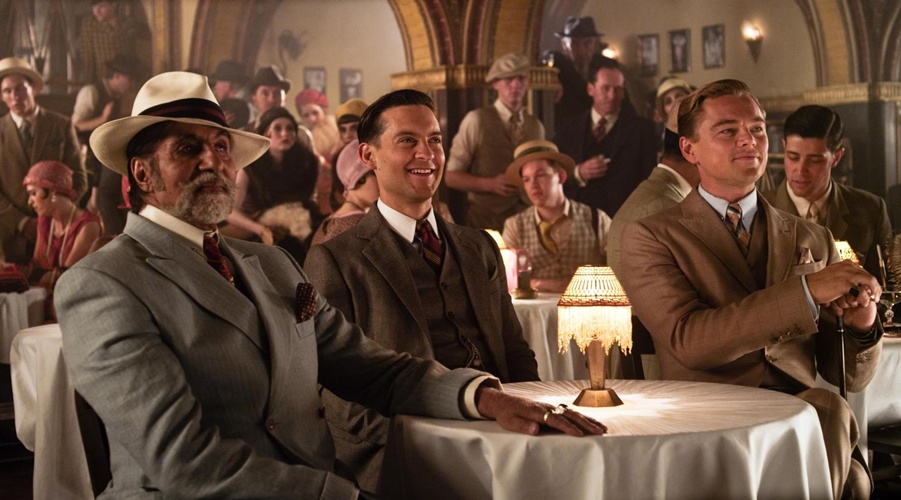 Australian director Baz Luhrmann is back this Christmas with his adaptation of F Scott Fitzgerald's The Great Gatsby, and we finally have a look at the ambitious film, apparently shot in 3D.

The film's principal cast includes Leonardo DiCaprio as Jay Gatsby, Carey Mulligan as Daisy Buchanan and Tobey Maguire as Nick Carraway.

In this shot we see DiCaprio's Gatsby and Maguire's Carraway sitting with Meyer Wolfsheim, played by our very own Amitabh Bachchan.
While Bachchan maintains that it is a friendly appearance, the film bosses promise that he is prominently visible in the trailer.
"It was a sheer delight to work with someone of such great genius as Baz Luhrmann and a host of co-stars that have astronomical presence in the world of cinema -- Leonardo and Tobey and the other greats," Bachchan posted on his blog.
"The attention to detail, the amount of research and finesse on recreating the 'times' of NYC in those early years, was simply brilliant. I am certain that when you shall see the film, you will realise that you have indeed been transported to another decade of the early years," Bachchan added.
He also praised the professionalism and dedication of the Hollywood filmmakers.
"There is a quiet sense of professionalism that works without notice and corrects or adjusts or informs when and if there is need for it. The language and accent director, the assistants who shall come and ask you to be on set, or if on it to be ready for the take. All done with such gentle ethics, you wonder if you actually deserve this or not."
The movie, a big screen adaptation of American author F Scott Fitzgerald classic of the same name, follows would-be writer Nick Carraway as he leaves the Midwest and comes to New York City in the spring of 1922, an era of loosening morals, glittering jazz and bootleg kings.
Chasing his own American Dream, Nick lands next door to a mysterious, party-giving millionaire, Jay Gatsby, and across the bay from his cousin, Daisy, and her philandering, blue-blooded husband, Tom Buchanan.
Nick is soon drawn into the captivating world of the super rich, their illusions, loves and deceits.
Bachchan plays a small role of Jewish moneylender Meyer Wolfshiem.
Luhrmann met Bachchan when the Moulin Rouge director was in Mumbai a couple of years ago, and requested him to shoot for a cameo in the role of the flamboyant and suave Wolfsheim. This will be the Big B's first Hollywood appearance.

The Great Gatsby, a classic of twentieth century literature, is a tough book to adapt but that hasn't stopped filmmakers from trying. Luhrmann's will be the seventh movie based on the film, and is slated to hit theatres on Christmas 2012.