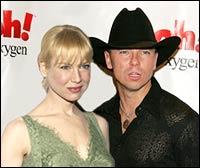 Bridget Jones isn't single anymore.
Renee Zellweger has surprised Hollywood by getting married on Monday, May 9.
She was first seen with country music superstar Kenny Chesney, 37, earlier this month when the actress was spotted kissing the singer at one of his shows.
IMDB.com reports that the stars exchanged vows on St Johns, a Caribbean island. Kenny has a holiday home there, and is reported to have flown there with Renee, 36, after a performance in Fort Lauderdale, Florida.
None of the celebrities had married before. Renee was engaged -- to Jim Carrey -- a few years ago. After that relationship ended, she reportedly dated Irish singer Damien Rice and The White Stripes' lead singer, Jack White.
Till a few weeks ago, she was still reportedly hung up over Jack, which makes this wedding all the more of a surprise.
Photograph: Getty Images