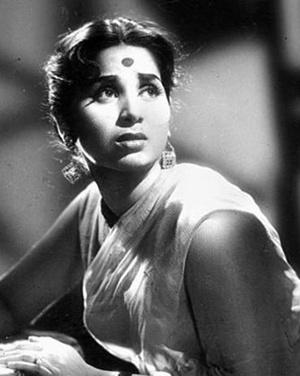 We commemorate the vivacious Geeta Bali through 10 of her best works on her 50th death anniversary.

Geeta Bali's name evokes blithe imagery. Her unswerving curls, chirpy eyes and pixie smile breathe life.
Except there was more to her than just charm.
At a time when stagey acting was the norm, the teenaged actress, born Harkirtan Kaur, came on the scene and changed it all.
Geeta Bali's terrific comic timing and natural manners made her stand out in a crowd of stilted, self-aware beauties. Yet, she was equally adept at moving the viewer in vulnerable, wounded parts.
The plucky star's whirlwind romance with Rangeen Raatein co-star Shammi Kapoor ended in marriage and two children, Aditya and Kanchan.

But after a decade of domestic bliss, the actress contacted a small-pox infection causing her untimely demise on January 21, 1965.
To be fondly thought of even after 50 years of her passing in the age of fleeting memory speaks volumes for her fame.

We commemorate the eternally vivacious Geeta Bali through 10 of her best works.
Sohag Raat (1948)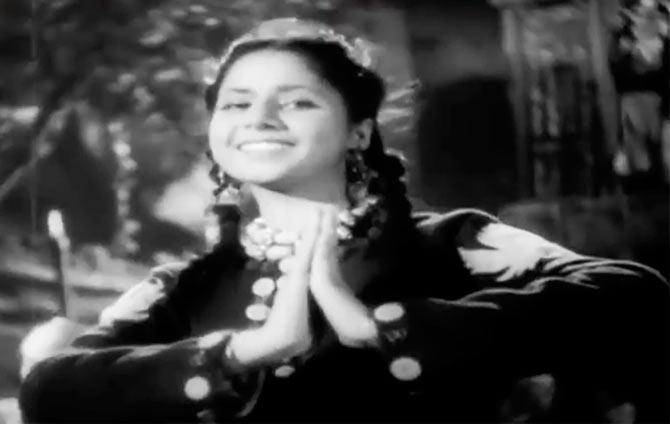 '
Image: Geeta Bali in Sohag Raat
'And introduces a new talent Geeta Bali,' announced the opening credits of starmaker Kidar Sharma's Sohag Raat.
The vibrant newcomer more than lived up to the description as the spirited lass carrying hero Bharat Bhushan on her seemingly slender shoulders for one unforgettable sequence of the love triangle co-starring Begum Para.

Bawre Nain (1950)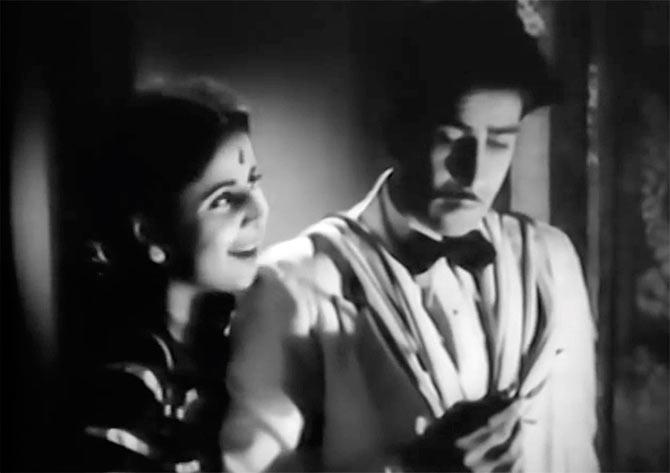 Image: Geeta Bali and Raj Kapoor in Bawre Nain
Romance, suspicion, misunderstandings, reunion are the keywords of Kidar Sharma's marital drama Bawre Nain, which pairs the star with her future brother-in-law Raj Kapoor.
RK's classic intensity and Geeta Bali's fiery impulses play out splendidly in this black and white mush.

Albela (1951)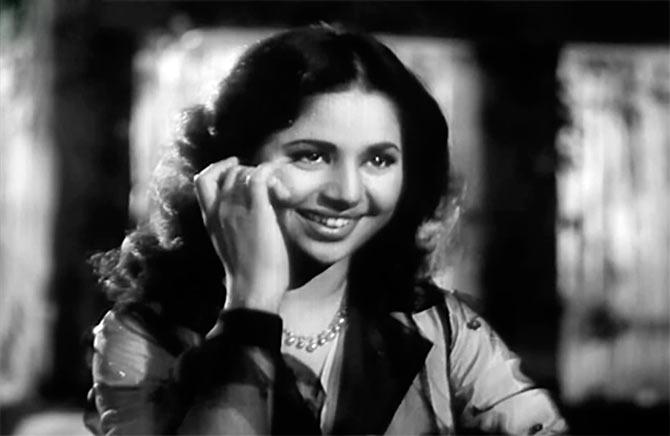 Image: Geeta Bali in Albela
High on chartbusters like Bholi surat dil ke and Shola jo bhadke and Geeta Bali's sparkling camaraderie with legendary comedian Bhagwan, Albela is the A to Z of entertainment.
The success of Albela inspired them to reunite for another romp named Jhamela but it wasn't quite the same.

Baazi (1951)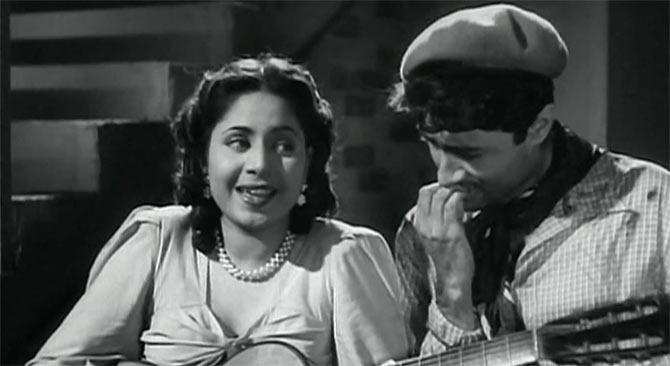 "
Image: Geeta Bali and Dev Anand in Baazi
Apne pe bharosa hai toh yeh daav laga le," proposes a seductive Geeta Bali to a forlorn Dev Anand in one of Hindi cinema's most lingering images.
Alternately sweet, sly and slippery, the actress does full justice to her role of a gangster's moll who goes soft on the dashing hero in Guru Dutt's murky, thrilling Baazi.

Anand Math (1952)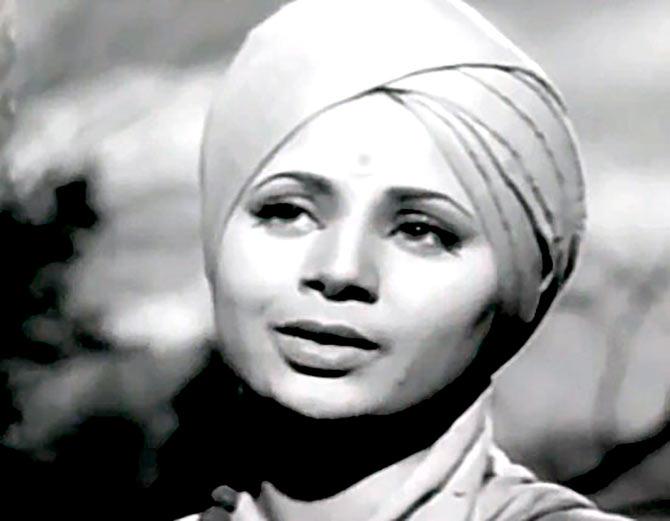 Image: Geeta Bali in Anand Math
An adaptation of Bankim Chandra Chatterji's classic novel Anandamatha, the patriotic saga depicts India's preliminary revolution against the British.
Set against the backdrop of Sanyasi rebellion, Geeta Bali is a picture of grit and determination as the wife masquerading as a monk feverishly chanting Vande Mataram to partake in her husband's mutiny.

Jaal (1952)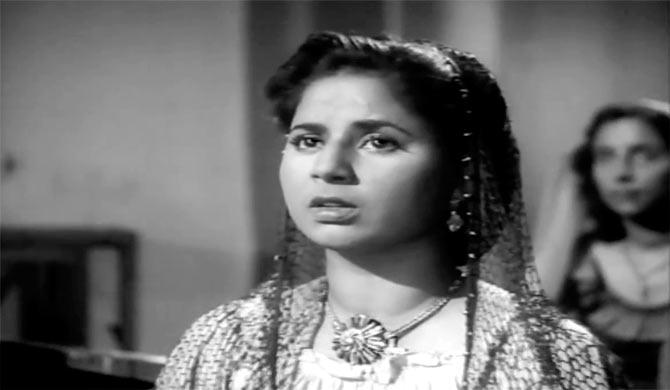 Image: Geeta Bali in Jaal
Filmmaker Guru Dutt's Jaal, which took inspiration from the Italian flick Bitter Rice, features Geeta Bali in a role completely opposite of her grey character in Baazi.

As the bubbly Christian girl in love with the shady Dev Anand, the actress is all heart and humour.
"Geeta Bali was a very bright actress, with a sparkle in her eyes and a rhythm in her body that made her a great dancer and an actress to watch," writes Devsaab in his autobiography that explains the genuine bonhomie he shared with his friend and colleague on big screen.

Vachan (1955)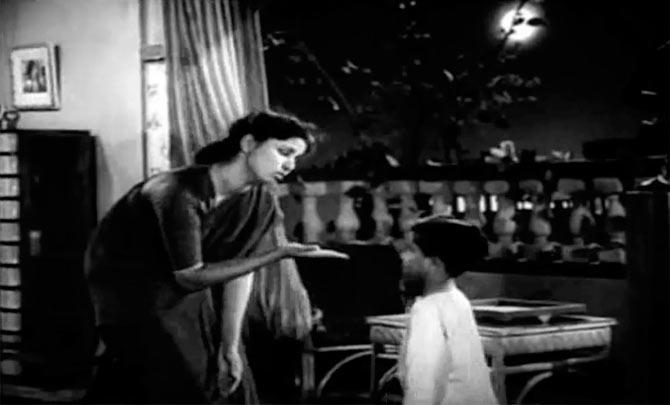 Image: Geeta Bali in Vachan
Even in standard kerchief capers, Geeta Bali infused her characteristic mirth by singing silvery lullabies and providing the audience a welcome relief from all the customary rona dhona.
Like in Vachan, where she received a Best Actress nomination from Filmfare for her performance as a generous, sacrificing daughter and sister.

Milap (1955)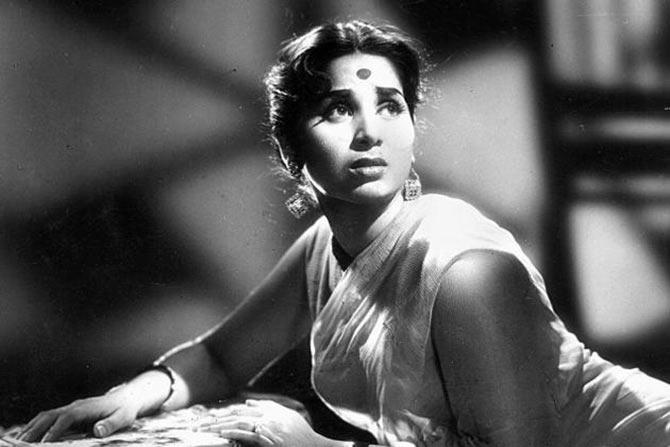 Image: Geeta Bali in Milap
When big inheritance bucks fall in village simpleton Dev Anand's lap, he attracts a lot of unwanted attention. Including a certain Geeta Bali.
Her brains and beauty leave him smitten but there's more to her than meets the eye in this frothy Raj Khosla caper whose heart, soul and spirit is its sprightly leading lady.

Jailor (1958)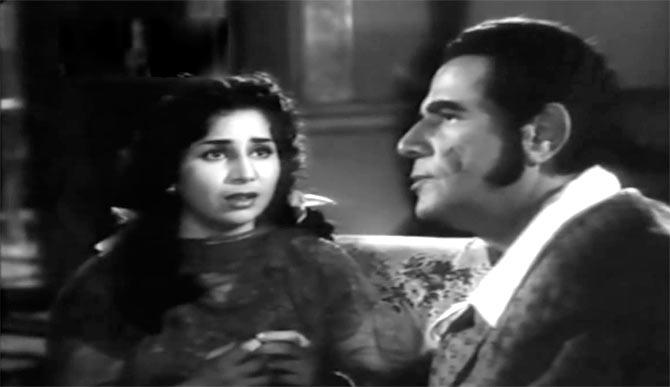 Image: Geeta Bali and Sohrab Modi in Jailor
Geeta Bali teamed up with thespian Sohrab Modi for his weepie drama, Jailor wherein she plays a kindhearted blind girl.
Both audience and critics were appreciative of her subdued avatar as Chhaya.

Mr India (1961)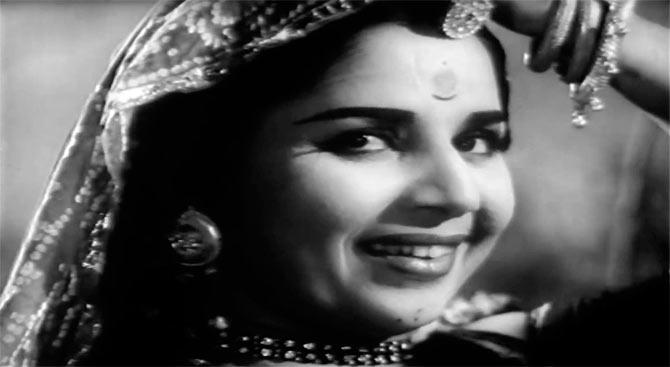 Image: Geeta Bali in Mr India
It takes a Geeta Bali to pull off a snooty character called Miss Bambi and make it a joy to watch.
Long before Mogambo khush hua, the actress co-starred alongside comedy giant I S Johar in Mr India, a misadventure of lookalikes.

Together the merry duo brings the house down with their one-of-a-kind antics.