'KBC * is* Amitabh Bachchan.'
'He is so courteous, he pulls out the chair for you and makes you feel like a queen.'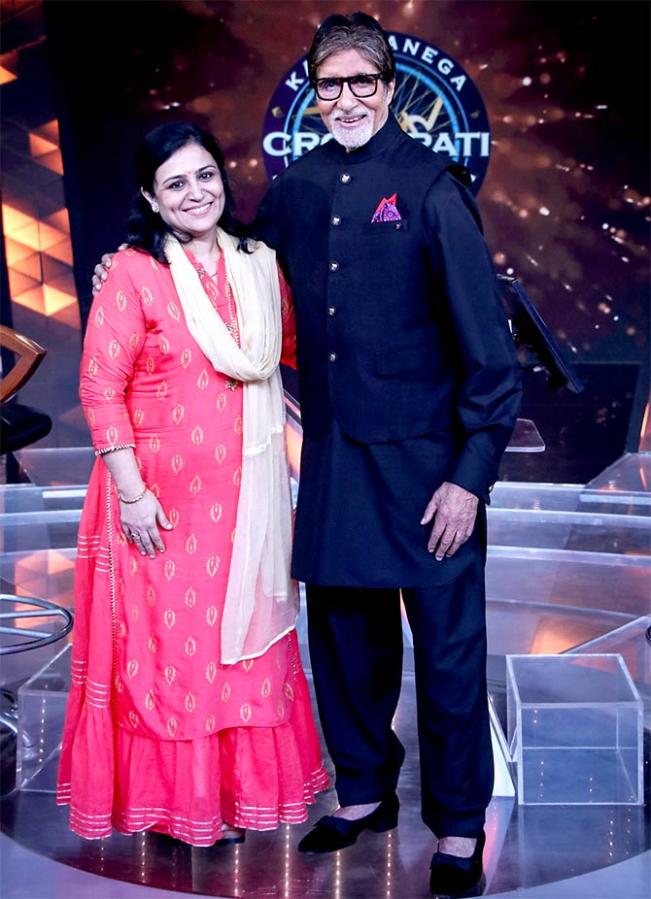 Binita Jain made history by becoming the first crorepati on the tenth season of Kaun Banega Crorepati.
Binita, a resident of Guwahati, is a tuition teacher who has lived a hard life.
Her husband was abducted by terrorists in 2003 and never returned. She was 32 years old then, with an 11-year-old son and a six-year-old daughter.
After trying her luck every season, Binita finally made it to the hot seat this KBC season.
"Memories sometimes fade in life, but this one will stay with me," Binita tells Rediff.com Contributor Rajul Hegde.
How did you feel when you nailed the Rs 1 crore question?
When I sat on the hot seat, I thought at the most I would reach the 13th question, not beyond that.
Winning Rs 1 crore was unbelievable!
The feeling is yet to sink in.
Memories sometimes fade in life, but this one will stay with me.
How was the experience sitting in front of Amitabh Bachchan?
The interaction with Mr Bachchan is what everyone wants.
Playing the game and the money is secondary.
KBC *is* Amitabh Bachchan.
He is so courteous, he pulls out the chair for you and makes you feel like a queen.
He speaks so well; the face-to-face interaction is incredible.
You can sense that aura as you sit on the chair and get ready to play Fastest Finger First.
We have grown up watching his films, watching him on television. But seeing him for the first time live is the moment I cannot forget.
My hands and feet went numb.
What is the best compliment you got from Mr Bachchan?
He gave me many, but the best was he asked 'Aapne shiksha kaha se prapth ki? (Where did you get your education?)'
He was impressed with my concentration and the way I played the game.
In the end, he really praised me and said how well I put my knowledge to use.
I gifted him a fulam gamosa, on behalf of the people of Assam.
He could have put it on the table after my game was over, but it was so nice of him to wear it throughout the episode.
Finally, when his assistant came to remove the gamosa, he instructed him to put it safely in the car and said it is a valuable thing for him.
I felt so good because he really honoured the gift.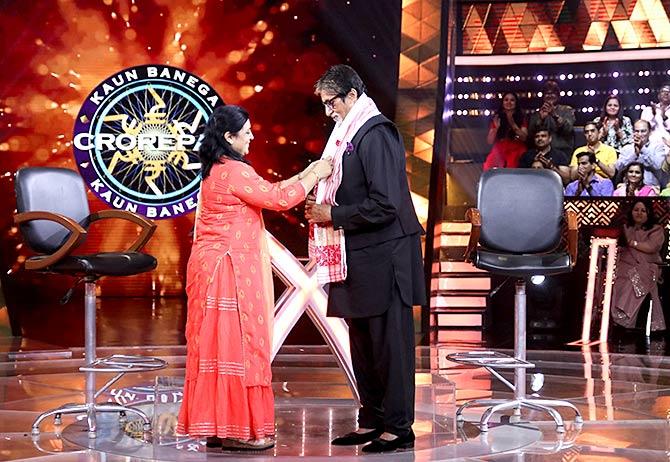 Which was your toughest moment?
Fastest Finger First was the toughest. It was the only thing I was scared of.
Knowledge alone isn't enough here; you need to be quick and alert.
You have to come first to play the game, not second. That was the biggest challenge for me.
Once you have crossed that, you are certain that at least you will get to meet Mr Bachchan and take home some money if you play sensibly.
Were you scared of any question?
I was scared of mythological questions.
One question did come and it was a difficult one, but I had a slight idea, as I had read about it in some comic book.
How much did your son help you in the jodidhar question?
Without lifelines, it's not easy to play the game. It also depends on how and when you will use it.
I had no clue about one or two questions, but thankfully, I had lifelines.
Firstly, you need to understand your jodihar because you cannot call them for random questions.
How did you prepare for KBC?
I have tried in almost all the seasons of KBC, but I never crossed the levels in any of them.
This was the first time I got a call from them and it was a great moment for me.
I started preparing in September after I got the call.
Being a teacher, you have that instinct -- you know which part is important.
I could choose from many topics which I searched on the Net. I think I chose the topics sensibly.
Maybe that's what helped me attempt the last question.
I had read about the Kesavananda Bharti case while prepping and thought of just skimming through it before I go.
(Binita's Rs 1 crore question was: In India, which case was heard by the largest-ever Constitution bench of 13 Supreme Court judges? The answer is the Kesavananda Bharati case.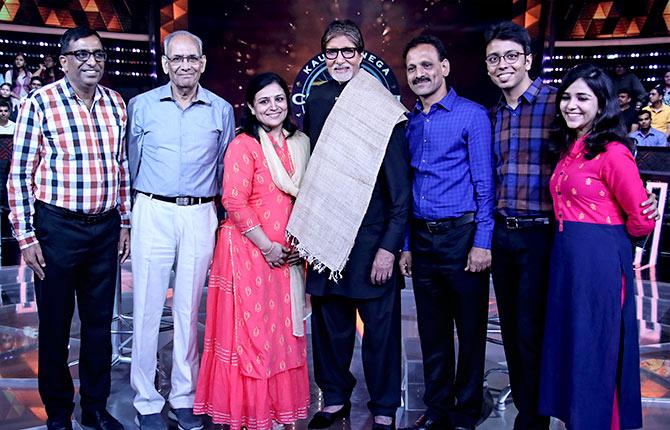 What will you do with the prize money?
I want to use it for my children.
My daughter has just finished her graduation and is working in Bangalore.
I want to help my son set up a dental clinic in Guwahati. He will complete his post graduation soon.
I am also looking forward to starting my own coaching institute. I will take some time off in a week and help under-privileged children.
How have your friends and family reacted?
People are very happy and have gone crazy with the news.
Nobody has ever won this amount from the north east.
I have already celebrated with my family and the landlord of my building.
My friends and students are asking for a treat.