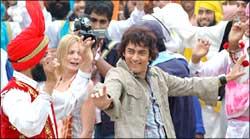 M
ore readers have sent us their comments about Rang de Basanti. Again, a whole lot of praise for Aamir Khan and director Rakeysh Mehra. Another spoiler alert: Don't read the following comments if you haven't watched the film yet.
Hasif K Ussan: Kudos to Rakeysh Mehra for giving this generation such a wonderful movie. The years he has put behind this creation is really showing through the whole movie. Not a scene is out of place and not a moment is dull in this saga of youth. Cinematography, music, dialogues, editing, performances - everything is superb but what takes the cake is its screenplay. It is simply outstanding. All the actors have justified their selection and Aamir Khan must be mentioned in particular because of his sharing equal footage with the co-stars. The touch of a master director is evident throughout the movie and Rakeysh Mehra has given us hope to expect more such creations in future.
Shogun Jain: its a brilliant movie...really inspiring and invokes us to do in our little way, make a difference to the the country and the system in particular..awesome performances and excellent music adds that effect.
Ankit Goyal: Rang de Basanti is one of the best movie I have seen in my life. Young generartion, lets gear up and change the bad portion of India. Music is good. Aamir khan is excellent as ever. Pathshala is best song and it really rocks. Above all a superb movie and an eye opener for the Indians.

Asha Ramaswamy: It's good to see some patriotic fervour that is not an emotional tirade, as it is presented in a fairly contemporary way. It's also about team work- which is how you build a nation. Also, some of the sensitive and public issues like moral policing find a place, which is good to see.

The music and the picturisation of the songs is quite good too, but I would have preferred it minus the booze that was everywhere, flowing freely. Individual performances are all quite good , and the movie also connects in patches, but I do not quite buy the climax. The boys seem to traded their lives for too little, so it is quite disappointing, and also the juxtaposition with heroes of the freedom does seem a bit stretched; they died for a much much larger cause.
Tell us what you think of Rang De Basanti
R Subrahmanyam: In life, it is most frustrating  if a good opportunity is missed out. Like a fieldsman dropping a 'sitter' in cricket.  In RDB also, the opportunity to get across a powerful message against corruption was so badly missed out, that one forgets at the end - how finely the movie has taken off and how refreshingly different it was.
The script makes a good attempt at equating the fight against corruption with the fight against the british oppression, the foreign rule. But it took a very easy way out of physically eliminating the person who YOU think is corrupt. The situations are so different that using the same measure to fight both is, at best be,  ridiculous. Killing a corrupt (there is no evidence) politician will yield opportunity to three other corrupt politicians who are waiting to take his place. In the process, innocent and precious lives are lost. The solution proposed is suicidal to the cause and sadly, the script writer lacked some basic understanding of the issue. Killing is not the answer.
It also has the dangerous potents of misleading young brains in taking to mindless violence. Gandhiji has shown how violence betryas weakness in a person. Weak persons can never fight corruption since it is a fight against the common human tendencies of greed and dishonesty. What is the need of the hour is to exhort the young generation to be vigilant, questioning citizens who could come together in large numbers to demand their rights. And the movie failed in this!
Kunal Tripathi: First of all, I would like to say that Rang De Basanti, is a wonderful movie and everybody should 'experience' it. It's really nice to see a lot of people write in their views about the movie and I guess, somewhere down the line, Rakyesh Mehra, achieved what he wanted to achieve.

The best thing about the movie, was the fact that it told a story of a group of friends, like us, who want to have fun and like some people on this forum, dont really care about the on-goings in the country and how they are made to realize that, they too have the freedom-fighters 'junoon'. Everybody acted really well, and kudos to Aamir Khan as usual. I guess this year just might be a great year for him. Also, Sharman Joshi who wasnt really the thinker like most of them, yet he does great job of reflecting that one person we all have in our friend circle, who just wants to have fun.

It's really hard to say which was the favoraite scene in the movie as there were a couple of them:

1) When Aamir Khan breaks down at Sue's house and cries 'hum kuch nahin kar sakte hain' really mirrors a lot if indians, when they want to change the system and have to bend down to to the system. Very natural and explosive.
2) In the end when they tell the people of India that they have killed the minister and they are waiting for the cops and Sharman says "Yaar jail main khana to acha milega" and Aamir replies.."Khana chodh, aaj se beer bhi bandh ho gayi", really shows the viewer that they have grown up.
3) Last but not the least, the conversation in the bar with Madhavan. I guess a conversation that takes place amongst friends like us, everytime we talk about India.
Special: All about Rang De Basanti 
Alas, i hate to admit, that a lot of people are going to come out of the screens thinking..a 'good' movie..or a 'bad' movie and are going to leave it at that. It really hurts, that we all are just going to give our views and forget about it in a couple of weeks and go and watch a couple more shah rukh khan's romantic movies and some non-sensical comedies and some hollywood rip-offs and forget that somewhere, in a small town a bunch of friends tried to start a revolution for the right reasons and move on with our lives. And to conclude my point, I guess i'll just end it with the three true words in the movie "Welcome to India"..where people like us just dont care.

Joy: First my congratulation to the RDB team for such a beautiful movie. Its a very intense movie, and at one point i felt i am the part of the movie. I had gone to watch this with my gf who always avoid watching Hindi (esp amir movies), and after the movie was over she has become Amir fan. We are planning to watch it again on saturday to understand few of the dialogues of the movie as we couldnt hear them with the crowd laughing and enjoying. Guess what we watched this movie on a monday evening and the crowd was awsome. I have liked it so much that i have asked all my colleagues to watch
it on the big screen instead of watching at home. We need more and more movies like RDB.

Priya Kesar: The movie is rocking, and so is the cast of the movie. It was amazing to watch a movie which subtly tackles the issues that the today's generation feels about their country and also inspires to make a change to it. All the actors of the movie have acted well and Aamir, no doubt, once again comes as a superstar. The best part was meeting the cast of the movie. It was an awesome experience!!
Sheetal: Great movie, as I was not able to sleep that night after viewing it.
Ayeesha Sequeira: Rang de Basanti can be described in one word and that word is MINDBLOWING. One of the best movies I have seen in recent times and one I will tell every one to see. It is a must watch movie and can be watched more than once without getting repetitive. 

The movie is hard hitting and really sets one thinking about our lackadaisical attitude about most things in our country.  We are the first to criticize but the last to do anything to improve the situation. The time has come to stop cribbing and start acting and this movie portrays that sentiment beautifully.

I overheard a conversation the other day while having lunch where one guy was telling the rest of his group who loved the movie that this movie promotes terrorism. I wanted to get up and tell him to watch the movie again and pay attention this time. Admittedly the step taken by the group was drastic but they have admitted that they were wrong and even apologize over the radio. Nowhere in the film is terrorism promoted. The movie forces us to wake up and take action in a positive form.  In fact if I were the principal of a school I would take all children from 5th std onwards to see the movie.  
 

Daksha Sanon: It was an excellent new concept I came across when I watched this movie. Everyone acted very well, especially Amir Khan, Sukhi & Karan. Very well directed & everyone who acted in the movie should be appreciated for their performances.
Venkat Ganapathy: Rang De Basanti was a pretty boring film, and I still cant figure out the message this film was trying to pass on to its audience. Aamir Khan should stop doing these so called 'intelligent' films and move on to more conventional themes. Atleast they guarantee entertainment. Otherwise he could end up being labeled a fluke star. He is going to end up the gowarikar way, doing films that could not match Lagaan. Atleast I know that I don't need to look forward to any of his films. The film couldn't keep up with the expectations or the hype created by the media.
Mangesh K: I watched 'Rang de..' with lots of expectations since I got a positive feedback from my cousin who watched it before. Also, I had read reviews on some websites comparing the movie with Ashutosh Gowarikar's 'Swades' which also tries to put forward a message to fellow indians.But I must say 'Rang de..' didn't really met my expectations and it fell short by pretty good margins. Here is my analysis -

What's hot?
1. Casting & performance - Sharman Joshi's 'Sukhi', Aamir's 'DJ', Kunal's 'Aslam', Soha's 'Sonia', Atul Kulkarni's 'Pande' and to top all, it's Sue! They fit perfectly in the character they played and had given 100%.
2. Tecnicals - Excellent editing and photography! Good choreography for songs and good background score as well. Some scenes such as bike and car racing to Aamir's dhabba are really superb.
3. Locations - I've never been to Delhi, but in this movie I came across some places which I'd put on my list when I get a chance to visit Delhi.
4. Motive and message the Director wishes to convey - Really appreciate the fact that the director wishes to make the youth aware of the sacrifices made by Bhagat Singh, Rajguru, Sukhdeo, Chandrashekhar Aazad, Ashafaq Ullah and Bismil. Also the message that the youth have to do something for their country and for that one has to start from himself should be very much appreciated.

What's not?
1. Second half of the movie - While the first half gets you involved in the group of Sukhi, DJ, Sonia et al and potrays the dynamism, fun and colorful college atmosphere, unfortunately the second half is very loud. In the first half we see the guys get into the characters and start really 'living' those roles, the second half compares their immature, hasty acts to the martyrs of freedom and this really sucks!
2. The way to put the message across - Many claim that this movie has a message to give and it doesn't tell it in a preachy manner like 'Swades', but it does not put in the right way either. Killing some corrupt politician, then capturing a radio broadcasting station to confess your act does not send the right signals to the young generation. Take the movie 'yuva' in which the youth enter into politics and pledge to serve the people and bring out the change in the system. I believe that this is the right & constructive way to put the message across.
3. Lack of few details - How do these people know that the minister is involved in corruption? Or just that his putting blame on the pilot being naive & so responsible for the accident ignites his friends to take a decision to kill the Defence-minister? These details and few more.

Should you watch?
I think it's worth watching once for all the pro's i found. But what lingers in mind is 'there could have been a better end' when you come out of cinema-hall. Believe me, at the intervals I decided that I'd watch the movie again, but now it's hardly the case.

Comparisons
Compare it with 'Yuva' which also potrays the youth today or with 'Swades' which gives message about changing the system, country by starting from yourself and your contribution. Since  giving a message looks to be the motive of 'Rang de..', both of 'Yuva' and 'Swades' stand out for their constructive way to give a message than 'Rang de..'.

So my friends, enjoy the movie if you're going to watch it..but don't be disappointed even if you miss it!!