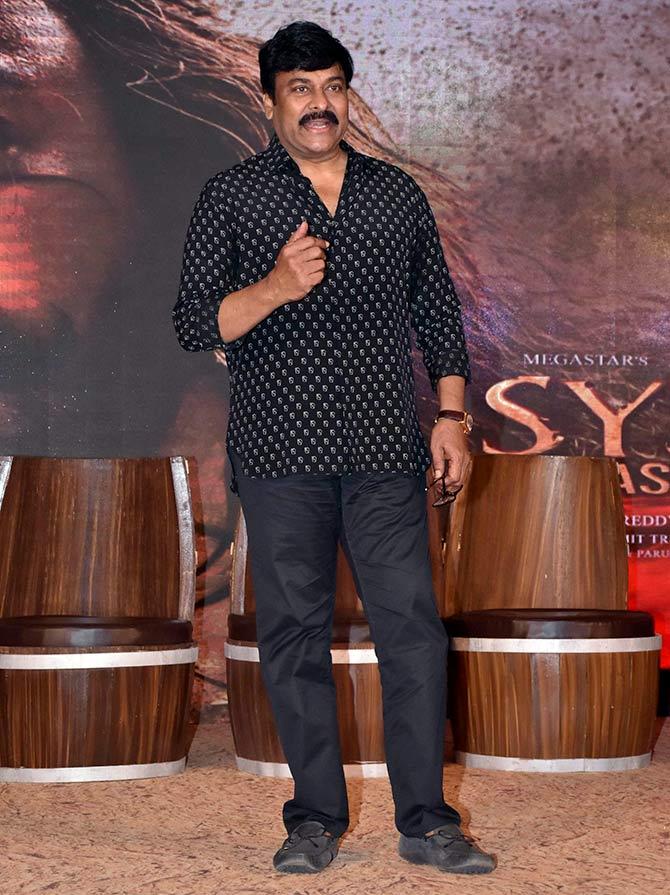 Chiranjeevi joins hands with Farhan Akhtar to make a larger-than-life action movie called Sye Raa Narasimha Reddy, starring a host of actors.
Chiranjeevi plays a freedom fighter named Uyyalawada Narasimha Reddy, and he admits that at 63, it was difficult to do the action scenes.
The Telugu film -- costarring Ram Charan Teja, Amitabh Bachchan, Nayanthara, Tamannaah, Vijay Sethupathi, Sudeep and many more -- has been directed by Surender Reddy, and dubbed in Hindi, Tamil, Malayalam and Kannada.
"It was a challenge," Chiranjeevi says. "Ram Charan and Surender made me work hard. When I heard the subject, I was like, 'We can have a duplicate or morph my face for the action bit.'
"But these guys did not compromise and made me do the fight scenes. I had a bad shoulder that had been operated on. But even then, they made me do the fight and horse riding scenes. But I cherish this experience," he adds.
The project marks his comeback of sorts in the Hindi cinema.
"I did not get proper content to come back," he explains. "I had stopped acting when I went into politics. I was there for 10 years. I started working from 2016-2017. With this film, I felt I should come back to Bollywood."
The actor admits that a lot has changed in cinema in the last 10 years.
"When I was doing my 150th film, I felt like a newcomer, as the scenario was different. Projectors in theatres have gone away but the heritage and sentiment doesn't change," he says.
Chiranjeevi claims the film tells the story of an unsung hero, and that's why he wanted to make it for a pan-Indian audience.

"All the Indians should know about Sye Raa Narasimha Reddy. The story was lying with me for almost a decade and a half," he says. "Because of the budget constraints, I couldn't dare to make this film earlier. I am happy my dream came true."
Ram Charan, who was made his acting debut in Bollywood with the Zanjeer remake, has produced the film.
He says he was waiting for the right script.
"I have not shied away from (Hindi cinema). For me, it is all about content. Hopefully, I am coming (to Bollywood) with S S Rajamouli's next project RRR," Ram Charan says.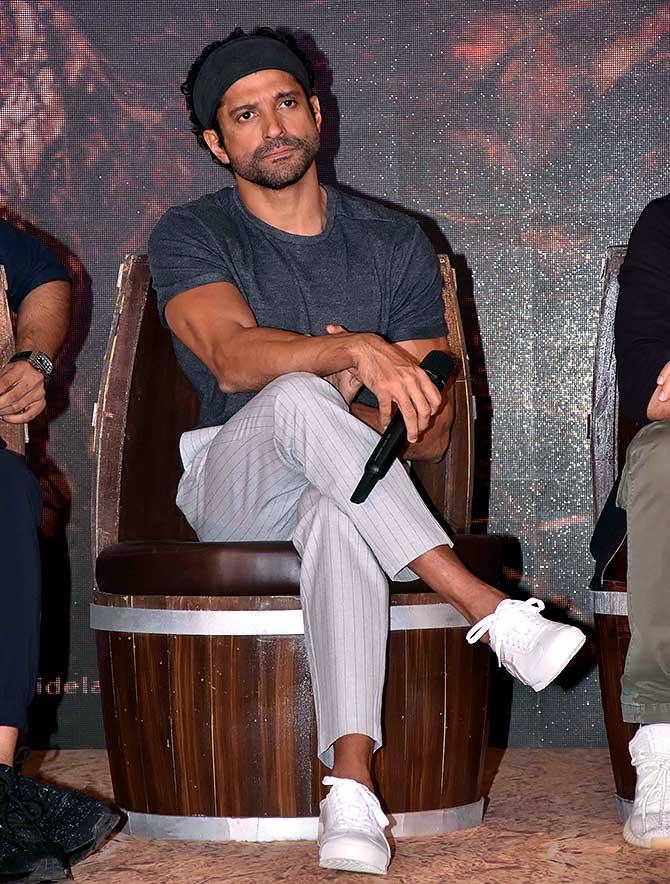 Farhan Akhtar's Excel Entertainment is presenting the Hindi dubbed version of the film, and he seems happy that cinema is able to cross boundaries.
"I grew up on a healthy diet of films, and they weren't only in Hindi. My mom had a great collection of movies from across the world, in different languages. You get to learn about different cultures and identities.
"Now, the way the world is, the number of boundaries put up are growing. So it is nice that people in art and film are tearing down these boundaries and exchanging films and creative ideas," Farhan says.
"As far as talent is concerned -- be it acting or music or technical talent -- there has been a constant exchange between the industries. People from Bollywood have worked in the south and artistes from there have come to Bollywood," Farhan adds.
"There is a hunger for content and that has created curiosity of what is happening in different markets in our country. We should be exposed to other cultures and ideas," he adds.
Sye Raa Narasimha Reddy will release on October 2, on the same day as the Yash Raj biggie, War, starring Hrithik Roshan and Tiger Shroff.
Asked about the clash at the box office, Farhan says, "Hrithik and Tiger are my friends. We must go beyond this belief that two films cannot release on the same day. There are enough screens for two films to release on the same day and do well. I hope the audience will go and watch both films."
Chiranjeevi considers Amitabh Bachchan -- who cameos in the film -- his mentor.
"There is only one megastar and that is Amitabh Bachchan. Nobody is near him. Working with him is an amazing experience. I am indebted to him," he says.
"My director wanted him to play my guru in the film. It is a special character and he insisted on Amitabh Bachchan. So I called him and told him that I want him to play my guru in the film. It would take only a week's time. He immediately said yes. My heartfelt thanks to him."
Sye Raa Narasimha Reddy features Tamannaah, seen here, and Nayanthara.
Anushka Shetty has a cameo in it.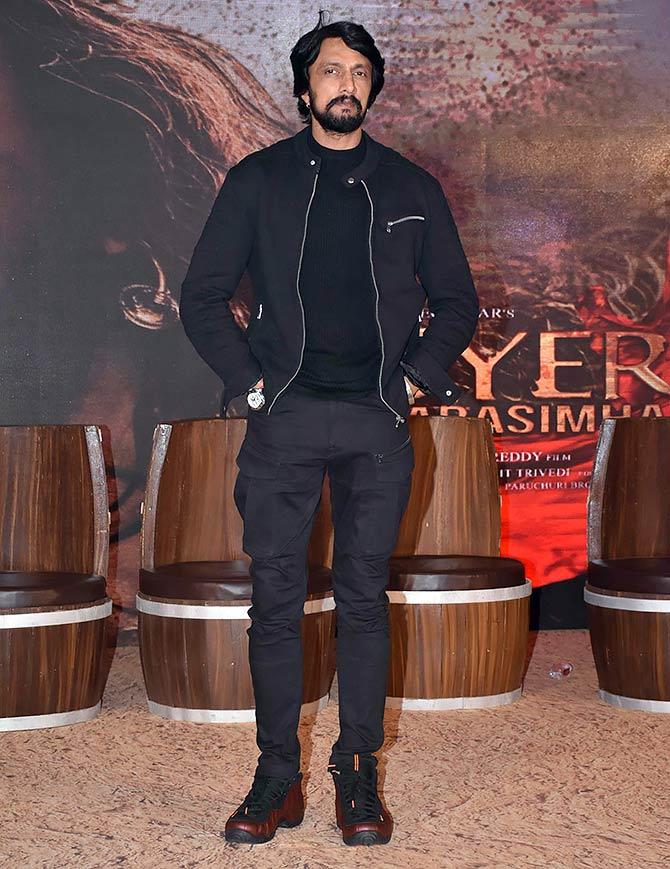 Kannada actor Sudeep also stars in Sye Raa Narasimha Reddy.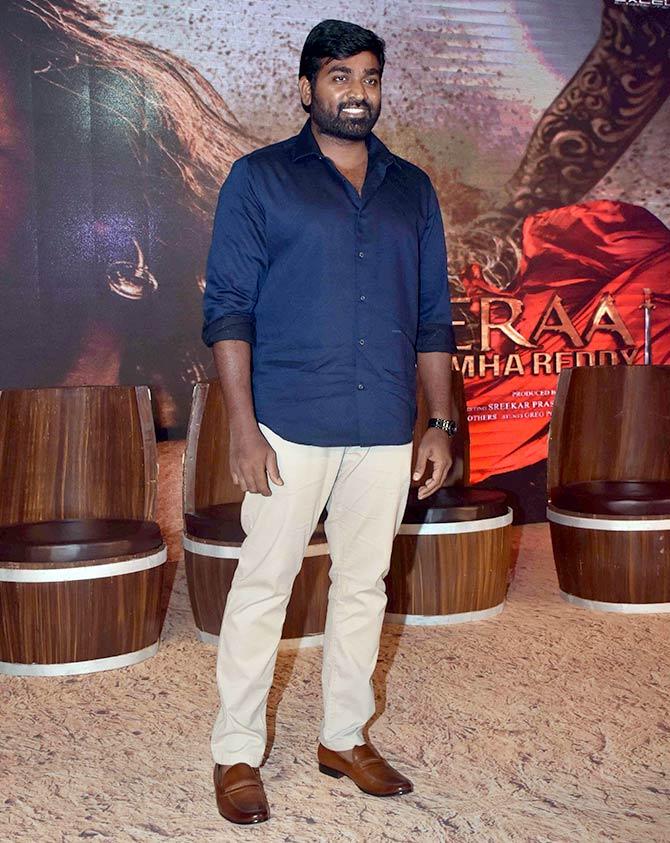 Vijay Sethupathi smiles for the cameras.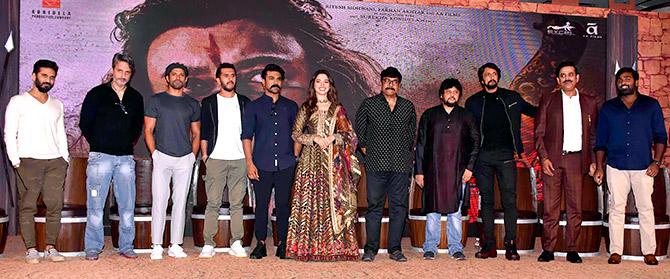 The film's Mumbai launch also saw music composer Amit Trivedi, distributor Anil Thadani, director Surender Reddy and Ravi Kishan.
Photographs: Pradeep Bandekar