'Let us be patient and wait for things to get back to normal.'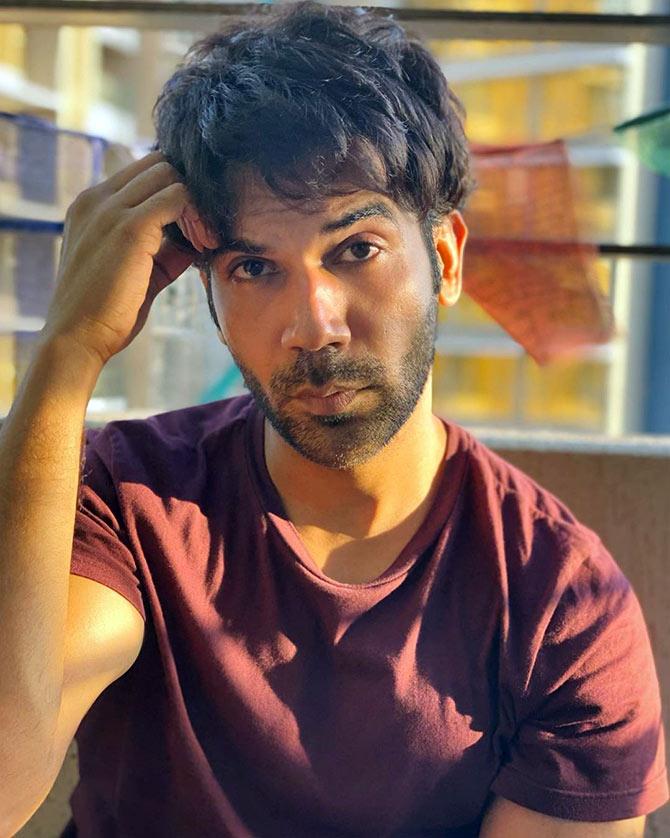 Rajkummar Rao is doing his share of introspection during the lockdown even as girlfriend Patralekhaa sometimes gives us tiny glimpses into how the couple is spending time.
"It is definitely time for introspection. How we can't take our planet for granted," Raj tells Subhash K Jha.
Why are you so reluctant to speak during the lockdown?
I am just spending time with myself and not really talking about work with anyone because that's what I was doing for last three years.
I thought of taking a complete break.
How is the lockdown treating you?
The lockdown is treating me fine. No complaints.
I am doing a lot of productive work.
Of course, I'm missing acting and exploring characters, but we have to be patient in these difficult times.
Social distancing is the only way to flatten this curve.
How are you spending your time?
I am working out, watching some great content on digital platforms, doing some cooking, practising my guitar and trying to be in a positive state of mind.
Is this a time for introspection?
It is definitely time for introspection for all of us.
How we can't take things for granted and how we can't take our planet for granted.
I am reading a lot these days.
I have a schedule and am following it religiously.
Are you eating and sleeping more than usual?
No. I believe in discipline and try to follow a proper schedule. That doesn't mean I don't have my share of fun.
I love playing online games with my friends or just sitting in my balcony with a cup of coffee and talking about random things.
Sometimes, I try my hand at colouring.
Your advice to fans...
Our planet is rebooting.
Let us be patient and wait for things to get back to normal.
Till then, let us stay home and maintain social distancing.
This too shall pass.
There were rumours that you were doing Dostana 2. What films are you doing?
No, I am not doing Dostana 2. I wish I could, but unfortunately, it did not work out.
I have immense respect for Karan Johar and I am sure we will collaborate very soon.
I've finished Turram Khan with my mentor Hansal Mehta and Anurag Basu's next.
I was shooting for Roohi Afza with Jahnvi Kapoor when the lockdown happened.
How do you manage to stay grounded in spite of your success?
I don't know any other way.
I am who I am.
I did't want to become an actor to change myself or the way I behave.
I am an actor because I portray different lives on screen.