He wasn't just known as one of the finest filmmakers of his time.

The late veteran K Balachander was famously credited with launching the careers of many a celluloid stalwarts.
Eminent filmmaker K Balachander passed away on December 23, leaving behind a rich legacy of talent that he had unearthed.
From superstars like Kamal Haasan and Rajinikanth to versatile actor like Prakash Raj, K Balachander was instrumental in shaping the careers of many prominent actors.
Here is a look at some of the actors whose lives and careers were influenced by the director.
Kamal Haasan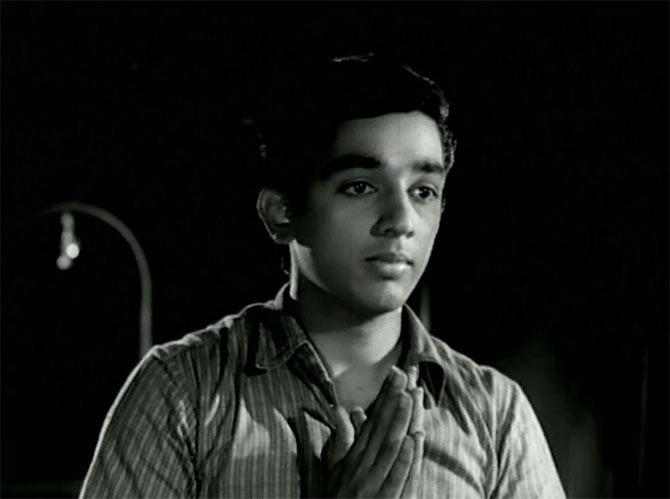 Image:Kamal Haasan in Arangetram
Kamal's first major role as an adult was in K Balachander's Arangetram, which released in 1973. A women-centric family drama, it dealt with poverty and prostitution.
This was followed by the hugely successful and critically acclaimed classic Aval Oru Thodharkadai, in 1974.
A year later, the collaboration continued with Kamal Haasan starring in the hugely controversial Apoorva Raagangal, which won three National Awards. The film also marked the debut of Superstar Rajinikanth.
The Balachander/Kamal Haasan association continued over the decades with several very successful and trendsetting films, among them Manmatha Leelai, Moondru Mudichu, Varumaiyin Niram Sivappu, Ek Duuje Ke Liye and Punnagai Mannan. The last named was Kamal's 25th film with Balachander.
Rajinikanth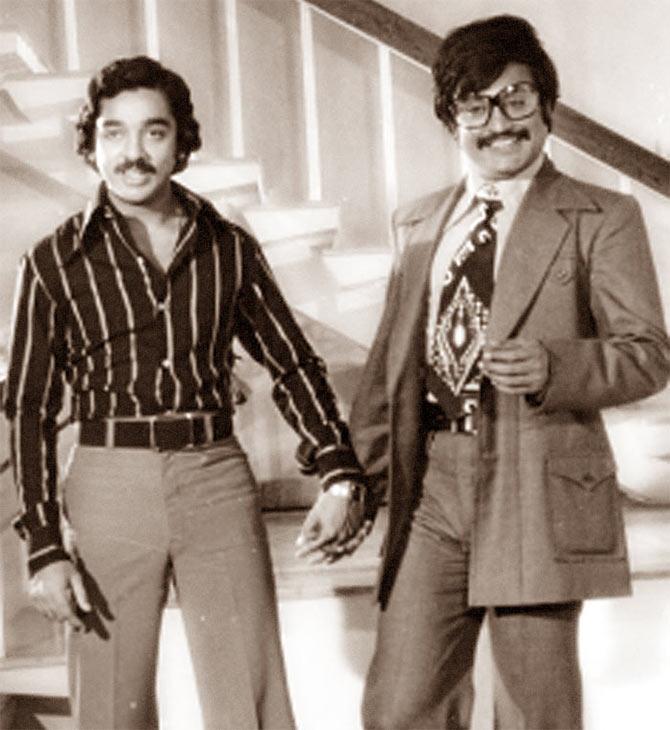 Image: Kamal Haasan and Rajinikanth in Apporva Raagangal
Rajinikanth made his acting debut in 1975 in K Balachander's Apoorva Raagangal, with Kamal Haasan in the lead role.
It was a success and the Kamal-Rajini duo was seen together in a string of films directed by the revolutionary filmmaker, who never shied away from bold themes that shocked the viewers.
The duo worked together in Avargal, Moondru Mudichu, Thappu Thalangal, Ninaithale Inikkum, and even the classic Thillu Mullu, in which Kamal makes a brief cameo appearance.
Balachander's Thillu Mullu broke the stereotyped image of Rajini as the tough, angry young man.
The director successfully brought out the actor's good sense of humour and impeccable comic timing, making the film a huge commercial success.
Rajini's innate comic sense was later exploited by several directors, adding a new dimension to his career.
Saritha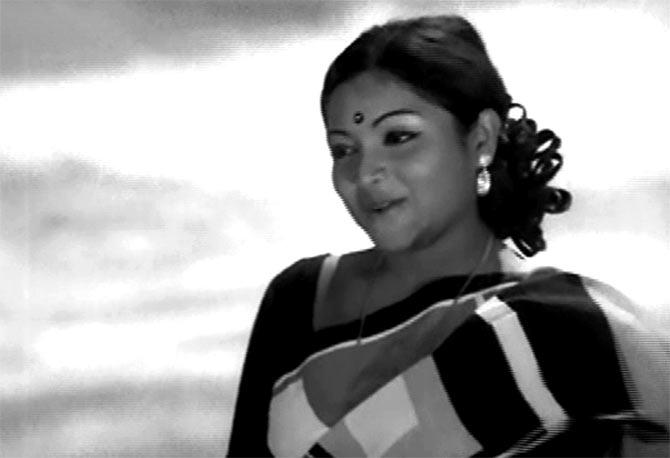 Image: Saritha in Maro Charithra
Saritha made her acting debut in the Telugu film, Maro Charithra, directed by K Balachander, in 1978.
The film turned out to be a blockbuster and enjoys cult status today. The tragic romance was later remade in Hindi by Balachander himself as Ek Duuje Ke Liye.
Some of Saritha's other successful films with the legendary filmmaker include Thappu Thalangal, Idi Katha Kaadu (Telugu), Agni Sakshi (the film was a box-office failure, but Saritha won the Tamil Nadu State Film Award for her brilliant performance), the National award-winning Achamillai Achamillai and Kalyana Agathigal.
Kalyana Agathigal marked the acting debut of Nassar.
Vivek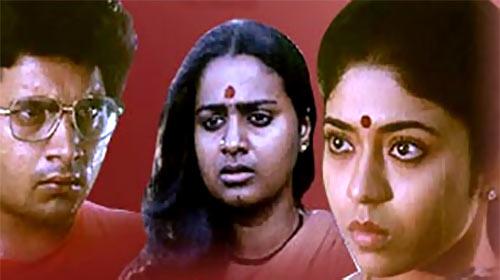 Image: A still from Manathil Uruthi Vendum
Popular comedy actor Vivek was introduced to Tamil cinema by director K Balachander as a script writer for his films.
He first appeared in a small role in Manathil Uruthi Vendum featuring Suhasini in the lead role.
This was followed by Puthu Puthu Arthangal in 1989 and the National Award-winning Oru Veedu Iru Vasal in 1990.
Vivek's contribution to Tamil cinema has won him several Filmfare and Tamil Nadu State Film Awards. He was honoured by the Indian Government with the Padma Shri in 2009.
Prakash Raj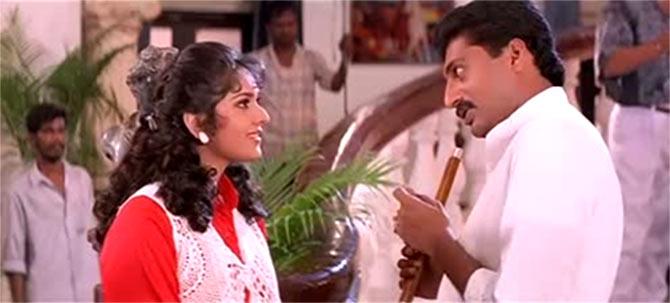 Image: Meenakshii Sheshadri and Prakash Raj in Deut
Prakash Raj started his career in the Kannada film industry, but made his debut in Tamil cinema with the K Balachander directed film, Duet, in 1994.
The film was a huge success. Prakash Raj has since made a name for himself in the Tamil film industry, but has also successfully worked in several Telugu and Hindi films.
In remembrance of the film that kick-started his career, he named his production company, Duet Movies. This was later changed to Prakash Raj Productions.
In 2006, he produced the film Poi, directed by his mentor K Balachander. Balachander and Praksh Raj both acted in this film.
Nasser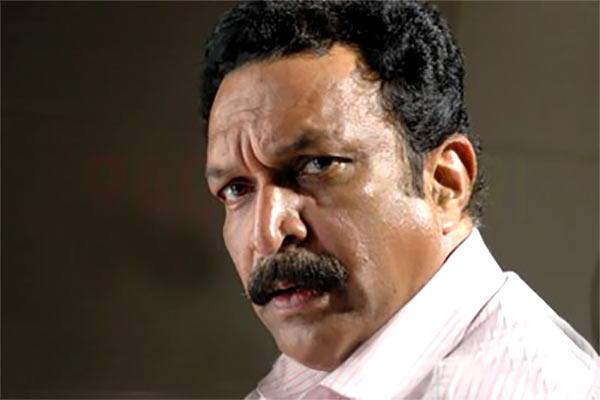 Image: Naseer
Actor, director and producer Nassar made his debut in K Balachander's Kalyana Agathigal in a supporting role.
He went on to make his mark playing the popular villain in all South Indian languages.
Nasser has also directed several Tamil films.