It was getting a bit too surreal, even for a Tim Burton fan.
Every other day, there would be The Query. On the phone, in my inbox, on orkut; messages from friends close and farflung, curious colleagues, people who barely knew me.
'Congratulations, you're making a film with Raakesh Roshan,' some would start, like informative lottery-spam. Others were more accusatory in tone, glaring words, hurt at not having been told. A few were just perplexed. 'Why Krazy with a K?'
The fact: Raakesh Roshan's longtime assistant Raja Sen is making Krazy 4, the next film for Roshan's Filmkraft Banner.
The other fact: I'm not.
The record begs to be set straight, and the story -- with the obvious headline all set for usage -- beckoned immediately, and calls were made. Mr Roshan helpfully passed along the number, Raja was friendly enough (aren't we all?) and we sat down a couple of days later, tackling entry-level identity crises ensuing from two people with the exact same name in a tiny, extremely close-knit industry.
He has been in Bollywood for 17 years, starting with the 1990s where he assisted Harry Baweja with Trinetra. He moved on to do six films with Raj Kanwar, and in 1997, joined Mukul Anand on Dus.
After the filmmaker's tragic demise, he took a break for a year-and-a-half, before editor Chandan Arora (who directed Main Madhuri Dixit Banna Chahti Hoon) introduced him to Mr Roshan. He worked on Koi... Mil Gaya for FilmKraft, went off and assisted Subhash Ghai Kisna, and returned to Roshan for Krrish. And now he's all set for Krazy 4.
"It's a meaningful comedy with a soul," says The Namesake of his film, based on a story by Roshan himself and written by Ashwini Dheer, the man behind the sitcom Office Office.
"Entertainment, sure. But there are some issues it touches on, issues affecting the common man. The core, however, is light. It's like when a close friend touches you on the arm and points out a serious issue. It's done with warmth. There's nothing teach-y or preachy about this film."
The titutlar Krazy 4 are Arshad Warsi, Irrfan Khan, Rajpal Yadav and Suresh Menon, the film also starring Dia Mirza, Rajat Kapoor and Juhi Chawla. Will Hrithik have a walk-on cameo? Raja smiles. "Well, this is his film too, in spirit. He's quite involved with the movie, it's the first Filmkraft production that isn't directed by Rakeshji, which is quite a big deal."
He is all glad for the multiplex phenomenon, because he feels that they allow non-starcast films to work. "It's possible to get returns for smaller budget films, definitely. And the great thing is that it's possible to creatively market a non-star film and bring audiences to theatres. Bheja Fry worked because of terrific marketing. The audience needs to know what's in a film. Unique casting can work, like in Pyaar Ke Side Effects, where everyone was curious about a film pairing Mallika Sherawat with Rahul Bose. The audience is smart, and the wise thing is to get them intrigued."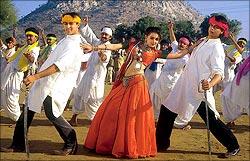 "Like in Metro," he continues, "there is a great ensemble cast but none of them are 'stars,' in the conventional sense of the word. The important thing about that cast is that each of those actors enjoys a tremendous respect among the audience. And that makes them stars, in their own right." Outside of Metro, his clear favourite in recent times, he is an action film buff, raving about Ghayal and coming up with a surprising answer when asked his favourite Raakesh Roshan movie.
"Karan Arjun," he says instantly, wide grin on face. "There's revenge, that element of action movies I love. And there's so much magic." He goes on to quote scenes of the film -- the 'bhaag Arjun bhaag' sequence is an obvious highlight -- and talks about how watching it in the cheapest seats of a tiny Mumbai theatre was one of the most thrilling cinematic experiences he's ever had. "Some great fight scenes in that movie, man."
Outside of the obvious gratitude towards Roshan for giving him a chance at direction, The Namesake is clearly fond of the director, and his work. "I'd describe him as a complete filmmaker, and a master of commercial cinema. He has the right sensibilities, he has great knowledge of cinema, and films are a major part of his psyche. In one word: Genius."
Below, left, director Raja Sen, left, with Rediff's Raja Sen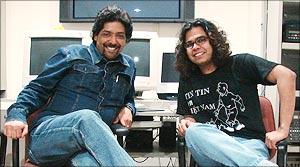 So no resentment then, for calling him film Krazy with a K? "Oh, that's Filmkraft tradition," he smiles, speaking fondly of Roshan's production house.
Is he superstitious? "Well, sure I have certain beliefs. And when one sees that a quirk seems to 'work,' one wants to continue with it. That's why when I used 'Raja Sen' in the titles and Dillagi, a film I believed in very strongly, didn't work, I decided to stop. And I used 'Jaideep Sen' in the Koi...Mil Gaya credits, and that's what I'm sticking with."
Hang on, I'm suddenly thrilled. You mean Krazy 4 will be a Jaideep Sen film? "Yeah," he laughs. "Everyone I know calls me Raja, but officially it will be a Jaideep film." This is a major revelation. The two of us do have a distinguished Bangla namesake, and so long as he stays away from this insane little film industry, we'll be fine. But if Jaideep's avoiding the nickname, that means no name-doppelganger hanging around in Bollywood, then? "Nope," he grins, equally eager to avoid this currently vexing confusion.
Thanks, Jaideep. God bless superstition.
Photograph of the two Raja Sens: Uday Kuckian