Home > Movies > Reviews

There's Something About Metro

Raja Sen | May 11, 2007 16:13 IST



Anurag Basu returns to the big screen with India's first well-crafted multi-narrative film, after more than a dozen directors have burnt their hands trying to go all Amores Perros on our unsuspecting audiences. Metro is a crisp, smartly made film featuring a well-tuned ensemble cast and an appropriate soundtrack. Overall, it works.

But, there's something a bit jarring about it, something that doesn't go down too well. And I can't quite put my finger on it.

Maybe...

Maybe it's the fact that the basic story track -- the Kay-Kay/Kangna/Sharman mess at the heart of the film -- comes straight from Billy Wilder's 1960 classic, The Apartment. While the Jack Lemmon and Shirley MacLaine masterpiece is a comedy, Metro takes its cues and premise, choosing to brood instead. This is a deep, melancholy film about real characters, and while the situations on this track directly echo Wilder, it's more bitter than sweet in Basu's hands. To his credit, the director handles it well, neatly using some fine actors to stretch dramatic tension to the fullest.

Maybe it's Kangna Ranaut's accent, for one can't really complain about the pretty, interesting actress. The pert young thing is, incredibly, both refreshing as a daisy and darkly compelling as a vampire, and manages to herd her emotions well, playing a complex role but hardly ever overreaching. This is an unconventionally talented actress moving up steadily, and her straight-hair-n-specs look will win her even more fans. Her English makes you wince, but then you look around, and it's like women from Mumbai, and we meet them all the time. Chalk it up to realism. Sigh.

Maybe it's the Metro band, which often enters the scene abruptly. A few favoured musical collaborators -- composer Pritam leads the group, and (it is rumoured) Basu slaps the drumskins himself -- act as sutradhars, a la the Farrelly Brothers film mentioned in this piece's title. And while the rocky ballads work well enough in furthering the story, they try to bridge too ambitious a divide by singing for all the characters, and the audience. Mr Lyricist, the call here is for narrative, not universality. Still, points for originality.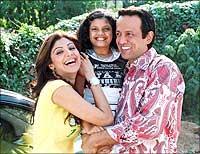 Maybe it's because the stories, in themselves, seem commonplace. While Basu joins the dots unambiguously during his first act, making it clear that this is no coming-together-of-random-people film, there are shades of predictability to each story arc. The Shilpa/Shiney story is almost humdrum; the Konkona/Irrfan story is obvious romcom; and, as mentioned, the others are a Hollywood comedy, soured. And it is here that the filmmaker goes clever, creating excellently-etched, relatably real characters and casting them flawlessly, taking away yet another cause for complaint.
Maybe it's the inevitable envy Dharmendra makes us feel, with a touching, tender portrayal in the warmest and most irresistible of the film's arcs, a simple romance with the gracefully timeless Nafisa Ali. Not just do we long for the studly actor of years gone by, but we chastise ourselves for having forgotten him, and -- while thoroughly charmed by his talk about fish and his strapping, single-handed desire to weld the city's impossible traffic his way -- as men, we're plain jealous.
Maybe it's because when Shiney Ahuja asks if Shilpa Shetty loves her husband, the actress replies 'haan,' her Hindi smacking you right between the eyes. The script definitely needed a couple more coats of honing. While Basu's fleshed out his characters very well, there are moments of either a complete predictability or a predictable defiance, the obvious way of going against the grain. Conceded, it is indeed hard writing such a mixed genre film -- rom-com, melodrama, slice-of-life, tragedy, whimsy -- but there are moments the words make you wince, slightly. It's a Hindi-English film (with a smidgeon of Bangla) and there are elements of dumbing-down, of sharp dialogue sadly blunted by explanatory replies or additions.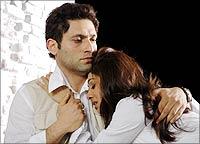 Maybe it's the fact that, in a film full of flawed, real people, we end up liking them all too darned much. Shilpa's character is a doormat, mustering up all her courage to fib about going to the theatre. She neglects her kid frequently, is easily guilt-tripped, and even a bit of a tease. Yet, trapped in that to-die-for body and that great smile, we love her. This is her best-ever performance, nuanced and real, raw enough to feel. And the stunner is in great company. Kay Kay makes a superb scoundrel, Sharman is the guy sitting in the next cubicle, and Konkona can't seem to help herself, a compulsive, absolute scene-stealer.
Maybe it's because this is Anurag's film, and we wanted more. Basu's undeniably emerging as one of the most exciting filmmakers in the country, a solid, high-drama pro who skillfully blurs the line between realistic and filmy, and works in a killer soundtrack while at it. He's a distinctive storyteller with a remarkable gift for restraint, and good enough to make us nitpick: Anuragda, in the 'red' scene, shouldn't the lighting have been a little inconsistent? Anuragda, shouldn't Shiney have had a bit more meat? As audiences, we overreach because we demand more from Basu. He seemed truer to himself with Gangster. Here, the rock-lover also fingers both cliched score and operatic arias, and like the background score, the film keeps hitting the occasional bum note.
Maybe that's because the film makes us laugh. This is a serious film, aimed at profound truths and commonplace reality, but sometimes (bringing us back to the script-tuning issue, but this time we're talking over-tuned) the lines are too quick, too deadpan, too good to be true. So there are giggles and snickers in the theatre, even when not intended. Maybe it's just that Wilder's script has a comic soul, and even if we don't see spaghetti strained on a tennis racket here, it's still, essentially, funny.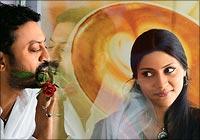 And maybe, just maybe, it's because there isn't enough Irrfan Khan. Irrfan is marvelous in Metro, the best thing in the film by a long shot. An increasingly special actor, here he goes under the skin of initially-obnoxious, disarmingly-direct Debu, and he rejuvenates the film with every frame he enters. The Irrfan/KoKo track is the film's cleverest, and could have made for a fine film in itself. It's a filmy, absurd, effective story of two un-soulmates, and one gets the feeling Basu's having more of a ball with this section than the others. While Konkona is awesome, there are moments in Metro you sit back and just wait for Irrfan to show up. Yeah, he's that good.
Actually, yeah, I guess that's just it. The Irrfan bit, that's what's really wrong with Metro. Okay, valid complaint finally found.
Hang on, what's that? What about 'leaving the audience always wanting more?' Damn.
Rediff Rating:

Want to see this movie? Check out Rediff Movie Tickets!