A look at the top posts on social media from your favourite Bollywood celebrities: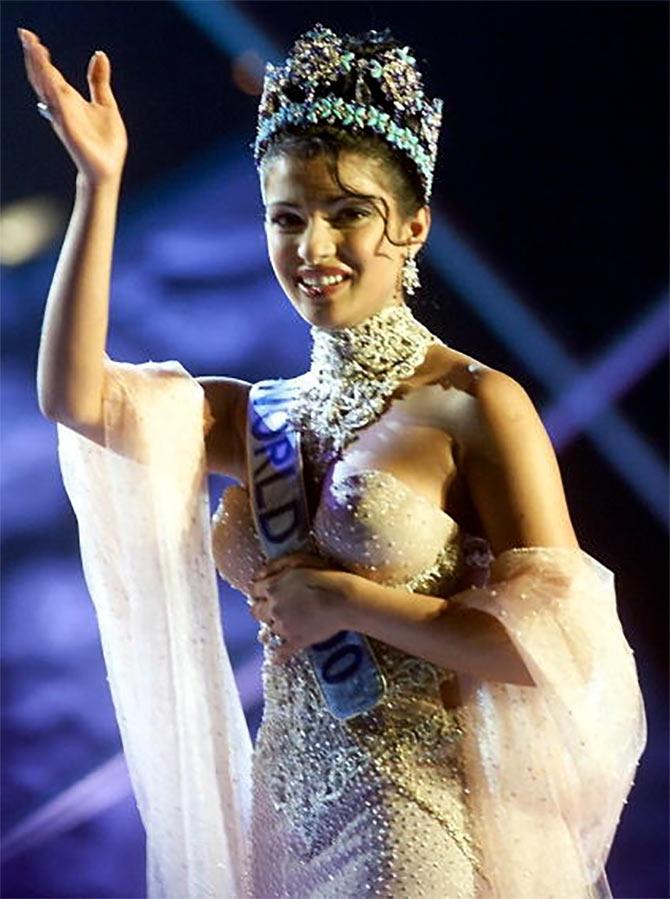 Priyanka Chopra has completed 15 years of winning the Miss World pageant, and she got quite nostalgic.
She posted a picture, above, and wrote: 'Wow has it been 15 years already!!! Dayam!! Where has time flown! Thank u all for the wishes.'
Meanwhile, she completed 4 million followers on Instagram. '4 million and counting...my Instagram family continues to grow. Thank you all for the love! This is...because of you!' she added.
***
Anupam Kher, Ram Gopal Varma voice their opinion on 'National anthem' debate
A video of a family being thrown out of a cinema hall for not standing for the national anthem has started a debate on patriotism and celebrities turned to Twitter to express their views:
Anupam Kher: 'We should stand for National Anthem. People who don't want to stand can enter the cinema hall after it is played.'
Ram Gopal Varma: 'Beating up people for not standing up in the theatre while national anthem is being played is the upper limit of height of intolerance. Respect has to come from within and cannot be enforced ..it's downright talibanistic to beat up people for not standing for national anthem.'
Simi Garewal: 'Honestly?!. With my hand on my heart....YESSSS! I also sing all the words...every time!
Raveena Tandon: 'Sad day for India.When we debate whether we should or have the rights "to or not to" respect our national anthem.I'm Indian will do my duty. It's my duty, respect and basic good manners to stand anywhere anytime if my country's National anthem is played. It fills me with pride.'
Rahul Dholakia: 'Do we play our National Anthem at any other place of entertainment ? Then why play it at cinema halls ?'
***

Varun Dhawan teams up with Zoya Akhtar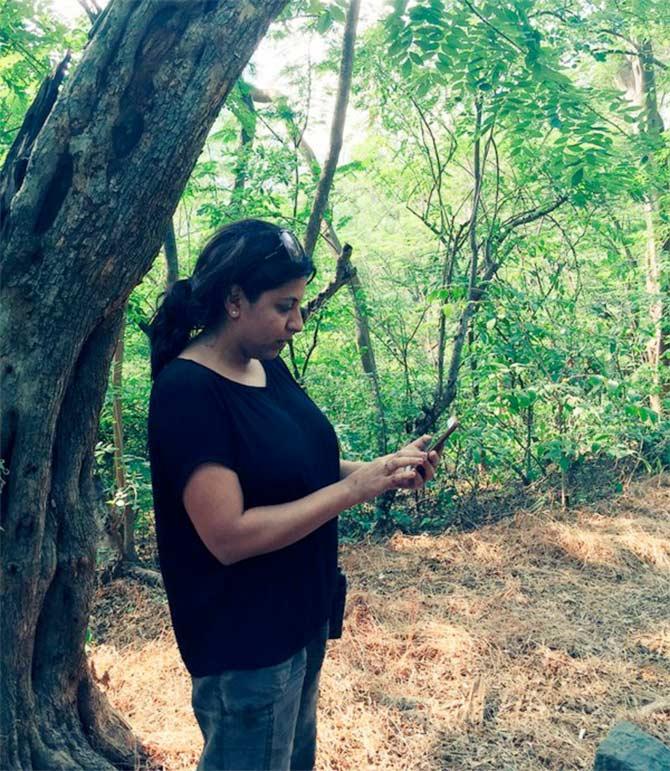 Varun Dhawan has teamed up with director Zoya Akhtar for a new project.
He posted a picture, above, and wrote: 'Zoya Akthar at work #funfilmaker #comingsoon.'
Varun will be next seen in Rohit Shetty's Dilwale, which releases on December 18.
***

When Sonam, Jacqueline, Alia, and Athiya shared a table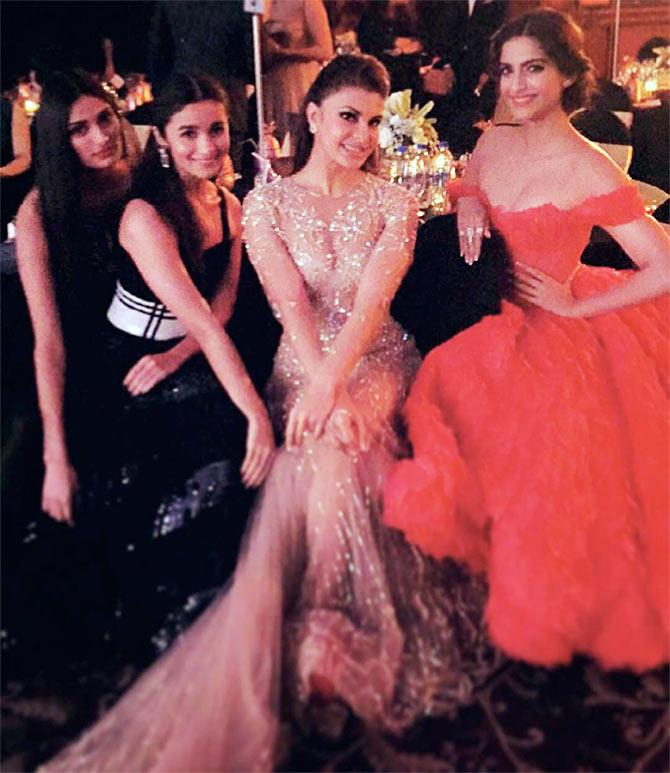 Sonam Kapoor, Jacqueline Fernandez, Alia Bhatt and Athiya Shetty had a gala time together at the Filmfare Glamour and Style Awards 2015.
Sonam posted a picture, above, and wrote: 'Most fun table in the room.'
***

'Angry Indian Goddesses is a progressive Hindi film'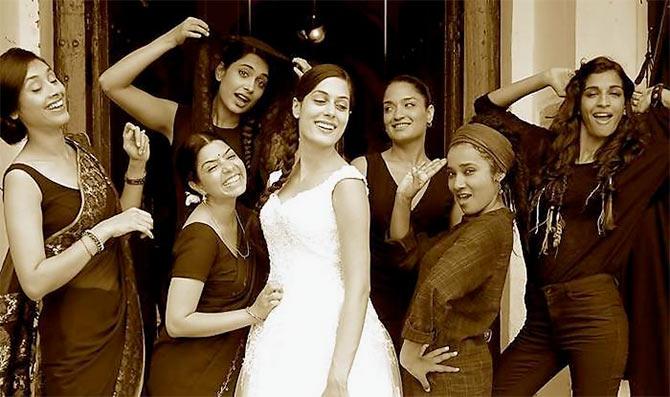 Celebrities, who caught an early screening of Pan Nalin's Angry Indian Goddesses, turned to Twitter to congratulate the team.
Arshad Warsi: 'Just saw the film "Angry Indian Goddesses"one of the most honest, real & progressive Hindi film, I have ever seen.Brilliant in every aspect!'
Gauri Shinde: 'Every once in a while u come across Art that has the power 2 save our souls..One such piece of art I just experienced. Blown away. Awestruck. Humbled by raw talent of tight hug worthy cast of women & a director who made this happen! Hats off!'
The film will release on December 4.
***
On the sets of Azhar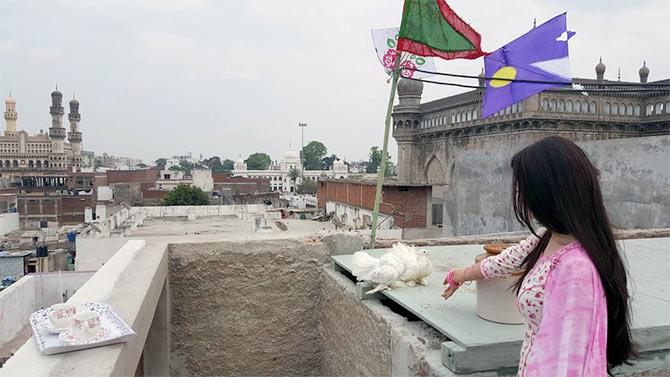 Emraan Hashmi, who is currently shooting for upcoming biopic Azhar in Hyderabad, shared a picture from the sets, above, and wrote: 'A shot of naureen from azhar.. In exotic Old hyderabad.. Sorry folks that's all I can reveal from her look.'
Based on the life of former cricketer Mohammad Azharuddin, the film will also feature Prachi Desai, Nargis Fakhri, Gautam Gulati, Kunaal Roy Kapur, Huma Qureshi and Manjot Singh.
***
When Nandita Das met Noor Jehan's daughter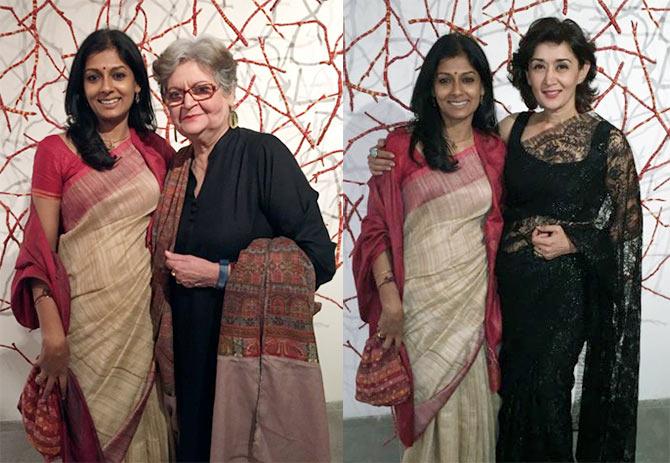 Nandita Das, who was recently in Lahore for a two-day festival, shared pictures from her trip on Twitter.
'Met 2nd generation artists in Lahore - Faiz's daughter Salima Hashmi & Nazia, Madam Noorjahan's daughter,' she tweeted with the pictures, above.
'Also went to Ali Sethi's book store, who is a singer-writer. Btw, crossing on foot at Wagah is an experience!' she added.
***
Karan Johar wants to act again!
Filmmaker Karan Johar, who made his acting debut with Anurag Kashyap's Bombay Velvet, wants to act again.
He asked director Anurag Kashyap to write a role for him. '@anuragkashyap72 in london!! About to start filming soon!! Write another role fast for me! The actor in me is exploding!!!!' Karan tweeted.
Johar is currently shooting for his next directorial venture Ae Dil Hai Mushkil in London.