Apart from PeeCee, guess who else paid ChintuKaps a visit?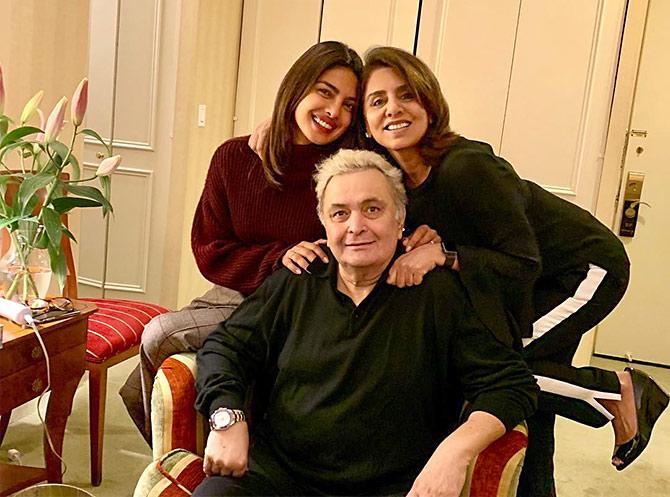 Rishi Kapoor, currently in New York for medical treatment, had some surprise visitors.
Priyanka Chopra, who was in India shooting for Shonali Bose's The Sky Is Pink, flew to New York to check on her tech investments :) and caught up with Rishi and Neetu Kapoor.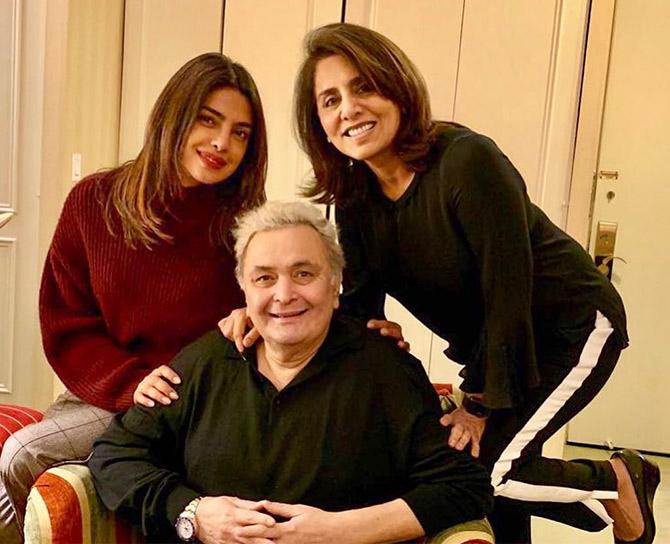 'Was so good seeing you both @neetu54 #RishiKapoor laughter and smiles as always!!', PeeCee noted.
India's hottest export to the US of A wasn't the only one who spent some time with Neetu and ChintuKaps.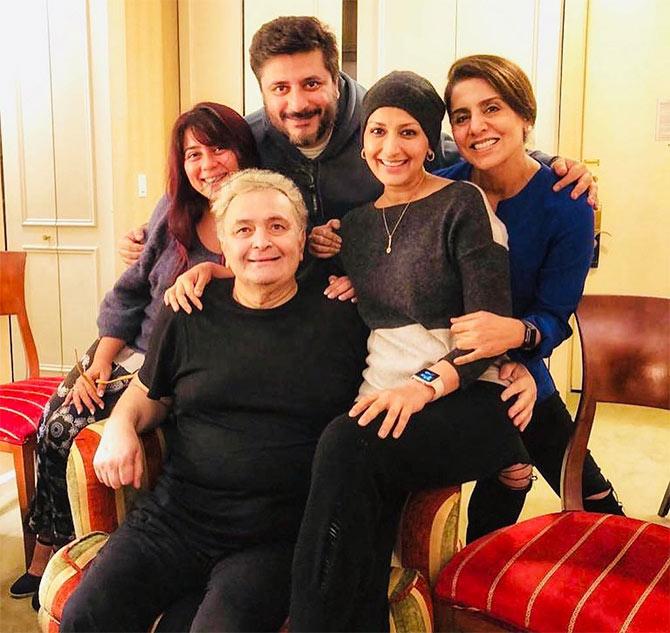 Sonali Bendre, who is undergoing cancer treatment in New York, also dropped by along with hubby Goldie Bhel and sister-in-law Shrishti Arya Behl.
Posting pictures of their meeting on her Instagram account, Neetu wrote, 'Love you @priyankachopra love you @iamsonalibendre love you @srishtibehlarya Goldie!!!!Wonderful beautiful pple.'
ChintuKaps posted a video of meeting Anupam Kher, who is shooting the ABC television series New Amesterdam in New York.
'New York,Manhattan. "Kher-free" or is it "Care-free"on Madison Avenue with colleague and old friend Anupam Kher this afternoon!' Rishi posted.
To which Anupam replied: 'Dearest #RishiKapoor!! It was so wonderful to meet you & spend some time with you on the streets of Manhattan. You are such a great & entertaining conversationalist. Loved talking to you about India, New York, magic of movies & importance of a 'pause' in life. Bahut Achcha laga aapse milke.'
Before flying to New York, sadly a few hours before his mother Krishna Raj Kapoor passed away, Rishi tweeted, 'Hello all! I am taking a short leave of absence from work to go to America for some medical treatment. I urge my well wishers not to worry or unnecessarily speculate. It's been 45 years "plus" of wear and tear at the movies. With your love and good wishes, I will be back soon.'