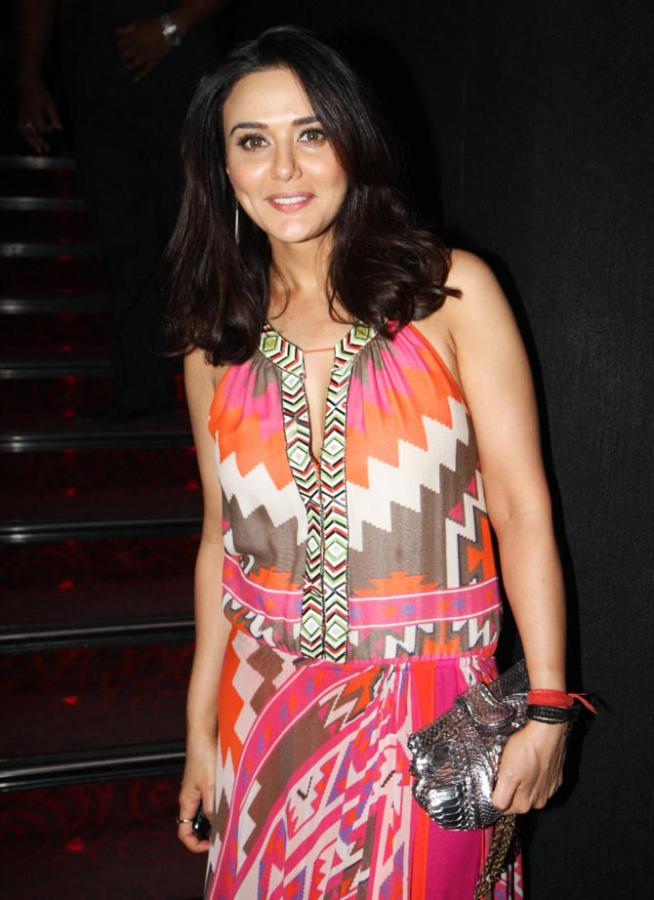 On Preity Zinta's 39th birthday on January 31, the actress talks about her hopes and fears, and why she loves films like Jai Ho and Bhaag Milkha Bhaag.

During her 15-year career, Preity Zinta has played many roles -- from an unwed mother (Kya Kehna) to a prostitute-turned surrogate-mother (Chori Chori Chupke Chupke) and many more.

She took on the unlikely role of a cricket-team owner six years ago, a diversion that took a heavy toll on her film career.

The past few years have made Preity stronger.

"I am not the kind of person who will stand up and complain," she insists. "I have no complaints against anyone. If I've been away from the entertainment industry, it's because I am not into selling myself. You won't see me buying space to get written about. I want to be appreciated for the work that I do."

Preity is quite perturbed by the changes in the entertainment industry.

"The one thing that bothers me about our present day lifestyles is the vulgar stress on wealth. An individual's success is measured by his or her wealth, not by moral values. Today, you are not judged for how much good you can do but for how much scandal you can create and how much skin you can expose.

"I fear the values I was brought up with are disappearing," she continues. "Of course, we were naughty when we were kids. But we were mercifully spared
the consumeristic culture. When you ask today's kids what they want to do when they grow up, they say they want to be rich and famous."
And to make things worse, Preity claims they're growing up without heroes.
"What happened to those dreams of being Jawaharlal Nehru and Lata Mangeshkar?" she asks. "No kid wants to change the world. According to me, a hero is a soldier or a doctor, not a film star. Since we have no role-models in real life, we hardly have roles of substance in films, except for an occasional Milkha Singh."
This is why, in fact, Preity loves close friend Salman Khan's vigilante act in
Jai Ho
.
"Jai Ho
is a very courageous attempt to do a socially relevant film," she says. "Salman could have easily done another massy film.
Jai ho
has its heart in the right place. It's naughty here and there but the message gets across.
Chennai Express
was another clean entertainer."
Preity proudly preens that most of her films are clean entertainers.
"Out of the 37 films that I've done, 36 have been 'PG13' certified (children below 13 years can watch the films when accompanied by parents). Only
Salaam Namaste
was for adults because a live-in relationship was scandalous back then.
"There is a need for entertainment designed for children. We don't have too many films kids can watch comfortably with their parents. Of course there's a
Bhaag Milkha Bhaag,
which is sensible and clean. Most filmmakers prefer to take the easy route," Preity claims.