'God gave me a second chance to live and I had to make the most of it.'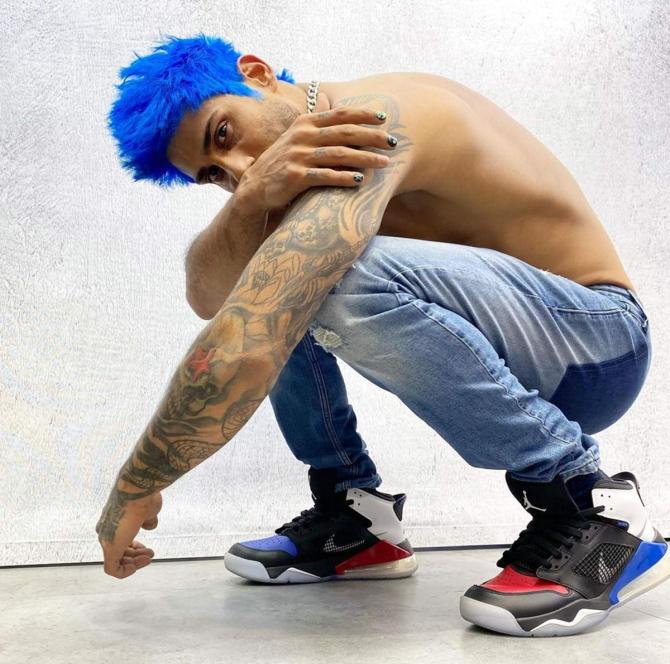 They say there is a rainbow after every storm, and Prateik Babbar probably believes in that.
After braving a dark storm in his life, the actor is enjoying the rainbow with back-to-back releases.
Right after the release of his Web series Chakravyuh: An Inspector Virkar Crime Thriller arrived the film Mumbai Saga, co-starring John Abraham and Emraan Hashmi.
"I have been picking up the pieces and getting back in the race, so that means some little roles and big roles. I believe this is my journey and when you are down, the only way is up," he tells Rediff.com Contributor Sameena Razzaq
Chakravyuh: An Inspector Virkar Crime Thriller gives a rare insight into lesser known evils like cryptojacking that is used to victimise young students. As an actor, that must be a huge responsibility for you.
Absolutely. I am wearing it like a badge of honour because the more awareness about these things, the better.
It gives us the means to protect ourselves in sticky situations or know the means to protect ourselves.
It's a vicious world out there -- crypto currency exploitation, dark web exploitation, social media exploitation... it's a very, very dark world and awareness about these things is a must.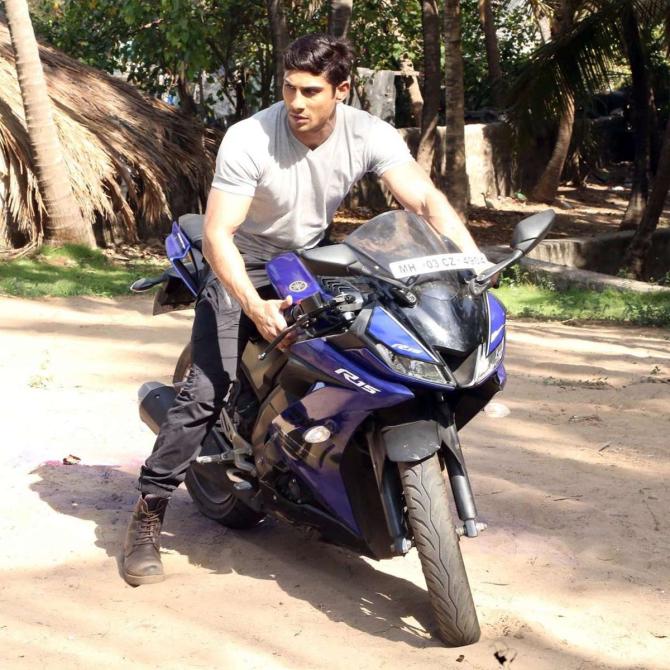 Have you ever been a victim of cyber crime?
Not cyber crime, but definitely trolling and extremely negative comments.
Extremely filthy, condescending, disturbing, disrespectful, disheartening, heartbreaking... in fact, I had been a victim of hate and it wasn't a nice time at all.
It was one of the worst feelings of my life.
We have seen angry eccentric cops and their brand of justice. How will Virkar's eccentricity power the actor in you to showcase his versatility?
Virkar is a man on a mission.
He approaches his job like his life depends on it.
He wants to wipe out crime like his life depends on it.
I am going to fill you in little bit on his backstory which I don't think we show in the first season. If we get a green signal to Season 2 and 3, may be we can explore that angle there.
His parents were killed when he was a kid, but he never knew who killed his parents. That's why he became a cop.
He wanted to wipe out all crime and criminals, and save innocent lives.
That's his story.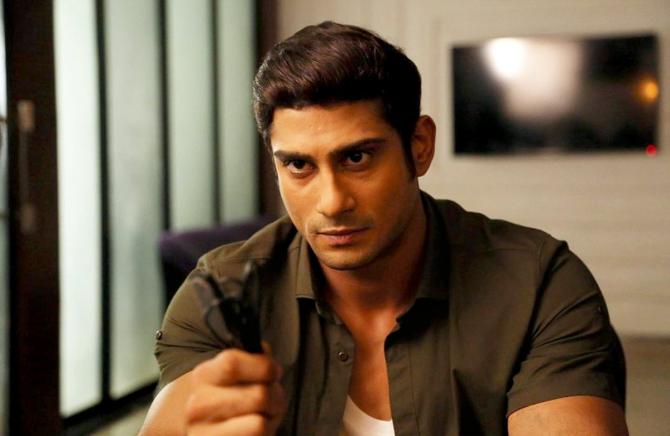 Between 2014 and 2017, you had disappeared completely. This was the point when you were drowning emotionally and mentally.
What led you to feel everything was over and your career was done with?
I was consumed by drugs and alcohol and being that consumed, I knew it was all over.
I couldn't perform.
I needed substance, so I needed to be intoxicated all the time.
Various things (caused this), may be my films not doing so well or may be the critics got to me and my own life's circumstances...
I was fighting many battles within myself, with myself, with the cards that I have been dealt in this life.
There was a lot of hate and angst, heartbreak, so many things that made me turn to being intoxicated all the time.
What made you take the first brave step towards rehab?
I actually self-rehabilitated myself.
I learnt the hard way.
I had an overdose and almost killed myself.
That shook me.
It made me value life and made me value everything that God has given me.
God gave me a second chance to live and I had to make the most of it.
My family's support was there, but they were very disappointed with what I was doing.
I was also not on healthy terms with my family at that point in my life.
I was fighting with everybody.
I was fighting with my family, my friends...
I am grateful to have come out and come out stronger.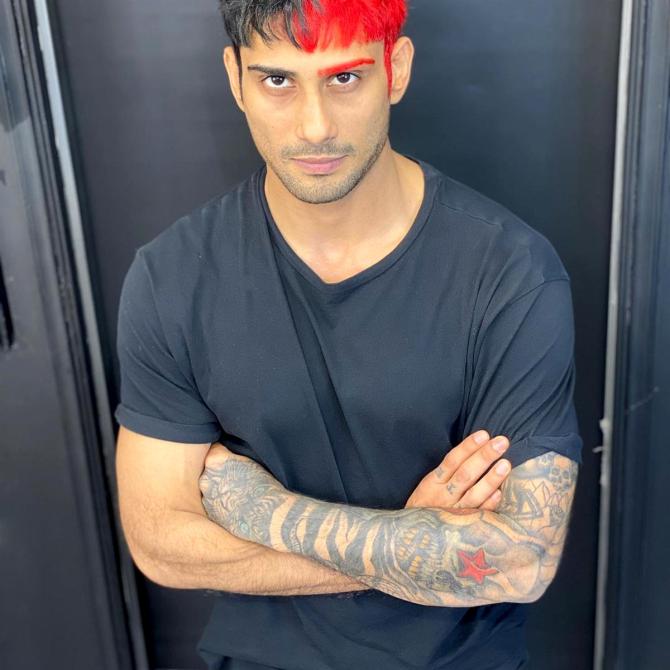 After going clean, you started missing work so much that you did things for free just to remind people you exist. That must have been tough.
Absolutely. I drowned myself in performing whatever that may be -- a play or a short film.
I remember we had this play called 6. It was a homosexual drama.
We staged that play for over a year-and-a-half, but I never got any money for that.
I had wasted all my money on destroying myself, and I had no money left.
So I literally went with a begging bowl to my family. They didn't trust me obviously, so it was hard.
My family didn't trust me with money.
They thought I would destroy myself using it on drugs and alcohol, so it was a tough time to regain their trust in me.
What kept me going was performing.
I literally drowned myself in the process of acting, so here we are.
I am making my own money again, paying my own bills again.
Your mother, the late Smita Patil, is a part of this country's cinema heritage. Living up to her legacy is a responsibility you are proud of but isn't it too much, considering Bollywood has still not explored your potential fully?
Yes, it is a huge responsibility and a huge weight on my shoulders.
She is my mother and it makes me very proud to be her son.
I want nothing more in this life but to make her proud and be the son of a great actress and be remembered for my acting.
It's a work in progress, and I think my effort will never stop to keep striving.
Yes, in the beginning of my career, it was different.
I didn't realise how successful I was earlier on in my career, how good a wicket I was.
I realised that when I hit rock bottom and when everything felt like it was over.
I have been picking up the pieces and getting back in the race, so that means some little roles and big roles.
I believe this is my journey and when you are down, the only way is up.
So slowly but surely I am climbing that ladder to success.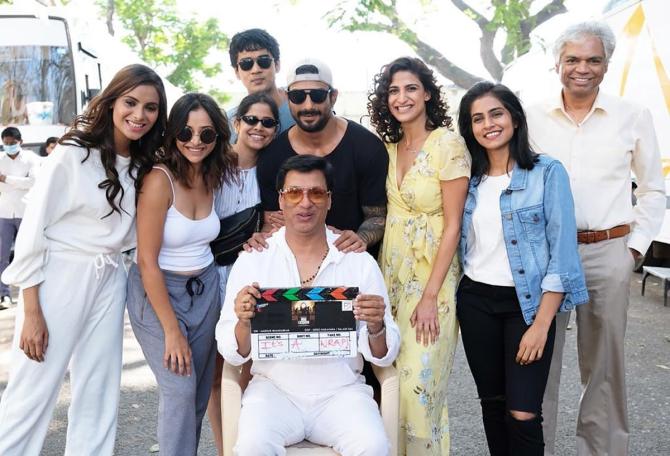 What are the things that remind you of your mother?
I would like to remember her through her films, her stories, her photographs and my wild imagination.
I talk to her all the time.
I remember I came back from a shoot I recently did for Mr Madhur Bhandarkar. I play a migrant worker in that film.
My mother portrayed many characters like that.
As soon as I walked into my house, she is right there in front of me.
There was a photograph of hers and I looked at her and I said this one was for you. I hope you are proud.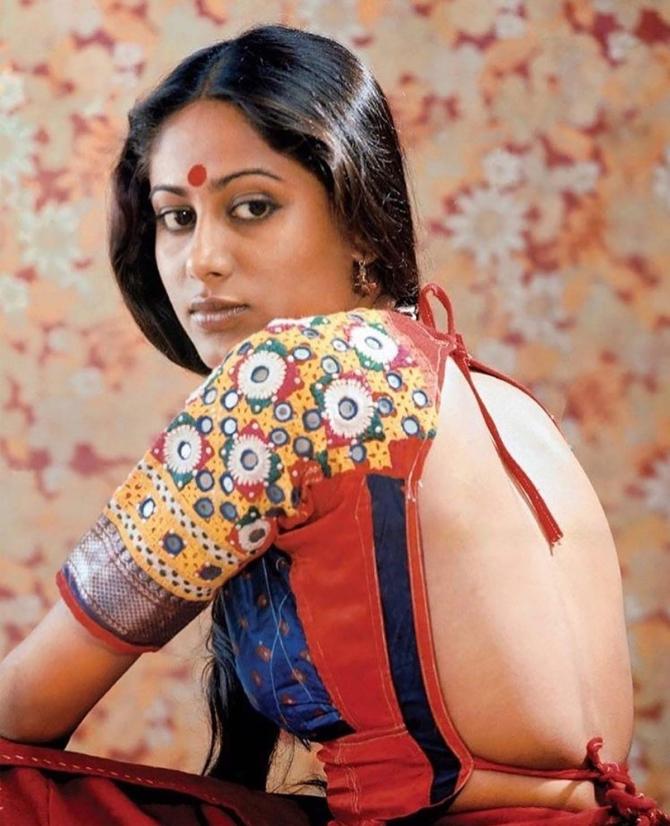 Which film of your mother's has impressed the actor in you the most and why? If at all there is a remake of any of her films, what role would you like to play?
Bhumika. Uff kya film thi!
It was so ahead of its times.
What a story, what characters, what a journey!
I get goosebumps when I think about that film.
I would love to be a part of Bhumika if they were to twist the story around and make it an actor's journey.
Mirch Masala, Bazaar, Shakti, even Aakrosh.
She moved me just through her eyes.
She had just two three dialogues in that film (Aakrosh) -- it was all about Om (Puri)saab and Naseer (Naseeruddin Shah)saab, but when she came on screen, it was something else.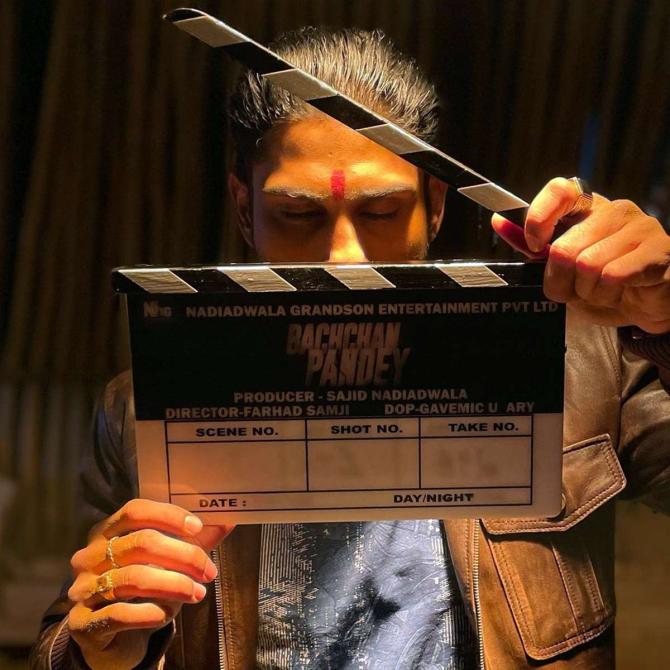 You started the new year shooting Bachchan Pandey in Rajasthan with Akshay Kumar, Kriti Sanon and Jacqueline Fernandez.
It was my first time in Jaisalmer -- it's an absolutely picturesque city, gorgeous.
It's a desert, beautiful cold weather.
You can get extremely hot also which was very troublesome for us but no complaints.
Sajid Nadiadwala and Nadiadwala Grandson Entertainment are absolute angel producers. They really look after you well and treat you well.
This is my third film with them.
Mr Akshay Kumar is obviously a dream come true.
I have been watching him since I have been a kid. He is my favourite action hero, so full circle for me to be working with him.
Kriti is a hot sensation.
I have been a huge fan of Arshad Warsi's acting.
Jacqueline and I don't have scenes together, but it's a stellar star cast.
They are absolute killers with comedy.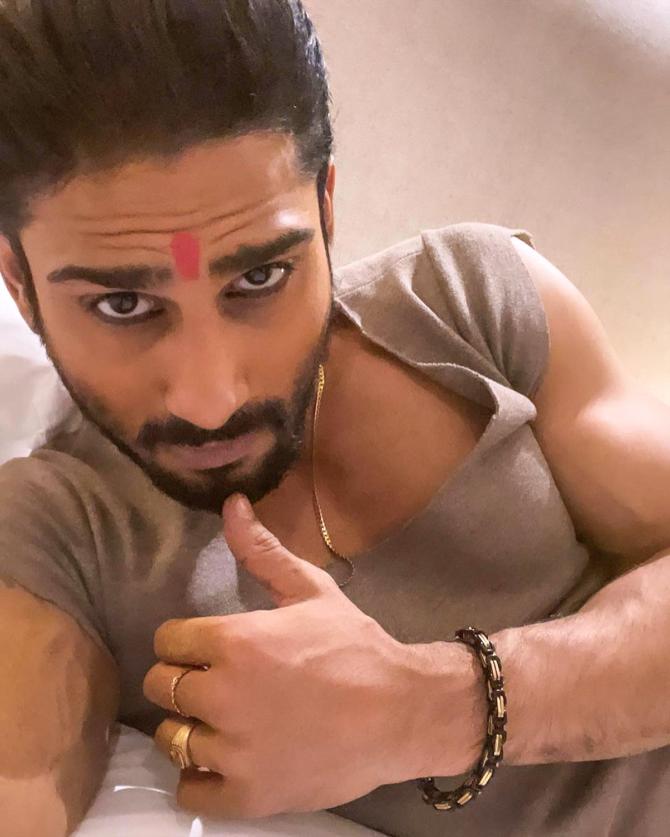 How did you prep for your role as a migrant worker in Madhur Bhandarkar's India Lockdown?
I watched a lot of reference films and characters, like Do Bigha Zameen.
I studied Balraj Sahni very closely.
I watched Aakrosh again for Mr Om Puri's performance.
I watched Ankur for Shabanaji's on screen husband Sadhu Meher's performance.
I did some film watching and studying of characters.
It fell into my lap so suddenly... it came a day or two before I was leaving for Jaisalmer for Bachchan Pandey.
Mr Madhur Bhandarkar called and I met him.
I was apprehensive.
He actually said, Prateik, this can be a tribute to your mother, and I am like, because it's a migrant worker.
It's the crux of the film.
Those people were affected the most during the lockdown and that story has to be told.
I thought it was overwhelming.
The shelf life of this film is forever. It's timeless.
I hope we don't have to live through those times ever again but they existed and we will never forget those times.
I think he is making a comeback after a long time and he himself is so keen to make a good and powerful film.
The American sitcom Casual is being remade as Lionsgate Play's first Indian original series with Lara Dutta and you. You play her brother.
I hope we can do justice to it.
Actually, I hadn't seen the show.
My director Kunal Kohli and I decided not to be influenced by that character and the way he performs.
I obviously know the story, but we made a decision for me to not watch the show and kind of build our own character with the material we have.
I had the biggest crush on her (Lara Dutta).
I mean, who doesn't?
All the boys have a massive crush on Lara Dutta.
It's again coming full circle after having a teenage crush on somebody and then you are working with them.
She is awesome. She is such awesome energy.
I have a new look; people have never seen me in this avatar before, so I'm very excited.
Mumbai Saga just released and you were pretty excited to share screen space with John Abraham and Emraan Hashmi in it.
Yes, very excited.
It's been on my wish list to be part of a gangster drama.
We also did another one recently called The Power with Vidyut Jammwal. Mr Mahesh Manjrekar directed that film.
It's a dream come true rubbing shoulders with childhood heroes like John Abraham.
It was a dream to work with Sanjay Gupta after Kaante. What a film, what an impact it had on so many people's lives!