Priyanka Chopra looked gorgeous at the premiere of her film, The Sky Is Pink, at the Toronto International Film Festival.
She walked the red carpet with her Director Shonali Bose and co-star Farhan Akhtar.
Zaira Wasim, who plays an important part in the film, did not make an appearance as she has 'retired' from the movies.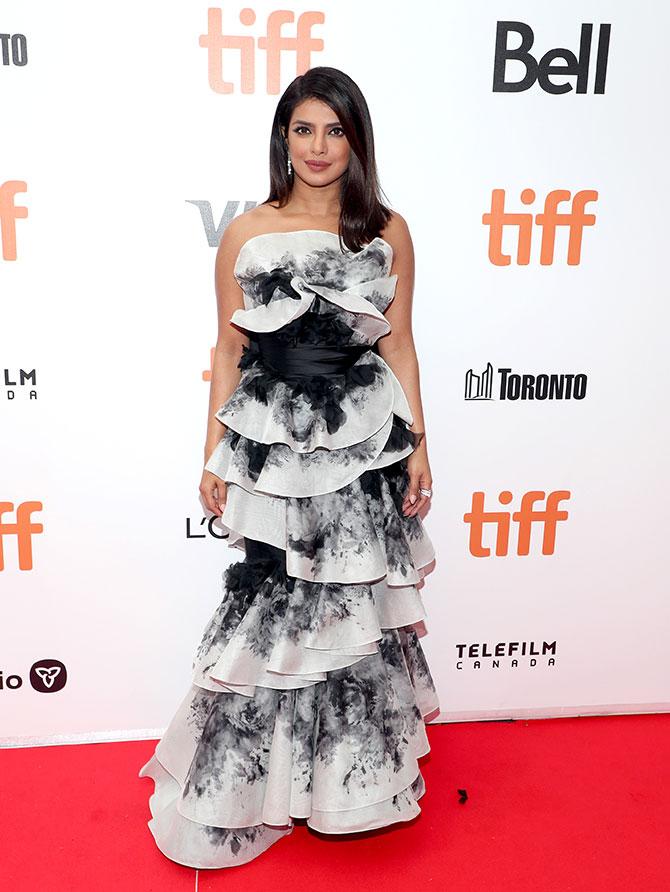 Priyanka Chopra wears an Marchesa Fall 2019 off-shoulder, ruffle gown.
The monochrome gown also features a black satin belt, which turns into a huge bow on the back.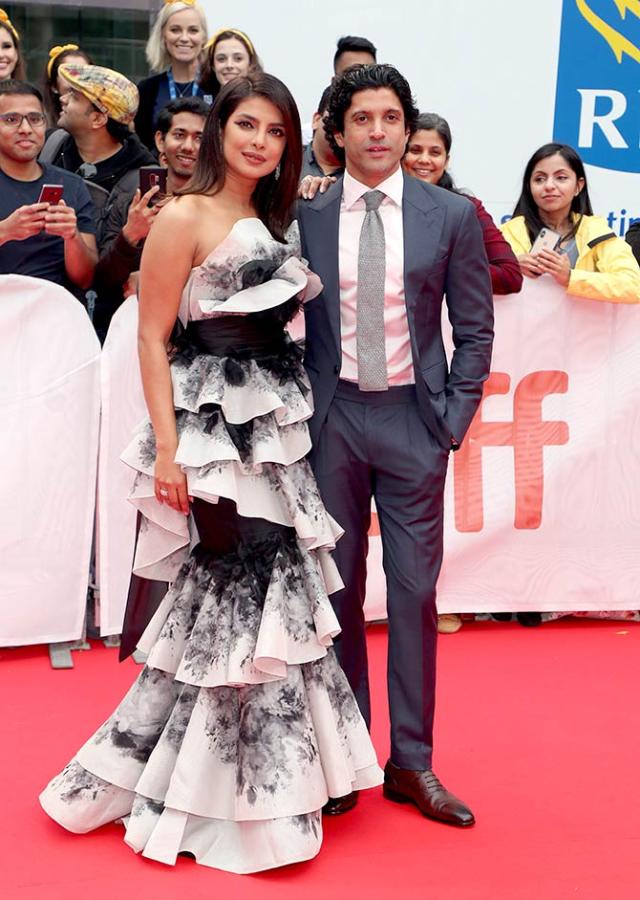 Farhan looks dapper in a blue tuxedo.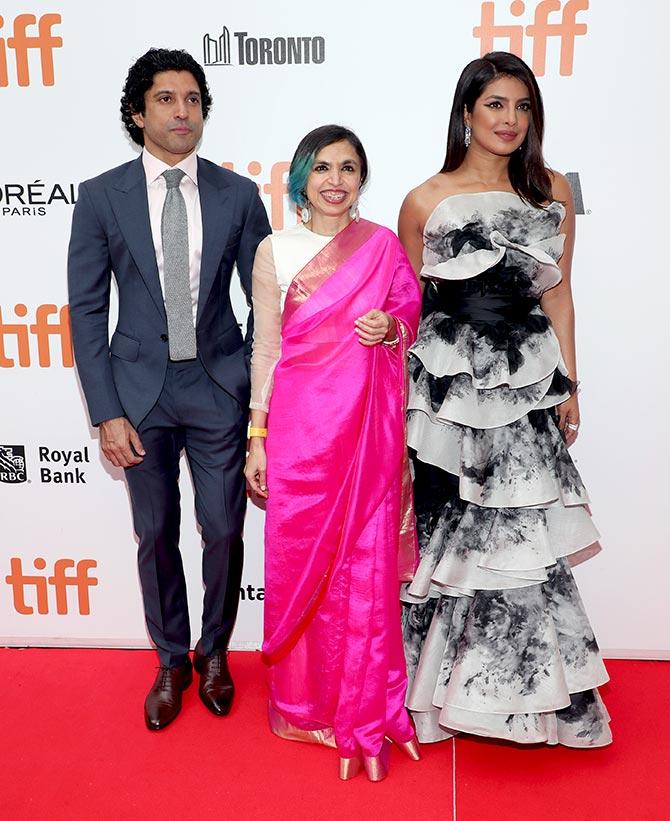 It was an emotional day for Bose, as her son Ishan's death anniversary fell on the same day.
This is Shonali's third directorial venture after Amu and Margarita, With a Straw.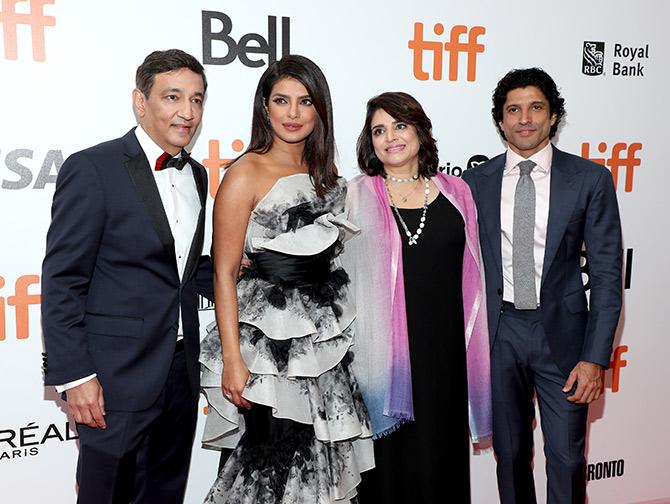 The Sky Is Pink is a true story about Aditi and Niren Chaudhary, pictured above, whose teenager daughter Aisha succumbed to pulmonary fibrosis, contracted as a result of chemotherapy done for Severe Combined Immune Deficiency (SCID).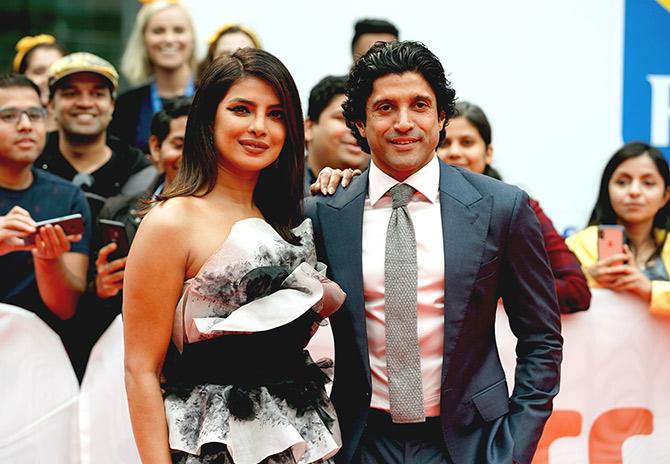 'A special night with special people, sharing this labour of love which took us over a year to bring to life. It was an unforgettable experience.... Thank you Aditi and Niren for trusting us with your story and for joining us at #TheSkyIsPink world premiere at @tiff_net,' Priyanka posted on Instagram.
She added: '@shonalibose you are the true star of this film! #RonnieScrewvala #SiddharthRoyKapur, as always, it's been amazing collaborating with you. We've done some great films together and this one definitely is up there with the rest of them for me.'
Shonali replied with: '@priyankachopra darling. It was beyond fantastic directing you and collaborating with you. And you are pure magic in this film. Love you and miss you already.'
Farhan Akhtar also posted a message ' With the star of the show .. @shonalibose_ .. thank you for including and trusting me in your beautiful creation #TheSkyIsPink .. big big hug.'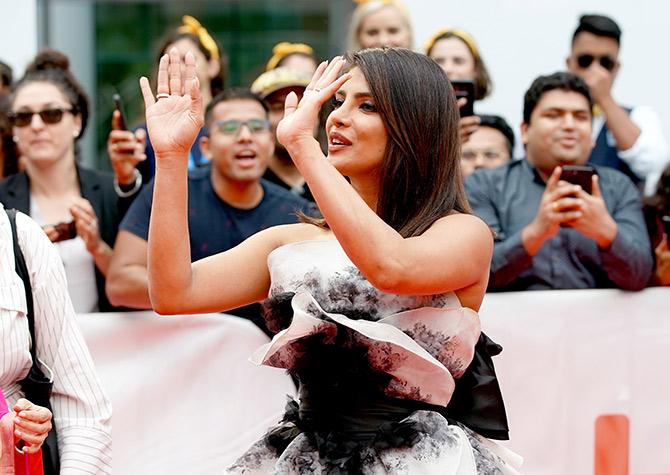 Priyanka's fans can't get enough of her.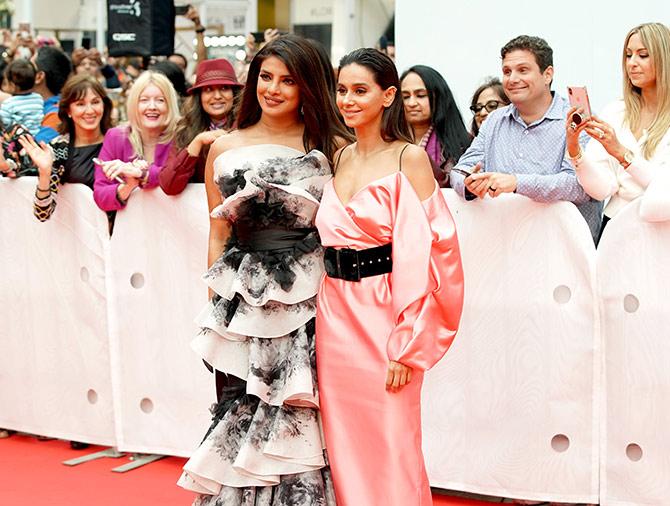 Farhan's girlfriend Shibani Dandekar was a part of their big moment.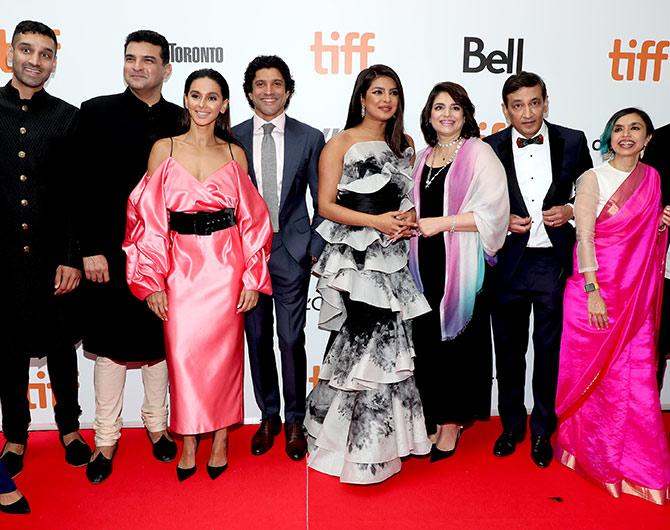 Aditi and Niren's son Ishaan Chaudhary and Producer Siddharth Roy Kapur join the team on the red carpet.

The Sky Is Pink will release on October 11.
Photographs: Jemal Countess/Getty Images