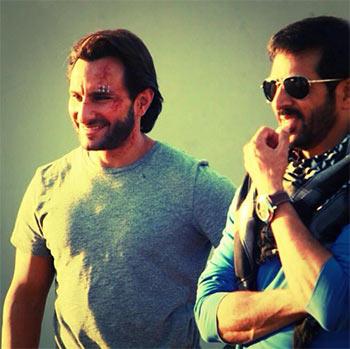 After Bajrangi Bhaijaan, Kabir Khan's next directorial Phantom is kicking up a storm.
But unlike BB, Phantom has invited more brickbats than bouquets with its recent poster and trailer launch.
"Kabir Khan was making a case for peace between Pakistan and India just a month ago (with Bajrangi Bhaijaan). Now he wants to incite Indian patriotic zeal by targeting Pakistan," a Pakistani filmmaker says on condition of anonymity.
Kabir Khan shoots down such claims.
"What you see in the trailer of Phantom is not anti-Pakistan but anti-terrorism. Pakistan is even more traumatised by terror attacks than we are.

"Terrorists attacked little children in Peshawar some time ago. It can't get any more brutal than that.

"Phantom talks about bringing the perpetrators of 26/11 Mumbai attacks to book. It is essentially saying the same thing about Indo-Pak relations that Bajrangi Bhaijaan did," Kabir Khan explains.
He also maintains that Phantom and Bajrangi Bhaijaan are different from each other in treatment and tone.

"There is no singing and dancing in Phantom. It would look very odd if Saif and Katrina took song breaks in this film. It is different from Bajrangi but we hope it'll find the acceptance that BB did."
When quizzed about the Phantom poster's resemblance to a video game, Khan said, "I trust the integrity and honesty of my poster designers."

Image: Saif Ali Khan and Kabir Khan on the sets of Phantom