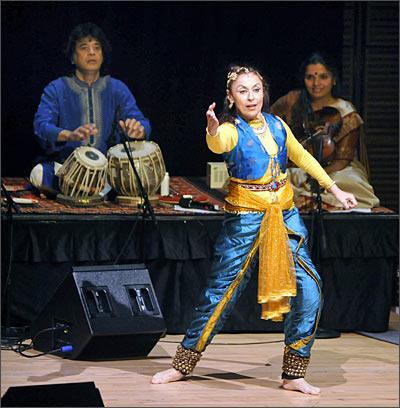 For Ustad Zakir Hussain, April 29 -- when he presents the final concert in his five-show Perspectives at Carnegie Hall, New York -- is very special. His father, the late Ustad Alla Rakha, would have turned 90 years old that day.
"He was the gentlest of the teachers any one could have had," Hussain said in an interview a few years ago. "And yet he was a disciplinarian. He taught me if I really enjoyed what I was learning, I would go very far.
"He also taught me," he continued, "that however good one is, it is the instrument in the final reckoning that makes or mars a performance. To have the grace of any instrument is something we pray for."    
Also, some of Alla Rakha's finest performances have been at Carnegie, with his friend Pandit Ravi Shankar on the sitar.
'My father was my guru,' Hussain is quoted as saying in the production notes of the events that will also see him perform with masters like santoor maestro Pandit Shivkumar Sharma and singer (and composer) Shankar Mahadevan. 'My training in traditional forms, ideas, and repertoire began with him when I was 7 years old. By the time I was 18 and left India to come to America, I had an identity and I did not get lost in all that came my way. I was able to interact with the confidence that I know who I am,' the notes add.
On arrival in the United States, Zakir Hussain immediately used that training and confidence to take the tabla beyond its Indian roots, mixing it up with jazz and rock -- as well as classical Indian -- musicians.
'So the biggest offering I can make to my father on his 90th birthday is to have all of these elements come together and pay homage to the man who made it all possible for me,' Hussain, 58, explains.
In memory of his father, Hussain said he is uniting 'the two pillars on different parts of the globe of improvised music, jazz and Indian,' for the Zakir Hussain and Friends concert, April 29.
For the pillar representing jazz, he has invited legendary saxophonist and flautist Charles Lloyd and drummer Eric Harland. Together, the three musicians have performed as Sangam, recording a live album under that name for ECM Records in 2006.
'Indian classical elements and jazz have been [mixing] since [John] Coltrane decided to move into that area,' Hussain muses. 'So having Charles Lloyd here brings up the idea of 'where is that going?' Eric Harland, who has extraordinary abilities and vision, is an out-and-out jazz-thinking drummer, but we've found a place where we can coexist together.'
And for the Indian pillar, Hussain is reconvening -- minus British jazz-guitar virtuoso John McLaughlin -- the members of Remember Shakti, which followed the Indo-jazz fusion super-group Shakti: U Shrinivas (mandolin), Shankar Mahadevan (vocals), V Selvaganesh (kanjira and mridangam) and T H 'Vikku' Vinayakram (ghatam).
'Remember Shakti also brings to the fore my Bollywood connection,' Hussain says, 'because Shankar Mahadevan is one of the biggest composers and Bollywood singers.'
Incidentally, Mahadevan got his break in films in the Ismail Merchant film In Custody, under Hussain's direction.
"We've worked together in that world for the last 15 years, perhaps even more," Hussain tells India in New York. "He has not changed as a human being ever since we worked together and he is available to us all the time despite his busy schedule in Mumbai."
'The old elements working in the new frying pan,' he says in the production notes. 'It's very exciting, and I'm humbled that a tabla player can do this.'
Text: Arthur J Pais | Photographs: Paresh Gandhi