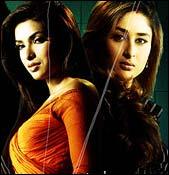 Kareena Kapoor and Priyanka Chopra, who were last seen together in Abbas-Mustan's Aitraaz, will be seen together again in a Pepsi ad, which will be directed by Farah Khan.

The ad will be shot on October 27.
"I'm really looking forward to getting together with Priyanka again. We had great fun shooting for Aitraaz. There was no rivalry between us," says Kareena. "In fact, while working in Aitraaz, I realised for the first time that two actresses can be friends. Shooting the Pepsi ad will be a party."

Priyanka, who cut a Rs 20 million deal for a two-year contract involving 12 days of work, adds, "The minute I heard Bebo was going to shoot the Pepsi commercial with me, I whooped with joy. Then when I heard Farah Khan was going to direct us, I whooped again! Three of us girls are going to have a whale of a time. We've already decided what naughty things we're going to do!"
This must be the first ad in India where two leading actresses will be directed by a woman. Priyanka shrugs, "I don't know   about that but this is my first ad ever. I'm as nervous as I was when I did my first film."

Alliance, the company that looks after endorsement deals for Amitabh Bachchan, has Priyanka as their new client. After Pepsi, they're looking at a perfume deal for her.
"We hope to make Rs 10 crores [Rs 100 million] on Priyanka's behalf through endorsements in the next two years," says celebrity-endorsement consultant Sunil Doshi.
"Today, endorsements are bigger than film deals for stars," he adds. 
"For a few days of work, you're paid more than what you get for an entire movie which takes up at least six months of your time. It's quick, big and safe money."