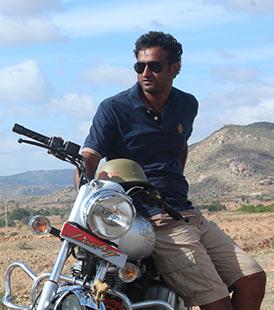 Mahi V Raghav has been an assistant director, producer, and is now director of a film.

Since he is interested in story-telling, direction was on the cards.

Mahi Raghav's maiden Telugu film Paathshala releases on October 10.

The film is already creating a lot of buzz on the Internet.

In a first for Telugu films, Mahi's directorial debut is a road movie.

In this exclusive interview, he discusses the making of Paathshala, its new cast, unusual marketing and so on.

You were the producer for two films, Village lo Vinayakudu and Kudirithey Kappu Coffee. What made you want to venture into direction?

I never wanted to be a producer, it just happened.

I was an assistant director for Vinayakudu.

One of the ideas I floated during the making was to make a sequel to it if Vinayakudu succeeded.

It did, and we ended up making one. I contributed to the story of Village lo Vinayakudu apart from producing it.

It was an exciting and challenging task so I jumped in. We did pretty fine for a first movie; it was well on schedule and budget. At the end, we lost 20% of the budget, which was acceptable.

Kudirithey Kappu Coffee was the biggest mistake of my life.

It went wrong from the very moment we set out to make it. It made me realise my priorities and what I loved doing and what I wanted to do in films.

I am a writer, a story teller, and very good at collaborating with technicians.

It took three years to make Paathshala, from writing, directing and marketing it.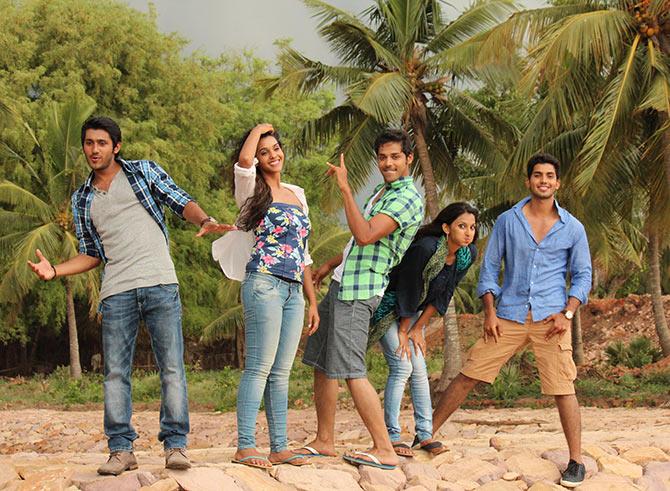 Image: A scene from Paathshala
How did the idea of Paathshala come up? Is it semi-autobiographical?

Yes, it is. The seed comes from my own experience of my journey to my friend's hometown after I finished boarding school.

It is inspired by my own life experiences and the travelling I did all my life.

The tagline of Paathshala says '5 friends, 5 weeks, 5000 weeks...A journey.'

Such films are not often seen in Telugu cinema. Is that why you wanted to make it?

Paathshala is a road film, a coming-of-age movie of five friends, who set out on a journey on their last day of college to each other's home towns.

It's a journey of friendship and self-discovery.

With limitations of budget and casting, I chose a road movie.

More importantly, it's quite a new premise as most stories of 21-year-olds in Telugu are set on campuses and are love stories.

The road movie genre is more a western idea. Even in Hindi, we have very few and most of them have been made recently.

Is the film inspired by any other film in that genre?

No, the film isn't inspired by any other movie. It's an original screenplay.

Except for one scene, the rest of the movie is original. All road movies have a similar structure, of a journey changing the lives of the characters.

But due to credit to Walter Salles for making all those road films which helped me understand and write in this genre.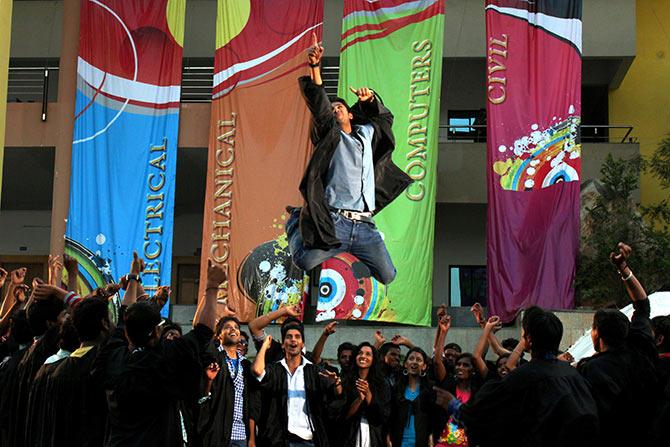 Image: A scene from Paathshala
The journey seems to change the lives of the protagonists. Is there a message in it?

All five protagonists have different conflicts -- love, career, relationships etc.

The bottom line for all, the core theme of the movie is, 'have the courage to follow your heart and live the life you love.'

Your actors are new and selected through an online contest. Why?

Two reasons why I cast rank new comers. One is economics. The budget I had for the cast was almost nothing, so I had no choice. If I could have afforded it, I would definitely have cast known actors.
The other factor is it wouldn't have been possible to get bulk dates for almost a year; we shot in six schedules in different seasons and landscapes.

So it's just the availability and affordability.

Casting was an opportunity to market and make my film known to audiences. We had an app for Facebook where anyone could apply and share.

The applicants where shortlisted on merit and a few wildcard entries were given for contestants who had most number of likes/shares. We had 13,200 applicants in a space of four weeks. Apart from that, we hired a casting agency for more varied data which could give us a lot more choice.

The cast has not been disclosed. Do you want to maintain this till the release?

They might be disclosed if required. The theme and idea of Paathshala is a bigger and better USP than the artistes.

We have a lot which is unique and could be our USP - our posters, trailers, and a genre which is quite new to Telugu.

I felt it was much better and easier to market Paathshala without the cast as there is quite a new audience who would love to see them only if they love their characters and the story.

I want the audience to come and watch Paathshala because of the posters, trailers and other promo material rather than for the actors.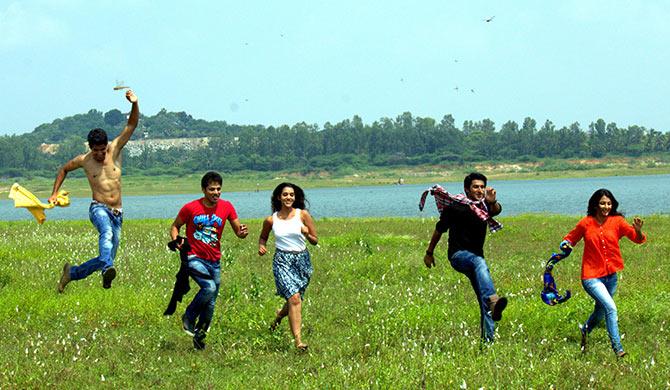 Image: A scene from Paathshala
Did the actors go through a training process like workshops?

Yes, the process of casting took around six to eight months. We had an acting coach and a two-month workshop as all the cast was fresh with little or no experience.

As it was a story of five friends, the workshop gave time to bond, interact and loosen up. The five knew all of their lines well before the shoot.

You are using other actors and directors to promote Paathshala in a different way. Why so?

True. I am thankful for their time and support.

It was part of the campaign 'My life my Paathshala' that we have been doing at various colleges and public places.

We wanted to make it more personal and the audience to be more involved by sharing about the paathshala in their life. Paathshala refers to school in Telugu. With the campaign we wanted to integrate and communicate the Paathshala in relation to our movie.

Another reason is that the cost of the promotion is Rs 500 (a white board, marker and sticker logo) to run a campaign.

It's now gone viral as well and reached our target crowd of 16 to 32-year-olds who are social media and internet savvy.

What was it like directing your first film?

The process of writing and directing Paathshala can be summed up in two words, "life-changing" and "spiritual".

Irrespective of the film's fate at the box office, it's been an incredible journey, knowing that we couldn't have done anything different or better.

Do you want to direct and produce films? What kinds of films do you want to make?

I would love to write and direct. The part of film-making I love is the process of writing. Producing was accidental.

I would love to do action drama, a rom-com/drama which I always love watching.

I would love to do it in Hindi. Paathshala was originally written for Bollywood - the story of five friends who set out on a journey to each other's home, discovering India, discovering friendship and discovering themselves, which would be beautiful with varied landscapes, deserts, backwaters, mountains and varied cultures.